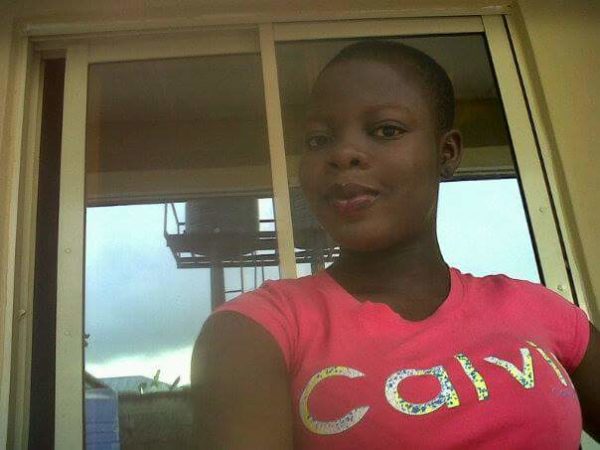 If you've ever had a health-related issue in Nigeria, then you will probably understand that it is extremely difficult to fund your treatment and navigate the healthcare system.
In view of this, BellaNaija launched the BN Community Centre. This online platform will feature "calls for help" as submitted to us. This includes information, photos and account numbers.
***
It is every parent's wish that their baby grows up to be more than what they were, accomplish greater and in turn bring joy into their lives. Knowing this, every care and attention is focused on ensuring that their health is in place, as it is commonly agreed that "Health is Wealth!"
For Mr. Kingsley Augustine, watching his first child, an 18 year old girl writhe in pain from the abdominal region he cannot explain, is a far-cry from his plans for her. He has tried everything within his reach to alleviate this pain, spent meagre resources and seen little or no results.
Ogechi Augustine is suffering from Acute Glomerulonephritis and undergoes dialysis twice a week, as against the doctor's advice of 3 times due to lack of funds. This ailment has prevented her from continuing her education this year, stalled the resources from being channelled to helping out her other siblings where necessary.
Find Doctor's report attached.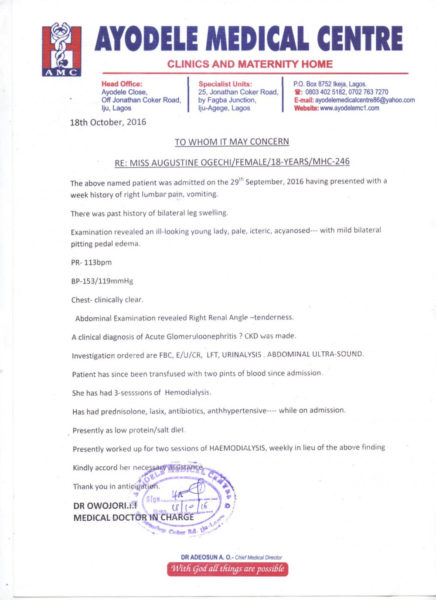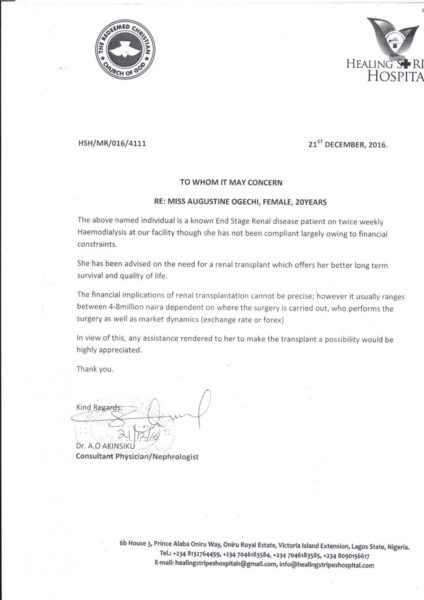 Ogechi's two kidneys have been affected badly and need to be replaced. Her doctor has recommended a kidney transplant if she is to have any chance of survival. The cost is placed at about N6.5 million for the procedure alone. Ogechi's mother will donate her kidney but she needs funds to facilitate the surgery drugs and post-op care in LUTH where she will undergo the transplant. The total amount needed which includes cost of procedure and after surgery care is about N6million only.
Little drops make a mighty ocean. Her father, Mr. Kingsley Augustine has done all he knows and needs our help to keep his daughter alive. You can do this, we can do this. Together, we can give a young girl her life and dreams back. We achieve this by our donation for a good cause. Every second counts, every naira will be appreciated and will go a long way.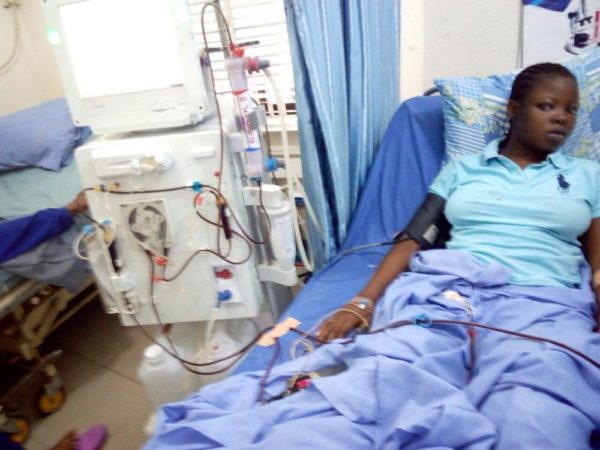 Please give whatever is in your capacity to help Ogechi. We cannot all give equally, but we can all sacrifice equally. No amount is too small. Please send all donations for "Giving Ogechi Another Chance" to Kingsley Augustine, Guaranty Trust Bank, 0122332673.
Thank you, God bless and increase you!
***
We, at BellaNaija, encourage you to give if you can. However, please ensure you perform independent verification prior to donating any funds.