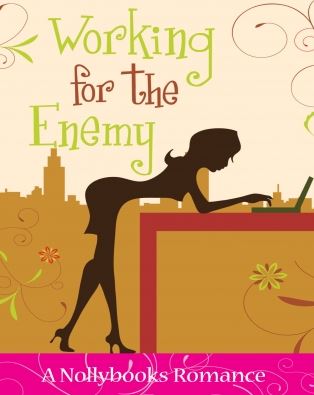 I like to say that I'm the last person you'd catch reading a romance novel. My reason is that they're boring and predictable. Yada yada yada. And while that's mostly true, sometimes my inner needy child comes out and I just want to lie down with six slices of chocolate cake and a bottle of Limca, while crying my eyes out over a love story.
Beauty saves Mr Beast? Cue: tears!
Snow White wakes up? Cue: bawl louder.
Ogre doesn't die because a witch loves him? Cue: disintegrate with the growing pile of tissue paper on the floor.
The real truth is that I'm a wailer when romance is involved. There! That's my big secret. I know…it's not very good for my tough-as-nails image.
It was on one of these cake-and-Limca days that I started reading Mbali Mbatha's Working for the Enemy. The story is about this young lady, Thandeka, who gets a job at Manual magazine. Her boss, Thulani, is a family friend with whom she had a falling-out years before.
As they see more of each other, sparks (angry and sensual) start flying. She tries to concentrate on her journalistic endeavors, but we all know how hard it is to get any work done when a sexy hunk (or lady) is breathing down your neck.
There are many rock bottom scenes where one too many tears watered e-pages. Old quarrels haunt Thulani and he almost doesn't end up with Thandeka. Fortunately, something happens in the nick of time that saves their relationship and brings them together.
*Sniff*
This is an absolutely fantastic book that I'd read anytime, whether in my vulnerable state or happier, more cynical one. It's well written. Well paced. No unnecessary scenes. The twists and turns make sense, and the huge surprise at the end of the story was well planned. T'was definitely the icing on the cake.
Published under the NollyBooks imprint, this book is part of a new wave of sex-free (yup, you saw that), woman-power, chick-lit novels to hit Africa. Even CNN has a piece on them!
I know, it's weird that they thought to take sex out of a chick-lit book. I mean, I like tasteful depictions of naked, warm bodies trying out Kamasutra poses! Who doesn't? But, if you choose to tease me before leaving me out to dry, and I'm still happy after reading, then I'm a fan!
Anyway, enough with the writing. Go get your own copy of this sumptuously crazy love-hate story. Download Working for the Enemy from the OkadaBooks app right now!
Thank me later.
Note: Okadabooks is speedily filling its coffers with the best books from Africa. With writers from Nigeria, Kenya, South-Africa, and beyond getting on the platform, you now get to read excellent multi-cultural stories with amazing perspectives. We've got them all here for you.
Want to publish something but not sure where to start? How about here? Get ready for the journey of your life, and don't forget to strap on your helmet!
Chiamaka Onu-Okpara is a freelance editor with an absolute love for anything weird. When she isn't wading through punctuation errors, she binge-watches cartoons and writes speculative fiction.
Send her a friend request on Facebook
Email her at [email protected]