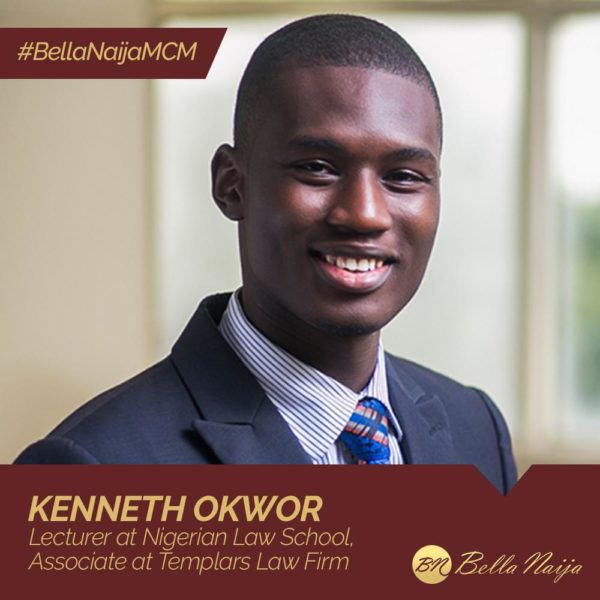 At his call to bar in December 2015, Kenneth Ononeze Okwor bagged 10 awards, shattering the previous record set 2 months earlier.
He received the "Best Student of the Year" given by 3 donors, "Council of Education Star Prize", "Prize for 1st Class Students", "Corporate Law Practice Award" given by 2 donors,"Property Law Practice Award", "Best Overall Performance", and the newly introduced "Best Overall Male Student Prize" donated by Nigerian Bar Association (NBA).
Okwor graduated with a Second Class (Upper Division) in Law from the University of Jos (UNIJOS), where he made distinctions in Commercial Law, International Law and the Law of Evidence.
He went on to graduate with a First Class from the Nigerian Law School, Lagos Campus.
Okwor is an Associate at Templars Law Firm, where he has advised on issues relating to Banking and different financing structures, Capital Markets, Corporate Insolvency, Winding up, Mergers and Acquisitions, Projects and Infrastructure, Real Estate, Divestments, Foreign Direct Investments, Legal Due Diligence, Regulatory Compliance, Dispute Resolution, Business Development and general corporate and commercial matters.
He is also an Adjunct Lecturer of Corporate Law and Practice at the Nigerian Law School, Lagos Campus.
Here are a couple of comments from his LinkedIn Page:
Nwora Ike Obiora
Attorney at Switch & Lex Solicitors LLP

The assertion "Old age of Methuselah, has nothing to do with the wisdom of Solomon" has its validity in Kenneth. His mastery of Corporate Law is unparalleled and can only be compared by the clarity with which he renders such. I make bold to say that anything he does not know about Corporate Law in Nigeria, arguably is not worth knowing.

Chidi Odoemenam
Associate (Capital Markets) at Aluko & Oyebode

Kenneth's deep appreciation and understanding of Corporate Finance and Corporate Restructuring is unrivaled. Also worthy of note is the ease with which he impacts knowledge with contemporary examples and relevant laws. He will be a real asset to any organization.

Matthias Zechariah
Lecturer at University of Jos
Adjunct Lecturer (Corporate Law), Nigerian Law School, Lagos Campus

I taught Mr K.O.D. Okwor in the Faculty of Law, University of Jos. Kenneth is a rare asset to be coveted by everyone and by every organization. Therefore, I recommend him to ALL. Who is waiting to grab at this rare opportunity? 
Matthias Zechariah, Esq.
Okwor was a nominee in The Future Awards Africa (2016) Prize for Professional Service, and was listed in YNaija's 'The New Establishment' – an annual list of young Nigerians making defining moves towards shaping the future – for 2017.
Okwor is 24 years old. He is our Man Crush Monday for this week.