MOAF Consulting Presents the Best Route to a Canadian Higher Education with 'Balmoral Hall School, Winnipeg Manitoba ' | Sunday, January 29th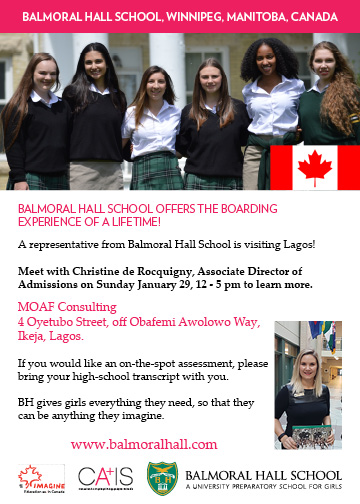 Balmoral Hall School offers the boarding experience of a lifetime!
Living, working and playing together is what Balmoral Hall Boarding School is all about. Experienced staff and faculty in our safe, welcoming residence building creates a sense of home away from home.
Students from around the world experience Canadian culture while learning a challenging curriculum focused on university preparation. Balmoral Hall girls graduate each year to the schools of their choice, with Advanced Placement credits that give them a head start on their post-secondary education.
Visit us, MOAF Consulting;
Date: Sunday, January 29th, 2017
Time: 12noon – 5 pm
Venue: 4 Oyetubo Street, off Obafemi Awolowo Way, Ikeja, Lagos.
For more information and direction, please call 0807 530 2113 and 0909 457 9336.
_____________________________________________________________________
Sponsored Content