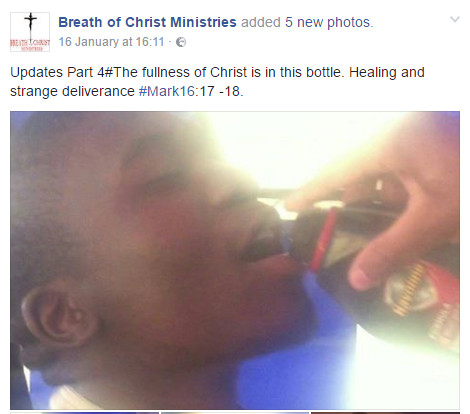 A South African pastor, Prophet Theophilus Bongani Maseko of the Breath of Christ Ministries is making his congregants drink engine oil to "heal" and "deliver" them in a strange way.
This was disclosed in the church's Facebook page, as it posted photos of congregants drinking the lubricant.
Maseko preached a sermon, saying that since Christ lives in him, he now has the life of Christ and nothing can harm him. He said.
Yes as Christ is in Heaven so I Am in this world. And if I no longer live but Christ lives in me. This means I have surrendered my life. And I took the Life of Christ. Which is the I Am Life. As far as I'm concerned I Am dead. But I Am alive through the cross of Christ. Remember when I first bought the Havoline, I drank it alone. And everyone in this place thought I was gonna die.

But I didn't, I did this to prove to many of you that I know who I Am. And I Am no longer a human being. I Am the form of God. I Am the exact Image of my Father. I Am the Christ. Look today you all going to be delivered and healed in a strange way. That way is to demonstrate Mark 16:17-18.

This is Havoline but now I say this is the unseen, and unheard Power of God. This is the fullness of Christ in this bottle. No poison will prosper against you. But all your afflictions will be over today. You will be delivered and healed by the Image of my Father. I say Father thank you for healing your people. Thank you for your love….Glory Be To God.
"What is sickness? What is a demon? These are simply a condition that tries to deposition you from Christ. Today you will be healed and delivered in a mysterious way. What I Am holding now with my hand, is the fullness of Christ in this bottle. With this bottle you can empty HIV wards. You can cast out any disease and devils. By looking at this bottle you are now free! By touching it you are imparted with a strange anointing from above. This is Christ at," Maseko was quoted as saying.
"The fullness of Christ is in this bottle. Healing and strange deliverance #Mark16:17 -18," the church wrote as it shared photos of members taking in the fluid.
See more photos below:
In an interview with South African Newspaper, The Star, Maseko said that he gave the chemical to his congregants "to demonstrate the power of God".
"When we pray over anything, its poison dies. So it can't harm people. Nothing happened, no one has been to hospital," he said, adding that congregants who had ingested the engine cleaner had been "saved, healed and delivered".
Maseko also backed up the act with a Bible verse.
"Jesus spat on the ground and made mud. He took that mud and smeared it on the eyes of a blind man and, instantly, that blindness was healed. Mark 16 v 17-18 says 'in My name shall they cast out devils; they shall speak with new tongues. They shall take up serpents; and if they drink any deadly thing, it shall not hurt them; they shall lay hands on the sick, and they shall recover'," he said.
Chairperson of Commission for Promotion and Protection of the Rights of Religious, Cultural and Linguistic Communities, Thoko Mkhwanazi-Xaluva, who condemned the act called on religious leaders to come together and end the "reckless" abuse of Christianity.
"A lot of people are going to die one of these days; we are fortunate that has not happened. A lot of people's lives are at risk here," she added.
According to Mkhwanazi-Xaluva, "Doctors have a peer review body, so do lawyers, so they know they can't do anything unacceptable. Why should it be different with them (pastors)?"