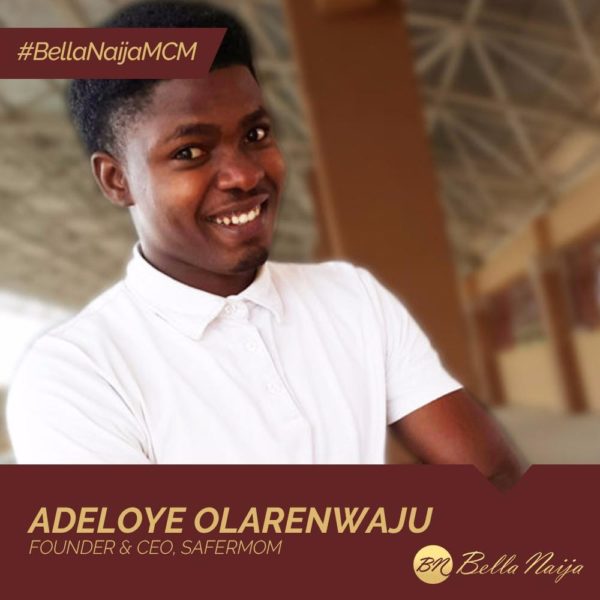 We love how young Nigerians recognise problems facing numerous individuals and proffer solutions that are not just effective, but cheap and efficient.
Olarenwaju Adeloye, the CEO and founder of SaferMom, is one of such individuals and he is our Man Crush Monday for this week.
According to a UNICEF report, "Every single day, Nigeria loses about 2,300 under-five year olds and 145 women of childbearing age. This makes the country the second largest contributor to the under–five and maternal mortality rate in the world.
SaferMom is a last mile platform for pregnant and new mothers (with babies up to 3 years) in Nigeria. It was built to help mothers irrespective of their social status or geographic location ask, share and connect with other experienced mothers & verified doctors, monitor and track their health, vaccination & medication reminders, symptoms, nutrition guides via SMS, voice and web and mobile app Platforms.
The platform provides the psychological, social and mental support needed by pregnant women and nursing mothers.
SaferMom uses a chain of community health partners and mobile technology to track the health of pregnant moms and newborn babies, immunization schedules for babies, nutrition and behavioral routines based on their fetal development stages and antenatal care. This service is available in the English, Hausa, Yoruba, Igbo and Pidgin languages.
In 2016, Olarenwaju was one of three Nigerians that received the Queens' Young Leaders Awards at Buckingham Palace for his startup's works at improving mother and child health in Sub-Saharan Africa.
He's a St Gallen Leader of Tomorrow, TEEP fellow, International action Youth Net Fellow, and Leap Africa Social Innovation Fellow.
He holds a certificate in "Leading Change" from University of Cambridge and a certificate in social sector management from Enterprise Development Center, Lagos business school.
He was named as one of 100 promising social entrepreneurs to watch out for at the 2015 SOCAP in Sans Francisco.
Adeloye Olanrewaju, also won the Impact Award under the Economic Development Section of Facebook's Internet.org Innovation Challenge in Africa Awards in 2016.