Exclusive: "God has given some of us gifts & some opportunities, to benefit others, ourselves & the world around" – Kehinde Bankole Talks What Inspires her, Playing Iyalode Of Eti & Lots More with BN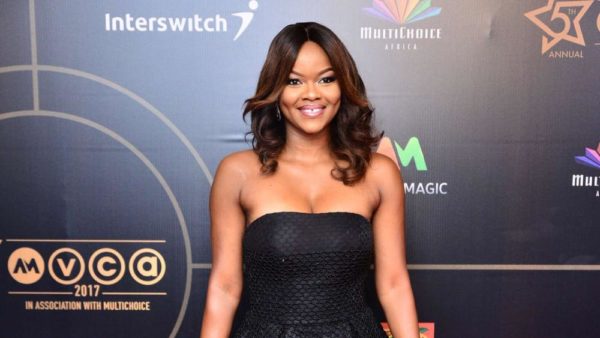 Nollywood actress Kehinde Bankole is not only an actress but also a model and television host.
Celebrating her birthday today, she was born as the 4th child in a family of six and has a twin sister who also acts occasionally. She made her entertainment debut in the 2003 Miss Commonwealth Nigeria beauty contest, then proceeded to the 2004 Most Beautiful Girl in Nigeria pageant.
Afterwards she won the Revelation of the Year award at the 2009 Best of Nollywood Awards, two years after her first screen feature in Wale Adenuga's Super story.
In an Exclusive interview with BN, the actress talks about how she got into acting, the most challenging role she has had to take on, her experience playing the Iyalode of Eti role, her plans for 2017 and a whole lot more.
Read her interview below!
On how she got into acting: I love creativity and I always wanted ways to exhibit my talent. So I had started out as a model and at some point, my twin sister who was into acting earlier had taken me to a Wale Adenuga Productions audition where I was selected for Super Story and that started it out for me.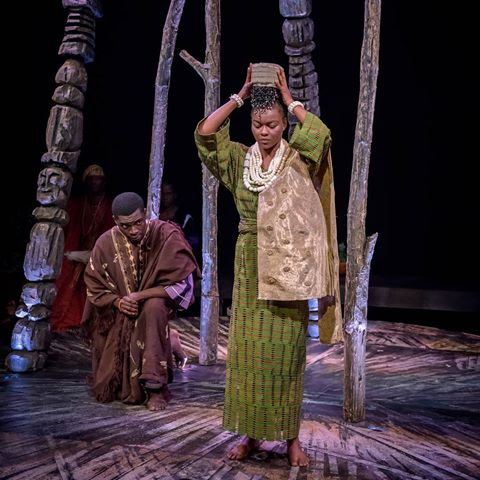 On the most challenging roles she's had to do: For different times each role presents its own unique challenge. My most challenging roles have turned out to give me my best experiences through my acting career. Films like October 1 by Kunle Afolayan, Chibok Girls- Our story by Renegade theatre, Iyalode Of Eti by Utopia theatre, Facade and Ruthless have been some of my most challenging roles so far but recently, my most challenging movie has been Ever After where I play the role of a young woman who finds herself teleporting between lives. One life as she knows it and the other as bizarre fate will have it, moving in time travel between the two worlds. It was a physical and mental hard work, fresh and innovative idea and I enjoyed every bit of it!
On the most extreme change in her personality, hair, body weight, carried out for a role: The most extreme so far has been locking my hair into dreads, even though I know that I'll have to cut off the entire lock when the film is done. Also, adding 8kg more to my weight to play a depressed physically and mentally abused wife in Ruthless produced by Apreel Ventures was extreme. I'm certain more drastic extreme changes are coming based on some scripts I'm currently looking at. But it is exciting for me, if I can take on these roles successfully, I think there is no drastic change I cannot take up during the course of my career. This is what makes me an actress, it is what I live for. 
On her dream role and certain roles she wouldn't take on: One of my many dream roles is to play the female president of a great country or maybe an animation character. An action hero wouldn't be bad at all as well. Although there are roles I may not take based on some principles I have but I cannot say what roles I can or cannot take on. Until I get to such rivers then I will decide how to cross it or if not to cross it at all.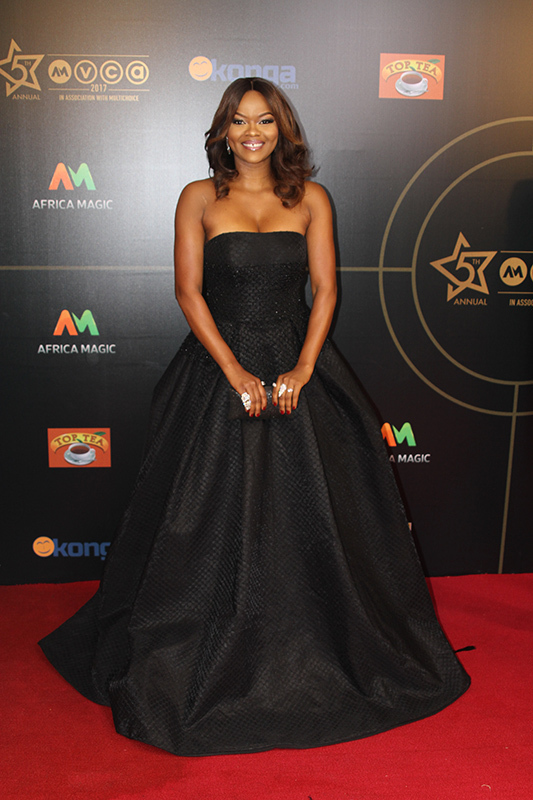 On why she opted for a minimalist look by wearing a black ball gown at the AMVCA 2017: I just wanted to look laid back, did not want to have too much going on. That was the brief I gave my stylist, Yolanda Okereke and she did a great job. I felt comfortable because that was exactly how I wanted to look.
On what inspires her and keeps her motivated: What inspires me is the knowledge that God has given some of us gifts and some opportunities, to benefit others, ourselves and the world around, that we are an extension of his mighty hand. So we are never dry because we draw from a source that never runs out. I also find inspiration in my mother's words that life is fleeting and one must take advantage of it and make the most of it while one can.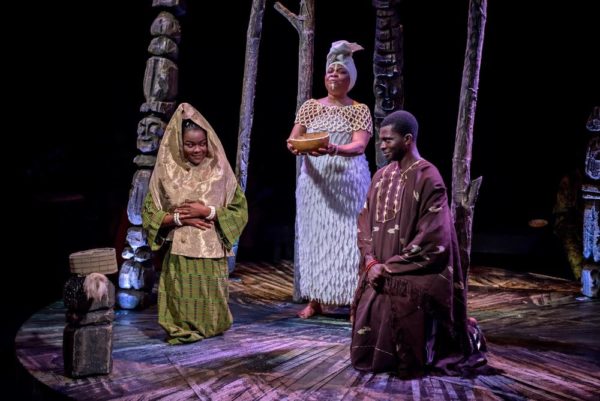 On her outstanding role and experience playing the Iyalode of Eti role: The experience was beautiful, different, Life changing and physically demanding.  I met an outstanding woman Moji Kareem whom is the director of the play written by Debo Oluwatuminu. Moji's excellence took over every aspect of the production.
We ended up with an outstanding performance as you described People from all over came to see the play in the U.K. There were many reviews about it, that was an assessment for me to see how far we have come and I was extremely proud. I am proud of her, myself, her company and what Africa is doing. Those who didn't see the show when it came into Nigeria at the Ake Festival have been asking questions about it and the good news is it will be coming again bigger and better to both the U.K. and Nigeria.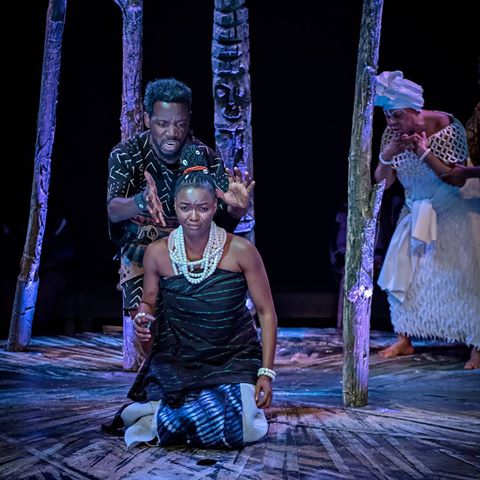 On her preparations that went on for the role: There was work out and exercise sessions for six weeks. We also had voice and dance and body movement coaching, language classes and African cultural and religious research and also sessions discussing Africa and the symbolic impact of exhibiting of Africa's original and authentic culture and beliefs and we had amazing bonding sessions to prepare in understanding of each character in the play.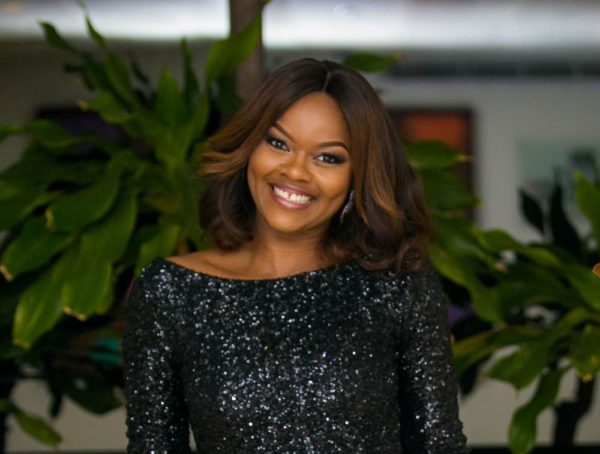 On the hardest part of being an actor and her plans for 2017: The hardest part of being an actor is taking on so many personalities over a period of time and finding the time to balance that with who you really are with these other people you have had to play. The work of separating these persons from you is hard but you can manage if you have been lucky to know who you yourself truly are. All these struggles you have to do under the glaring eyes of the public because you hardly have any privacy. But I struggle hard to keep some privacy for myself to keep normal and sane.
My plans for 2017 is to continue to do amazing films by Gods grace, to showcase something that helps young skilled children find opportunities for a better future, to do more international work and to find more ways to give back to Africa and the society at large.