I recently paid a visit to one of Nigeria's well-known luxury stores that stock just Nigerian brands. I did this because I've had friends tell me about the ridiculously expensive price tags that these designers stamp on their garments. The story isn't new to the ears, but I just wanted to satisfy my curiosity.
So I got to the store and a spare sheath dress caught my attention. The fabric was close to a technical linen with a sheer yoke panel and a couple of pleats at hits hem. The price on it? N90,000. This design was very reminiscent of a vintage dress I saw at Yaba market (cost N1,500) some weeks before this. I was a bit taken aback because I didn't see anything special that would make a client spend that amount of money on such an item.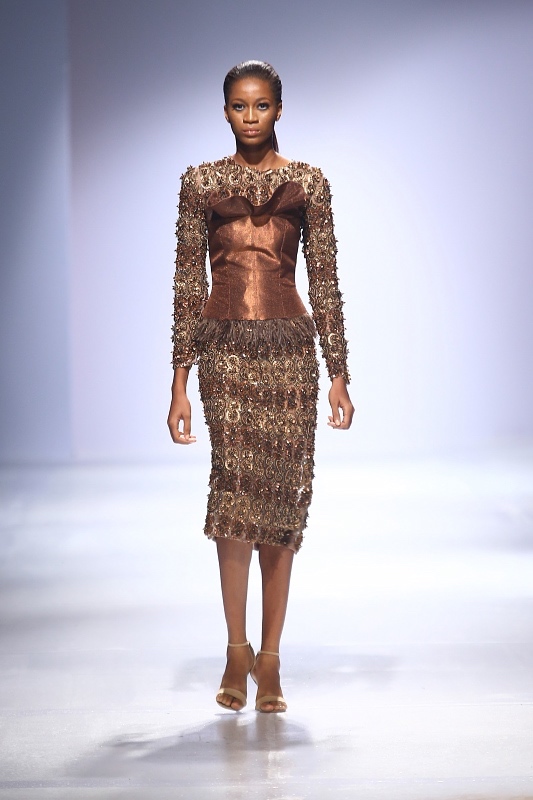 Some weeks before the AMVCAs, I took a client for a couple of fittings. Amongst the designers we went to was, Onalaja, a young designer who is known for her modern take on African culture. One of the pieces we tried on was a super heavy hand-beaded midi length dress with long sleeves and an aso-oke corset bodice.
Kanyinsola, the designer, said that piece took almost 2 months to make. The price on that piece ranged above N400,000, which to me was justifiable. First off, it looked and felt expensive. Also, the time and energy put into that piece (according to her) makes it worth the price. Not to mention that it was tailored immaculately.
Bridget Awosika, one of Nigeria's best design talents, has the most reasonable pricing on her garments. I actually think she undervalues her items. I remember back in 2013, when I was at Mania magazine, we had a photo shoot that required some of her pieces. Of course, the design was notably hers, the detail and finishing were of international standards.
When I looked at the prices on the items, I felt it should have been priced higher. Bridget is one of the few designers we have here with original ideas. Her fabrication is top notch and her finishing is perfect. Even with all the shortcomings of basic amenities like constant electricity, she's still able to produce quality without the excuse of no light or running on generators all the time.
Most designers have argued that you pay not just for the design and cost of production, but for the name on the label as well. My question is, how long have they been in business for them to have competing prices with storied brands like Gucci? Also, most Nigerian designers source fabrics from the same marketplace.
I can't count the number of times I've run into some designers pacing frantically from stall to stall in Tejuosho market buying fabrics. So if your cost of production, design, etc on an item of clothing costs, say, N10,000, why put a price tag of N200,000? Where is the sense in that?
In many cases, these designers up the price on their products to gain an added sheen of prestige and exclusivity. Wealthy people, the idea goes, love expressing their wealth by spending as much as they can on high-end items. It is the price tag, not so much as the product itself, that makes an item remarkable – the fact that majority of people can't afford said item has the inverse effect of imbuing the buyer with power.
I've come to understand that, in fashion, true style is how you wear an article of clothing, not the price on it.
So the next time you feel bummed that you can't afford a N200,000 shift dress, remember: it's not you, it's them.
Photo Credits: Kola Oshalusi (Insigna)