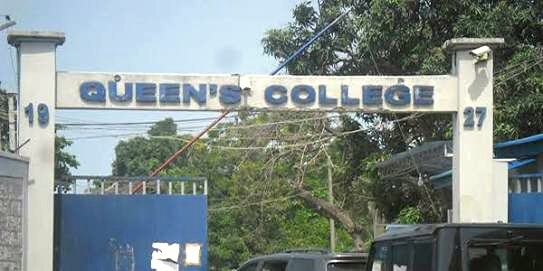 In March last year, when the Queen's College Old Students' Association sent a delegation to investigate a case of alleged sexual harassment by a male teacher, it was discovered that the school environment was nothing to write home about, a Facebook post by Laila St. Matthew-Daniel, the Chairperson of the delegation said.
She claimed that apart from their report on the sexual harassment case, they also tendered their observations on the terrible state of the school environment.
Laila claimed that in a bid to exonerate the said teacher, the Parents Teachers Association (PTA) did not act on the observations made.
12 months later, according to the lagos state commissioner for health Dr. Jide Idris, 2 students have died and over a dozen others have been hospitalised due to a bacterial infection spread through contaminated water.
The school was shut down following the incident, and the state government has advised that it remains so.
Chidi Odinkalu, the President-General of Unity Schools Old Students Association has also said that students should not be allowed to return to the school as it is facing a "public health emergency".
Laila, in the Facebook post claimed that the investigative panel set up by Federal Ministry of Education and the Lagos state government ignored the points made in the report. She wrote:
QUEEN'S COLLEGE, ENVIRONMENTAL ISSUES and the DEATH of STUDENTS

This unfortunate situation was one of the focal point of our report on the alleged sexual issue at QC last year.

Over and above finding out if the man was guilty of sexual harassment of students as alleged, we wrote about the terrible conditions we observed first hand:
– overflowing sewage next to the cafeteria and kitchen, and two of the dormitories;
– the unhygenic area of food prep;
– the crowded dorms;
– Seeming water issues;
– the overflowing garbage dump next to one of the dorms; and
– general environmental chaos that could have disastrous consequences on the health, wellbeing, and ability of student to perform in their studies.

It also stated, clearly, that the school had become VERY overcrowded for the facilities available!

The PTA in their quest to exonerate Mr Osifala IGNORED those points! Ministry of Education panel and Lagos State Education sector inclusive! In fact they ignored EVERYTHING concerning the spiritual, emotional and physical health and welfare of the girls! The PTA slung mud at the QCOGA: saying we didn't know what we were doing! That we were witch-hunting – ignoring the crucial observations!

Now what we cautioned has come to pass! GIRLS HAVE DIED and some are still in the hospital! I hear again that the School has told the JS3 and SS3 girls to resume (bringing their water and food) . AGAINST the order for closure indefinitely! As someone said, if it was a Private School the authorities would have been quick to CLOSE IT DOWN!

What kind of people are at the helm of affairs playing 'Russian Roulette' with the lives of children?? Are our children disposable commodity?

Why should they allow an institution like QUEENS COLLEGE fall to rot? Such institutions abroad are preserved!

WHERE ARE THE PARENTS? They should speak out and take action. It can be any child!

Such a pity the way we take very important issues lightly once it doesn't concern us directly! Some people don't know what it is to see a child die!!

@LJSMD