Fine Boys, the second novel by Eghosa Imaseun, is a story of youth and lost innocence. Set in the 90s, the author paints a vivid picture of cultism in the University of Benin. The book reminds us of the military rule in the 90s that threatened to destroy the educational system due to incessant strikes and protests. It also documents the reaction of students all over the country to the annulled 1993 election which was infamously won by M.K.O Abiola.
Fine Boys revolves around the main character Ewaen and his" half-caste" childhood friend, Wilhelm. Coming from upper middle-class families in Warri, both left to pursue further studies in Medicine at the University of Benin. However, as fine boys from the rugged city, they are met with a very strong pressure to join 'confra'(Confraternities). At first, they decide not to join, but Wilhelm, who tends to overdo anything he finds himself in, later succumbs to pressure. This later proved to be the molder of the story.
Fine Boys leads us through a story of love, friendship, loss, and betrayal. The two young men met other students of their age whom they became friends with. They quarreled, made up, fell in love and learnt to smoke and drink. Eghosa paints all this in a very serious and funny way until the end when tragedy struck. Fine Boys is a robust reminder of a time in the country's  history that is gradually being forgotten.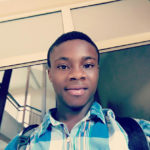 I'm Ade Sammie, an undergraduate in the University of Lagos. I'm a book addict, and I love to share what I read with others. I'm also an avid writer. You can read reviews and short stories on my blog: adesammie.wordpress.com. I promise not to bore you.
Send him a friend request on Facebook
Email him at [email protected]