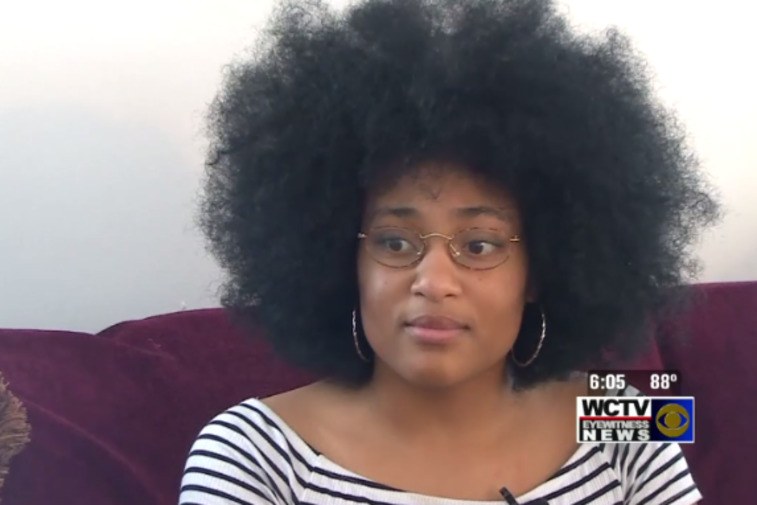 A teenager who enrolled at a private high school in Florida was reportedly told by the school's assistant principal that her natural hair was "inappropriate" for school.
According to WCTV, the high school junior Jenesis Johnson who is presently enrolled in North Florida Christian School was called to the assistant principal's office after a teacher began questioning the teen about her hair, which she's worn in an afro for months. She told WCTV that the administrator said that my hair needs to be fixed," it was not neat and needs to be put in a style." But as Jenesis points out, "My hair is fixed." In fact, she's been wearing an afro on and off for a long while, and never had an issue until now.
The assistant principal reportedly pointed to the school's extensive handbook, which prohibits "faddish or extreme hairstyles. If hair is dyed, it must be a natural colour. No permanent ornamentation may be worn. Hair should be neat and clean at all times. The administration will make the decision on any questionable styles."
The 17-year-old told WCTV that the assistant principal, who declined when asked for comment, told her that her "hair is extreme and faddish and out of control. It's all over the place."
WCTV reports that Jenesis says the punishment "hurts me. It's hurting me. For my people behind me, the younger ones, they're going to have hair like me. Why can't they wear their natural hair?" She also explained that she always sits in the back of the class so as to not obscure a classmate's view, an extra precaution that she's unfortunately had to take so she wouldn't be considered a "distraction" by other students or teachers.
The Teen's mother told WCTV that her daughter was given the option to finish the school year, but would need to change her hair before the start of the fall semester if she wanted to continue attending North Florida Christian.
The Boston Globe reports that the state Attorney General has since directed the school to stop targeting black and biracial students with dress codes that restricted braids, extensions, and afros. "These styles are not simply fashioned choices or trends, but, in addition to occurring naturally in many cases, can be important expressions of racial culture, heritage, and identity," the Attorney General's letter explained.
Watch
Photo Credit: WCTV