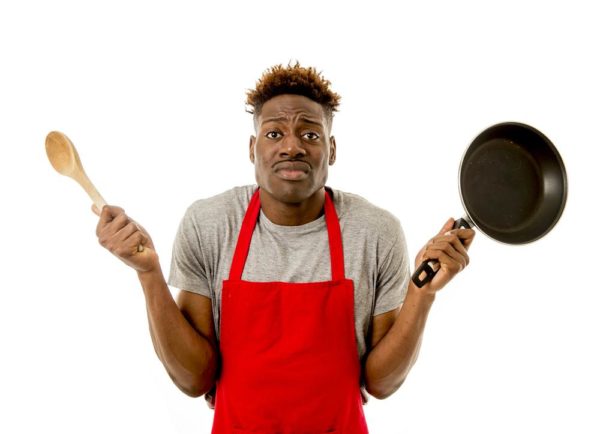 • Are you a single bachelor spending half your salary on Instagram food vendors?
• Have you ever gone to bed hungry because you had a fight with your wife? Either because she refused to cook or you decided to 'punish her' by starving yourself?
• Or did you just breakup with your girlfriend from hell, but are considering taking her back because hunger is killing you?
If you answered 'yes' to any or all of the above (trust me, there are some single married bachelors who have just recently broken up with a girlfriend from hell #NigerianDemon) then, the Men Empowerment Series is for you.
These step-by-step simple recipes will help you take back control of your stomach and ultimately your life. This is the real definition of Pepper Dem Gang.
Let's start with the basics.
• To boil, you need water
• To fry, you need oil
• To have something to boil or fry you need money.
Today's recipe is Okro Soup and Eba.
Instructions
Go to the Market and buy Okro: Emphasis is on market because if you buy from a supermarket or any kind of store they will not chop or grate for you. The market women are very useful in this regard. They even sell already grated Okro, which is not only helpful, but time saving. Caution if you have a sensitive stomach you might want to skip this, and chop/grate yourself after rinsing thoroughly.
While you're at the market ask for the following:
a. Pepper: A little or a lot… you decide. If you don't know how to gauge pepper, apply the 'less is more' principle. This could be a lifesaving decision.
b. Fish: Stick to fish; dried fish is even better. The hassle of preparing meat will break your resolve and have you crawling back to the women. If you don't like fish, or you're allergic to seafood, just skip this step.
c. Seasoning: I'll assume you have salt at home. Iru/ogiri/dawadawa is traditional. Ask the Okro lady, she'd probably have some.
If you are making for just yourself, one small seasoning cube is good. If you would like to go for the 'shock and awe' approach, to make enough for your wife/girlfriend.. plus leftovers for the freezer, maybe two cubes.
Seasoning cubes have salt, sometimes a lot. Apply the 'less is more" principle to this one, too.
d. Oil: This is not essential, especially if you are fitfam, but it will add a nice colour to your soup.
No, it's not the same oil used to fry plantain, this one is the reddish-orange looking one; Palm oil.
e. Garri: You will be shocked how expensive little old Garri has become. Maybe the Mrs wasn't lying after all. Anyway, if you find the cost too annoying, or you know after all the wahala of making soup you'd be exhausted (and rightly so), you can just ask for ready-made fufu instead.
This is another reason why you should go to the market over a store.
Switch on your cooker or ask an adult a woman to do it for you. Place your pot on the fire, pour in your oil and let it heat up. Add the pepper, grated Okro, a little water, iru and seasoning. Let it cook on medium heat for a few minutes.
Add your dried fish (rinsed) to the pot, taste and add some salt… if needed.
Stir, and your soup is ready. Remember to turn off the cooker.
To make Eba you need to boil water. Pour the boiling water into a bowl (careful, boiling water is hot).
Add Garri to the hot water and stir with the back of a large spoon or wooden spatula, till it becomes well combined.
In terms of quantities try 3 parts water to 1 part Garri for hard Eba: 4 parts water to 1 part Garri for soft Eba.
Bonus tip: If your Eba looks like it would go better with cold pure water and groundnut rather than soup, it's probably not well done.
Don't toss it out; just pop it in the microwave for a few minutes and stir again. It'll be fine.
Well done!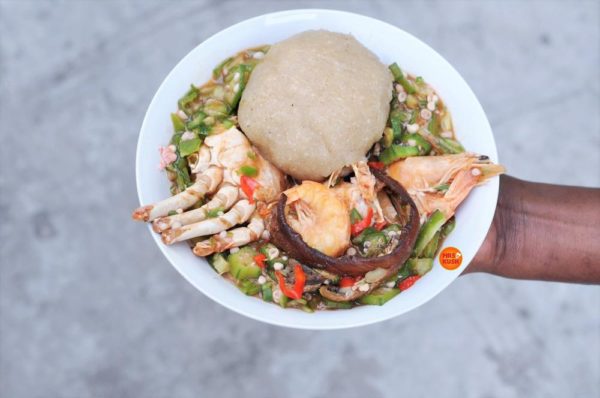 You did it, you are now a mini chef! Serve your food and eat with pride. Once you've finished consuming you'd be tempted to take a well-deserved nap. Normally, you should, but I'm assuming the kitchen is a huge mess. To complete this Pepper Dem Gang process, proceed to the kitchen with your plates and wash them.
Wash the pot and bowls. Clean the cooker. Clean the spilled Okro on the floor and wipe the Garri off the kitchen counter.
Sweep the kitchen floor. Mop the kitchen floor. Depending on the amount of damage, lay new tiles on the kitchen floor (just kidding).
Even if you are a bachelor and you live alone you might still want to do this, because if you don't, you will soon begin sharing your home with rats and other unwanted "roommates".
Let me know how your cooking adventure went!
Love,
Mrs Kush
Photo Credit: Lead image – Dreamstime | Ocusfocus
Image of food – Mrs. Kush.