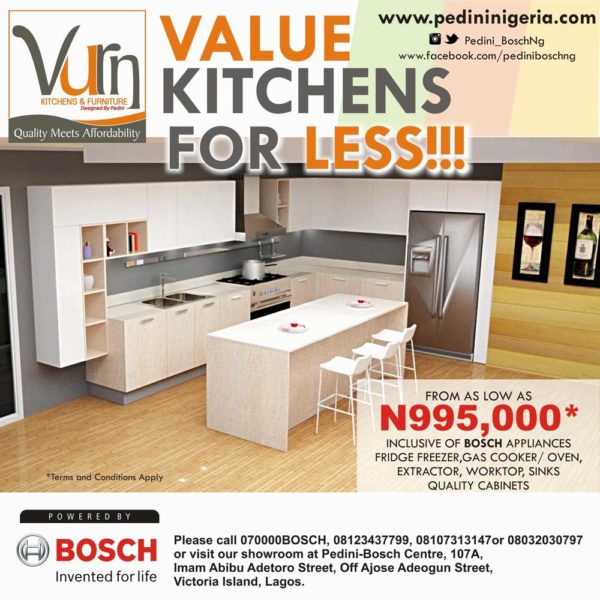 The first phase of the Vurn Kitchen offer saw many Nigerians walk away with their own World Class kitchens, and now Vurn Nigeria is taking it a notch higher with the amazing and affordable Vurn Mini Kitchen! 
It's the same quality Vurn kitchen value, but at a lower price! With as low as N995,000,  you can get the amazing kitchen with the best in Bosch appliances including: Bosch fridge freezer, Bosch gas cooker/oven, Bosch extractor, Quartz worktop,  Sinks /take and Superior quality Cabinets.
The offers ends on May 30th, so hurry now and register at www.vurn.com.ng or www.pedininigeria.com and click on the Vurn icon and select the kitchen you desire. Many more Vurn kitchen offers are available!
Follow us on Twitter and Instagram on @Pedini_BoschNG, like us on Facebook at www.facebook.com/pediniboschng and follow the hashtags #VurnCompactKitchen #VurnKitchen. You can also send us an email at [email protected]com or call 08032030797, 08123437799 or 08107313147.
——————————————————————————————————————-
Sponsored Content