Is there a Rift between "Homegrown" Nollywood Actors and "IJGB" Actors? Adesua Etomi & Toyin Abraham's #NECLive5 Discussion raises Important Questions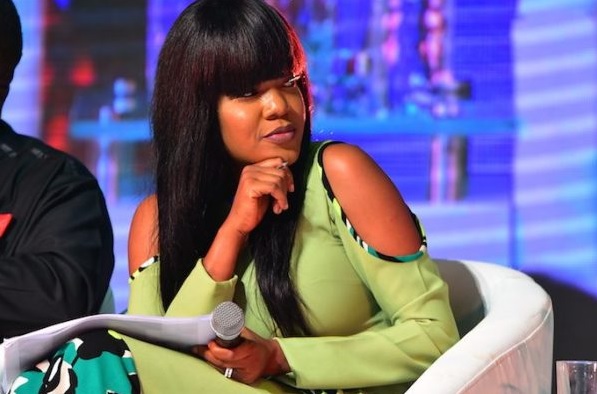 This clip of a passionate exchange between actresses Adesua Etomi and Toyin Abraham at the recently held NEC Live 5 event has been trending for a few days because of the passion with which both actresses tried to make their points during the panel discussion.
For us, it's more than a trending video. The discussion raises some important questions about the Nigerian entertainment industry and the answers to these questions will help move the industry forward.
During NEC Live 5, Adesua Etomi and Toyin Abraham were joined by Patrick Doyle and John Ugbe for a session tagged 'How Nollywood Is Reclaiming The Market from Hollywood'. During the session, things got heated after an audience member asked why Nigerians in the entertainment industry do not support each other with monetary compensation to which Patrick Doyle stated that there are several structures in place in the entertainment industry to help move rising stars forward.
Adesua then asked an important question about the functionality of these structures because it is not enough for the structures to exist, they have to work. Toyin Abraham countered her by asking if she belonged to any guild in the industry to which Adesua said "No". Toyin then pointed out that Adesua was "part of the problem" because you cannot question the functionality of a structure when you are not even a part of the structure.
Both actresses however raised quite important questions and hopefully, with the start of this conversation comes a solution.
Through the panel discussion, the fact that Adesua Etomi got into the Nigerian movie industry 'only' a few years ago kept coming up and her stand as a Nollywood actor was questioned. She was, however, quick to point out that her return to Nigeria – and the movie industry – was a conscious choice and with her return, she brings over 5 years of training.
Their discussion also sparked mini discussions online.
How functional are these structures set in place in the movie industry? Do all actors need to be a part of the structures for them to work? Is there a bias against actors that move back to Nigeria after years of being away? Can Nollywood be as huge as Hollywood?
Watch the exchange below.