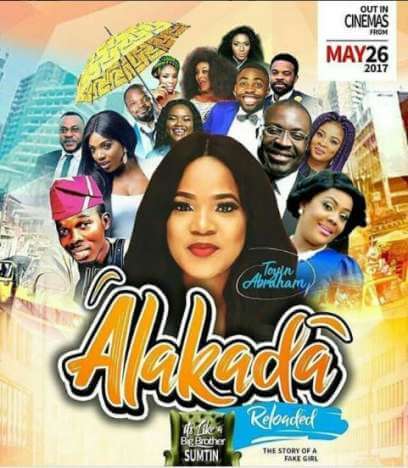 Hilary "The Maveriq" Ajodo of tharevue.com (pronounced "the review dot com") Nigeria's premier movie review resource for local and foreign movies reviews Nollywood movie Alakada Reloaded.
Producer: Toyin Abraham
Main Cast: Toyin Abraham, Odunlade Adekola, Kehinde Bankole, Woli Arole, Nedu, Helen Paul, Lilian Esoro, Annie Idibia, Lala Akindoju and Gabriel Afolayan.
Genre: Comedy/Drama
Release Date: May 26, 2017
Alakada Reloaded follows the adventure of Yetunde Animashaun (Toyin Abraham) who pretends to be from a well to do family but her lies always come back to haunt her and come to a head when she is invited on a reality TV show along with other housemates.
Apparently, I am late to the Yetunde adventure as there have been about 3 movies about this character but better late than never, right? Because I had no background on the movie or its character(s), I went into the cinema blind and totally didn't expect that the actors largely spoke in the Yoruba language. If like me you don't speak Yoruba, don't worry, the subtitles will help you and moreover, the actions of the crazy Yetunde don't need any translation for you to decipher.
Toyin Abraham was at her craziest best making a total fool of herself and judging by the laughs at the cinema, people were really getting the kick out of it. Although some of the jokes were lost in translation, I could still follow and in all honesty, they weren't particularly spectacular. The jokes were clichéd and were borderline juvenile, similar to the lies we told in secondary school about how our father own 2 tigers and 20 cars…but apparently, we still find those kinds of jokes funny.
Even though I am biased because I am not a fan of movies about semi-illiterate people make a fool of themselves for our amusement (like Akpos and Jenifa) the sheer number of celebs featured like Ali Baba, Odunlade (the legendary meme), Helen Paul and even Ebiye, should make this movie appeal to a really wide audience.
Candidly, I didn't understand where the movie was going as it just seemed to stretch aimlessly with Yetunde kept getting herself into a bind. I couldn't see the plot direction or how the conflict (if any) was going to be resolved because quite frankly there wasn't any real conflict or plot. It took me a while to realise that the plot was actually that – a wandering voyage of laughs.
Anyway, fans of the Alakada franchise will enjoy this movie and if you like Funke Akindele's Jenifa or AY's Akpos, this movie is definitely down your street.
Follow tharevue.com on social media:
Twitter: @ThaRevue
Facebook: ThaRevue
Instagram: tharevue
Email: [email protected]