Generational curses are the reason in-laws consult babalawos and spend their time wandering your village trying to investigate your lineage all the way back to the stone age.  If you're related to a well-known voodoo priest, then you might have demons floating around your head. So, be gone! Poof! Don't come near our son.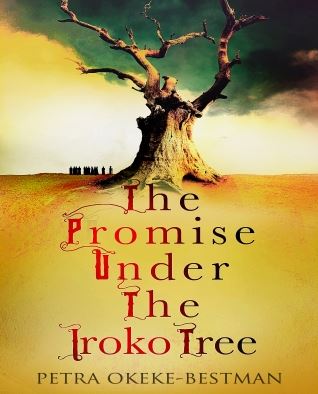 Now, with all the Christianity flying about, people go to church and believe they're no longer under old curses. They say The Lord's Prayer every day and believe they're free. Some don't even believe in curses, and to that last set, I say, "Brother, you need to spend more time on Africa Magic Yoruba."
Curses are the lifeblood of Petra Okeke-Bestman's book, The Promise under the Iroko Tree. We're pushed into a conversation between two brothers Arinze and Odunze, who're in their village, Umuiyi,  for the Promise Ceremony.  The event is a huge village bash held every four years where people celebrate and masquerades dance and there's a fufu mound with two sets of people who can't see themselves till they level it (kidding!).  Anyway, these brothers are discussing deaths and odd stuff that's been happening in the village since forever. Odunze thinks it's just life messing with them but his brother is sure there's more to it.
The truth pours out later after they meet a stranger who discloses their village's history. Turns out there's an ancient covenant with an old god made in centuries past to save the village from drought. The back story goes back to the arrival of the missionaries and moves through their relationship with the villagers. Ure, a strong, opinionated young lady is the heroine of this flashback. Her family is at the fore of the happenings with the gods of the land, and she fights her way through a tradition she believes is evil and a promise she wants no part of.
The Promise under the Iroko Tree shares two interesting messages:
The past can and does affect the future.
Be careful what you promise.
Petra's transition between old and new is flawless; I like that she wasn't afraid to explore life pre-skyscrapers. It takes a lot to guts to write what you haven't lived. The writer is also very descriptive, her words poured life on the thinnest blade of grass till it swayed merrily in my mind
You guys know that I love a dope, supernatural tale any day.  This book gave me tingles for the longest time.
I'd absolutely recommend The Promise under the Iroko Tree for everyone, especially for those who like reading about old Nigeria. I'm usually not a fan of such stories, but Petra managed to catch my attention. Good one there. There are unlimited copies of this book on OkadaBooks. Need a copy of The Promise under the Iroko Tree? Get one here.
Chiamaka Onu-Okpara is a freelance editor with an absolute love for anything weird. When she isn't wading through punctuation errors, she binge-watches cartoons and writes speculative fiction and poetry.
Send her a friend request on Facebook
Email her at [email protected]