Mum the Home Keeper! Participate in the Dettol #PowerfulNaijaMum Challenge and Join the Winning League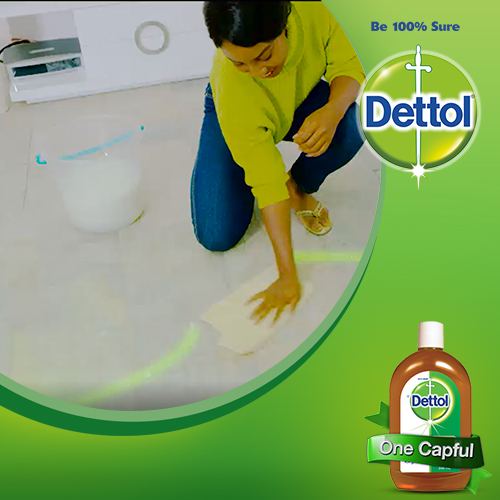 As a mum to three young and active children I know how dirty the floors can get. With my kids, any and everything can be found on the floor. From food spills and crayon markings, to mud tracks (when they forget not to take their shoes off before coming into the house) and stains from numerous fallen lollipops.
I try to clean up the mess they make as soon as it happens but I save the difficult spills and stains for cleaning over the weekend. When I do my spring cleaning on Saturdays, I always make sure that I add Dettol Antiseptic Liquid to the mopping water that I use for the floor. This helps to go get rid of the hidden and harmful germs.
I'm particularly careful to use Dettol when mopping because the toys my kids often drop on the floor sometimes end up in my infant daughter's mouth. I don't want nasty germs transferring from the floor to her mouth which is why I use Dettol Antiseptic liquid. Now my kids can play protected.
I am a Powerful Naija Mum and I rely on the power of Dettol's 1 capful to keep my family germ-free. Are you a powerful Naija mum? Dettol wants to celebrate you!
As a reward for all your efforts to keep healthy homes and families, Dettol is celebrating powerful Naija mums. This means some of you lucky mothers will get to hang out with your favorite celebrities in Nigeria at the end of the search for Powerful Naija Mums!
Each week, mums with the highest likes get to win a Dettol Power Pack filled with exciting prizes including a smartphone and at the end of the campaign, a final draw will be done to select the top mums with the highest engagement. These mums will be part of Dettol's Powerful Naija Mum photo shoot with the celebrities. The shoot will also be featured on top blogs and websites with many exciting gifts to be won!
Yet another set of winners have just been rewarded for their participation in the Powerful Naija Mum challenge. Cynthia Odike, Onikoyi Mulikat Abiola and Abiam Blessing Dane who had the highest likes for week 4, have all received a brand new smartphone and a Dettol Power Pack filled with fabulous prizes. The competition is still on so take the #PowerfulNaijaMum challenge now and you could be one of our next winners.
To participate:
Upload a photo/video on your social media page, telling us how you use Dettol's one capful
Make sure you are holding the bottle of Dettol in your photo or video
Ensure your post is seen by using the hashtag #Powerfulnaijamum #Dettolonecapful
Tag @thenaijamum on Facebook and @thenaijamum_ on Instagram
WIN EXCITING PRIZES!!!
Be a powerful Naija Mum with Dettol!

*TERMS AND CONDITIONS APPLY
—————————————————————————————————————
Sponsored Content