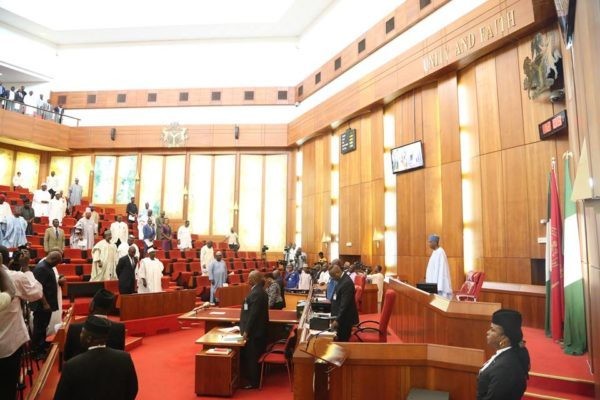 The Senate on Thursday passed for third reading, the Witness Protection Bill that recommends a two-year jail term or N500, 000 fine for any insincere witness in court. The bill also made provisions for stiff punishment for anyone who pulls out of any ongoing case for which he's standing in a witness.
The passed Witness Protection Bill would enable certain persons to receive protection in relation to certain information and evidence people render to law enforcement agencies during investigation.
The bill will also ensure witnesses receive protection in relation to certain information, evidence or other assistance rendered to law enforcement agencies during enquiries, investigation or prosecution.
Senator David Umaru, APC-Niger East and Chairman Senate Committee on Judiciary, Human Rights and Legal Matters said the witness protection programme contained in the bill is a universally accepted concept for the protection of witnesses who are willing to provide information and evidence for the purpose of enhancing the justice systems and whose lives may be threatened. He added that it will no doubt restore confidence to our justice system
Report says the bill was considered by the parliament because it was a bill sponsored by the late Senator Adeleke.
Senator Kabir Marafa, APC-Zamfara, suggested an increase in the fine as he drew the attention of the Senate to the fact that the penalty stipulated in the proposed law was not stiff enough to deter those who might wish to be mischievous while standing as witnesses.
In his remarks, Deputy Senate President, Ike Ekweremedu, who presided over yesterday's plenary, dedicated the bill to the memory of Adeleke who died in April. He added that the Senate took time to appreciate the late senator for sponsoring the bill.