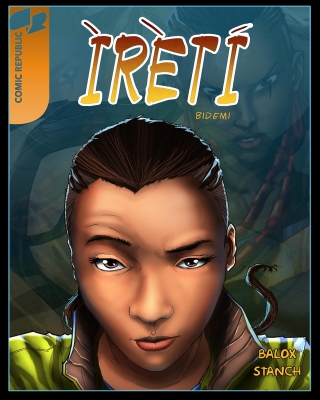 In 2013, Lagos based start-up Comic Republic introduced the world to an extraordinary league of African superheroes. Presently, their hero list has awesome heroes like Guardian Prime, as well as super heroines like Avonome, Aje, and the two Iretis.
Bidemi (also known as Ireti) is the main character in the comicbook titled "Ireti Bidemi". Her story starts over two hundred years after the great and mighty Ireti Moremi of Ife Kingdom fell to her arch nemesis in another comicbook titled "Ireti: Gods and Men". Bidemi has chosen to adopt the ancient one's name as she possesses powers similar to those of the great warrior. There's also a tantalising possibility that she is the reincarnation of the original Ireti, but we (the readers) do not get an explicit confirmation of that.
Our youngster is an archaeology student by day and a crime fighting superhero by night. She is very much aware of the time she lives in—an age of superheroes and scary masked vigilantes that stalk the darkness of night. Used to making an example of these heroes and putting them behind bars, everything seems normal until she visits the National Museum in Lagos and discovers the statue of the great Ireti Moremi. Walking into that museum was easy but did she ever leave? Find out by grabbing free copies of the comicbook here.
Ireti Bidemi is a mix of culture and modern lifestyle as it's set in present-day Nigeria with the two hundred-year-old history of the mighty Ireti Moremi as a backdrop. Through modern day Ireti, we get to experience the legend's powers.
I was privileged to get my hands on the script of an already published Ireti issue when I visited Comic Republic's headquarters, and I tell you, it was a beautiful experience. I met Michael "Balox" Balogun who happens to be the writer, colorist, and letterer of Ireti, and I was blown away by what these guys had created over the years. I also met Stanley "Stanch" Obende, the artist behind Ireti and the creator of Avonome.
Comic Republic is behind other successful Nigerian comicbooks such as Aje, Guardian Prime, Beatz, Eru, Scion, Visionary, Hero Kekere, and of course, the famous Avonome that has spanned seven issues. The list is almost endless.
Want a free copy of Ireti Bidemi? Grab one by clicking here.
Book Reviewed by Magnus Okeke
Follow him on Twitter
See his crazy pictures on Instagram
Email him at [email protected]