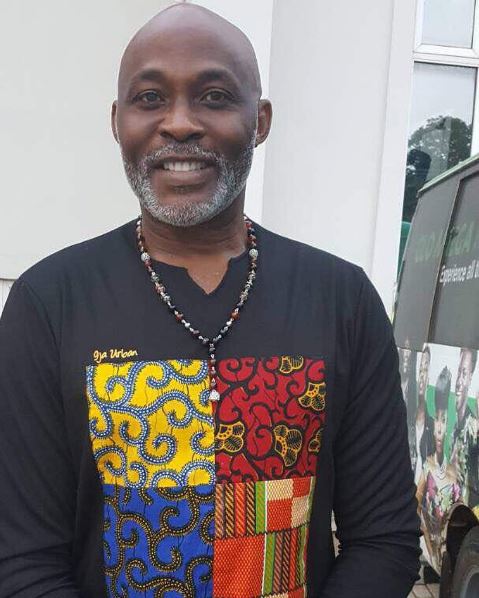 Whoever says once you reach a certain age, you're too old to start a new venture must be telling a lie and Richard Mofe-Damijo is proof.
The actor has just announced, via his Instagram page, that after 5 years of dreaming and plotting, he has started shooting his TV series.
We're really looking forward to what he has in store, and if his long sustainable career in Nollywood is anything to go by then we are in for a treat!
See his post below:
New ventures are never easy. From conception to execution it's fraught with all kinds of challenges and emotional roller coaster. Here am not now even talking money or the resources.

Just dealing with the moments of self doubt, nay-sayers, criticisms some constructive, others condemning, some destructive many reassuring.
Sometimes it is a battle to keep the negatives down and stay in prayer and trust God to be God.

You would think that after all these years in the business me wanting to do a TV series of my own would not be a big deal right? Lie. It has been an uphill journey as I am as challenged if not even more so than most people who have taken up similar ventures. I am my own worst critic and i set standards for myself that sometimes my partners call unfair but hey, it is what it is.

Anyways, long story short, after approximately 5 years of dreaming, strategising and planning, cameras finally rolled today for my new TV series. I couldn't have done it without people like my baby of life Jumobi Mofe-Damijo @rogersofime @ninacool22 @sirfumze@mudiafrica1 @kingjfranklyn@afrinollystudios @ujejuh @taradurotoye@houseoftara_intl @ejiroamostafiri@victoriandee
@moabudu @maitezeron @menaajakpoviand my wonderful team of creative minions who work tirelessly day and night to make Papa Bear look good. Thank you guys, God bless and enlarge your coast.

For every other person wherever you are trying to start something, no matter how small or big and has doubts, just know you are not alone. We all have fears and doubts, it is what you do with them that matters. I have learned to trust the Spirit of God and He helps me ride mine, master it and let it become an inspiration to do more. Welcome to the wonderful world of The X Family. Thank you @ikogbonna for gifting me this beautiful top from #9jaurban