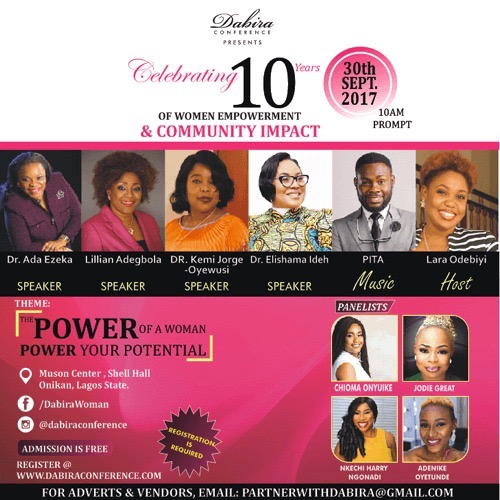 Dabira Women Conference invites you to the 5th edition of one of the most anticipated women conference in Nigeria in a bid to celebrate 10 years of Women Empowerment & Community Impact.
When "The Woman" was created – It was for a purpose!
God knew He wanted something more, something He could put a lot more into. He gave women the ability and capacity to carry more, and that is why He put inside of every woman, something Men Do Not, and Could Not Have – THE WOMB!
The Woman has the ability to Create, Nurture and to Transform, which reaches out to every area of her life, relationship, profession or business.
When a woman understands the power she has, she begins to appreciate who she is, loves herself, feels important to the creation of mankind, and live the purpose she was created for.
That is the Power of A Woman! – It's within HER!
Do you know your true WORTH and how much POWER you have?
What are you doing with your Potential?
Have you aligned your Existence with your Purpose in life?
Date: Saturday, 30th of September 2017.
Time: 10am prompt
Venue: Muson Center, Shell Hall Onikan Lagos State.
Theme: The Power of a Woman (Powering Your Potential)
Our Speakers:
Speaking at this year's conference are world-class, powerful and renowned speakers that will set you right on track, help you stay focused, and begin to live your life's purpose.
Dr Elishama Ideh
Dr Ada Ezeka
Lilian Adegbola
Dr Kemi – Jorge Oyewusi
On our panel of discussion, we would feature four inspiring women who exhibited strength despite the challenges they faced and how they overcame it. They would be discussing the topic; Living Above Pain – Helping women find strength through their pain.
Our Panelists:
Chioma Onyiuke
Jodie Great
Nkechi Harry Ngonadi
Adenike Oyetunde
Music is by PITA
The Founder Dabira Woman Network, Lara Odebiyi would host over 1000 women in an impacting and life changing conference meeting.
DWC'17 will leave women inspired, energized, empowered & focused on identifying and staying in purpose.
Admission is free! But registration is required at www.dabiraconference.com or http://www.dabiraconference.com/who-we-are/