A dream come true! Kandi Burruss covers Essence Magazine for the First Time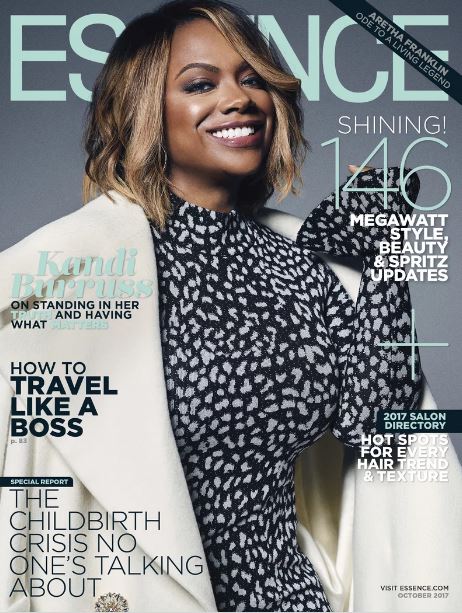 Musician and Real Housewives of Atlanta star Kandi Burruss is on the cover of Essence Magazine's October issue, and according to the artist, it's a dream come true!
Kandi speaks to the magazine about fame, betrayal, motherhood and a whole lot more.
Read excerpts below:
On the frailty of fame: It's a very humbling moment when your songs aren't on the radio anymore. I didn't appreciate what that success was when we had it. I remember feeling like, when I get things back the way I want them to be, I will never take anything for granted again.
On how public betrayal made her rethink doing RHOA: I honestly had a lot of times when I just cried. There were moments when I really wanted to say, 'You know what? I'm done with this!' I was vindicated in front of millions, which helped me to feel comfortable again.
On single motherhood to her current blended family: As Riley got older, I saw that there were things she did miss, not having her dad really there. Now, this is even better. We're a whole family—we've got Riley, Kaela and Ace.
On "grinding like she's broke" and building an empire: Some of us are doers and some of us are just dreamers. I'm both. I'm trying to build so that I can set up my children to have great futures. All of these different companies that we have, I would love for them to be passed down from generation to generation. I want my kids to be leaders.
Watch