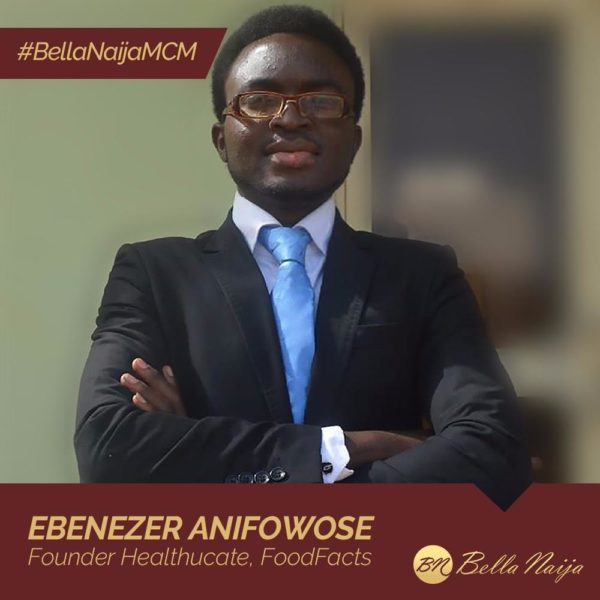 A large percentage of deaths due to diseases (communicable and non-communicable) in Nigeria and Africa could have been averted if detected early or even prevented. But prevention and early detection is only a solution that depends on one very vital and important thing – education.
Our #BellaNaijaMCM today Ebenezer Anifowose wants to make the solution complete by spreading relevant, research-based health information to the public.
With a Masters in Nutrition with Public Health Management from Sheffield Hallam University, UK, Ebenezer founded Healthucate, a health promotion social enterprise on a mission to improve lives, reduce the burden of diseases and help people achieve optimum physical and mental well being.
Healthucate's various programs and innovations provide a concerted effort in achieving the Sustainable Development Goal 3: Ensure healthy lives and promote wellbeing for all at all ages, focusing on target 4 which says "by 2030, reduce by one third premature mortality from non-communicable diseases through prevention and treatment and promote mental health and well-being".
Healthucate, a not-profit-driven platform, is the parent company for FoodFacts, "an online food products database which collates nutrition and health information about food products in Nigeria. Information you will find on Foodfacts include product name, ingredient list, nutrition facts, Nafdac No., additives, allergins and typically any other information you will find on food labels."
Through its Nutrition Rating System (which takes into account sugar, salt, saturated fat, e.t.c), FoodFacts helps users make better food choices.
FoodFacts, which works on a crowd-sourcing protocol, also serves the purpose of helping users compare products, avoid fake products and assist in research.
Ebenezer is a 2017 YALI RLC Emerging Leader (2017), a 2016 participant in the Tony Elumelu Entrepreneurship Programme (TEEP), and Winner of International Breweries Foundation Kickstart Competition (2016).
He is a member of the Young Professionals Chronic Disease Network and the International Youth Council of the United Nations.
Ebenezer is contributing to reduce the mortality rate from preventable nutrition-related non-communicable diseases, and as you guessed, we are rooting for him.