Abiodun Buari Shares the Inspiring Story of His Journey to the Stanford Graduate School of Business Against all Odds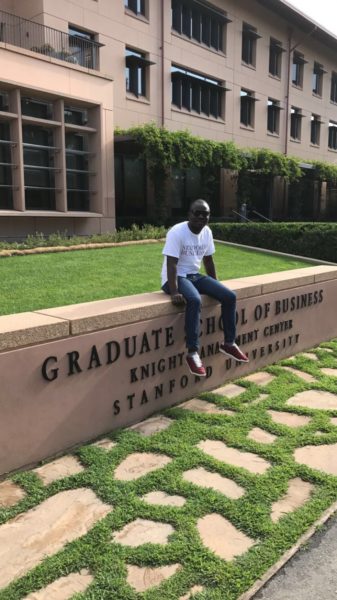 Raised on the streets of Lagos Island, Abiodun Buari has worked hard to create a better life for himself. Despite his humble background, and the loss of his father at 13, Biodun graduated from the University of Ibadan in 2011 with a First Class in Industrial Engineering, and is now a 2017 Stanford Africa Fellow at the Stanford Graduate School of Business. In this interview, with Mogbekele Koye-Ladele, Biodun shares the story of his journey to Stanford.
Professor!
My name is Abiodun Buari, with the nickname "Professor". I most recently worked as a Brand Manager at PZ Cussons, managing Imperial Leather and Carex. Before that I was an Assistant Brand Manager at P&G. I also interned as a Field Engineer at Schlumberger.
I love to read and travel, and those are two things that easily go together. I also volunteer a lot, and play football from time to time. I was born in Lagos Island and grew up on the streets of Okepopo and Isale-Agbede. I studied at the Zumratul Islamiyat Primary School (ZIPS), Methodist Boys High School (MBHS), and the University of Ibadan (UI). I had my Islamic education at the Khoudam Islam Arabic School, finishing in 2003.
Parental Upbringing and Early Years
I grew up in the slums of Lagos Island. Many of my peers did not go to school due to financial problems. Although my parents were illiterate, they recognized the need to educate their children. Unfortunately, my father died when I was 13 and my mother sold second-hand clothes, so she had very little money to spare for education. Going to school was difficult. The neighborhood hoodlums bullied children like me who went to school, mocking us for wanting to be better than them. I hawked second-hand clothes after school to help make ends meet at home and pay for my education, making me even more vulnerable to the bullying. We lacked things that many people think of as basic, like mattresses, and that gave me a burning desire to succeed.
I did not have any people around me who had passed through similar hurdles to succeed, so I doubled down on my resolve to be the first to excel. In addition to wanting a better quality of life, I also wanted to be able to coach others to succeed despite challenges. I excelled academically early, starting out as a local champion in the Lagos Island Local Government (LG) after I won the LG primary school quiz competition organized by Senator Musuliu Obanikoro's administration when he was LG Chairman. People were surprised because my school (Zumratul Islamiyat) did not usually win academic competitions. In secondary school, I was appointed Assistant Head Prefect and was President of the Junior Engineers, Scientists, and Technicians (JETS) club. I had one of the best SSCE results in MBHS, for which I was awarded the Dr. Maja Post-Secondary scholarship.
University Education
My favorite subjects in Secondary School were Maths and Physics – therefore I wanted to become an Engineer! I originally wanted Petroleum Engineering, but chose Industrial Engineering after researching opportunities in the field. I scored 292 out of 400 on the UME and got into the University of Ibadan. I started really well, but my grades tanked in Year Two after my brother and sister died within months of each other.
That really shook me to my foundations. I was traumatized, could not focus on school work, and struggled with even the simplest tasks. I would coach people for exams, and they would score higher than me because I would go blank during the exams. It took months for me to regain my will to live again. Ultimately, as time passed I remembered my desire to succeed and show others a path to success. I managed to regain momentum and make up for the lost semesters, and I graduated with First Class Honors. Funding my university education was difficult, as I was dependent on relatives who often took their time to send money across. I survived through judicious spending, and things became better when I was awarded the Total Scholarship (highest monetary award at that time) in Year Two.
Deciding to pursue the Stanford MBA
After a few years of working, many of the things I once aspired to became basic expectations. I started to desire more senior roles. I also wanted to explore innovative ways to leverage technology to deliver educational material to young people, which links into my desire to help people from backgrounds similar to mine to succeed. I had thought a lot about Lagos Island over the years, and had tried to understand how and why I turned out differently from many of my peers. I reached the conclusion that we needed more effective ways to educate people without necessarily taking them into classrooms.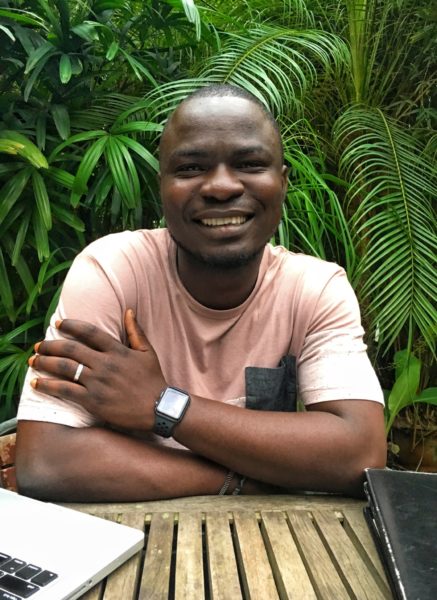 Getting in!
I wanted to learn a new way of thinking and approaching problems and how to apply technology to solving social problems. I also wanted to connect with a global network of innovators and disruptors working to solve serious problems. I researched a few schools, but the Stanford program resonated the most with me because of its focus on changing lives, changing organizations, and changing the world. I therefore decided to apply to Stanford.
The Application Process
Top MBA programs are very expensive, so I knew I had to secure the Stanford Africa Fellowship to help with the costs of attending. For my application, I wrote honestly about growing up in Lagos Island, the challenges I had to overcome, and my desire to help other children from similar backgrounds to succeed. I also wrote about how I wanted to leverage the wide availability of smartphones and internet to deliver educational material to even more people. I submitted the essay and was notified a few weeks later that I had been shortlisted for the fellowship.
I then had to prepare for and write the GMAT. I have a strong Quant background but I struggled with Verbal a bit and focused on improving my performance there. I also had to write the application essays. Answering the "Why Stanford" question was easy for me because there was a clear link between the school's objectives and mine. Although I thought I knew what I wanted to do, answering the "What matters most to you and why" question required a lot of introspection, and helped me further refine my plans. I was invited to interview, which is a positive step as it means your essays were interesting enough to warrant further discussions. My interview with a Stanford GSB alumna based in Lagos was easily one of my favorite conversations ever, revolving around my background, work experience, and aspirations.
On the day notifications were due, I sat by my phone for the entire day! I kept my phone plugged in for the entire day and was upset when I got random phone calls. They must have been trying to call me, as I eventually got an email towards the end of the day asking me to visit the Application Portal for an update on my decision. The Admission Committee tries to call everyone who gets in, and an email usually means you did not get in so I was a bit disappointed.
You can imagine my joy when I logged on the portal and saw a "Congratulations" notification. I was ecstatic! I had done it! I was going to the Stanford Graduate School of Business!
Financing my MBA
A top-class MBA is expensive! You have to be really convinced it is what you want before going ahead to incur the costs. The Africa Fellowship offered a grant of $160,000, but I still had a gap of about $70,000 as the total cost to attend is approximately $230,000. This includes living expenses, relocation expenses, etc. I also applied to and won the TY Danjuma scholarship which offers $10,000, and I am working to raise the balance from other sources.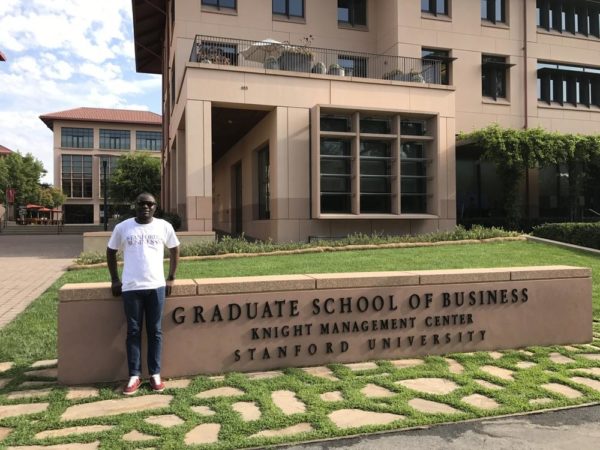 Lessons So Far
It has been two weeks since classes started, and the experience so far has been very interesting. Discussions with classmates have been top-notch, with topics ranging from startups to politics and macro-economics. The experience actually started before classes started. After I submitted an essay on Economic and Political Challenges of Recovery and Growth in Europe, I was selected to participate in a school-sponsored trip to Greece to develop a better understanding of the economic and political processes aiding and hindering economic recovery and growth in Europe with Greece as a case-study. Comparing Greece's economic situation with that of Nigeria, I got valuable insights on how the austerity measure of the current Greek administration is paying out. As a final assignment from that trip, I am now writing a letter to Nigeria's President and Finance Minister summarizing learnings on how to ensure Nigeria stays out of recession.
Plans After MBA
The Stanford Africa Fellowship requires me to return to Africa within two years of graduation to help develop the continent, which ties into my social development goals. I have already talked about my plans to develop a sustainable and scalable model to offer education to the large population of unschooled young adults in Africa by leveraging their receptivity to technology. Among other things, I will refine and further develop this idea during my time at Stanford.
Advice to Young Nigerians
Stay focused. You're responsible for your life and your results, so achieve as much as you can. Be the best at whatever you are doing. It is very exciting to be going to Stanford, but not everyone needs a MBA to succeed in life. If you're applying to business school, start early and give yourself enough time. Choose recommenders who can speak to details about your work and characteristics. Above all – stay focused!