Hello guys.
The weekend is here again. Phew! So fast! How did the week go? BN Parents, how is school fees week? Children out of home but money out of account. Don't worry, you'll continue to make more.
Here's the weekly recap of all the top stories this past week.
**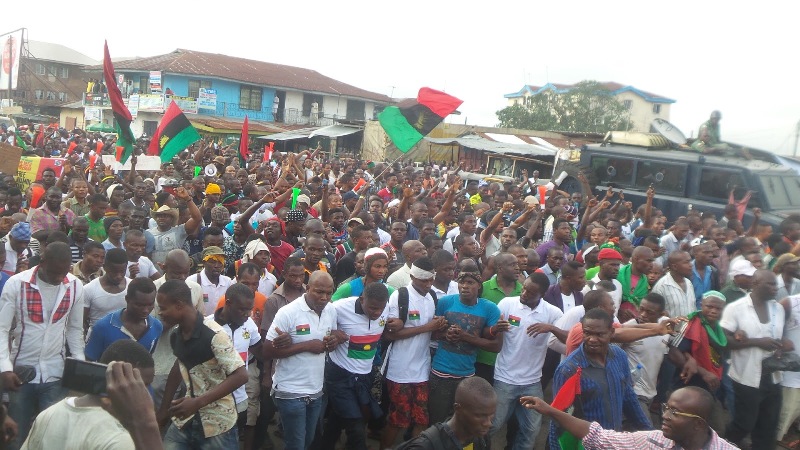 Heavy military presence in South East & the IPOB crisis
Last week, the Nigerian Army launched Exercise Python Dance II in the southeastern part of the country at the heart of secession agitations by the Indigenous People of Biafra, led by Nnamdi Kanu.
The operation saw soldiers take to the streets of Aba, and on Sunday, there was fracas in Kanu's home after his supporters said the Army, in an attempt to assassinate him, attacked his father's compound.
Videos shared on social media showed that one person was shot in the foot.
The Army has said that its officers were on routine patrol in the area when the clash occurred, adding that one civilian and a soldier.
Exercise Python dance, the army said, is aimed at exercising the troops of 82 Division, to enhance their proficiency in internal security duties, adding that it is not primarily to curb activities of IPOB.
The crisis has had ripple effect in the security system in the region as IPOB members were said to have attacked the police station in Ariaria market. This was after a video of suspected soldiers torturing IPOB members went viral on social media.
Kanu, following the clash has also accused the Nigerian Army of goading them to war.
Recalling the event to pressmen, Kanu claimed the Nigerian Army drove toward his house while shooting indiscriminately at people protesting and asking what they were coming to do.
3 people were shot, he said, and they were taken to a secure location where they are receiving treatment.
When asked about the police's statement that 3 people were at their clinic receiving treatment for machete wounds, he said it was characteristic of the Nigerian Government to lie, and they should not be believed.
"Nigeria is bringing war to us," he said. "They want us to become armed, so that the world can say Nnamdi Kanu is leading a violent armed group. Which is not the case."
---
Witchcraft, Ghosts helping Opposition win Elections – SA President Jacob Zuma
South Africa's president Jacob Zuma has said that maybe witchcraft is keeping opposition party Democratic Alliance (DA) in power in its Western Cape stronghold.
Zuma, speaking in both isiZulu and isiXhosa to fellow party members at a packed Lwandle Hall' Strand Thursday' said ghosts might even been voting to keep the DA in power.
"In the last elections I was satisfied that we were taking the Western Cape' I even said so. What went wrong? I too can't tell you. I don't know' [maybe] it's because of witchcraft, witches practice their craft in different ways. I don't know where they get the luck to win here because people in the majority are not living comfortably. Maybe even ghosts are voting."
He was also quoted to have said nowadays witches even use electricity.
Zuma said the ruling African National Congress (ANC) is backed by the ancestors and God.
---
Sloane Stephens wins first Grand Slam Title from Ranking 957th in July
Sloane Stephens, 24 won her first Grand Slam title after she beat Madison Keys 6-3, 6-0 in U.S. Open final.
Just last month, Stephens ranked 957th in women's tennis and now this! Black Girl Magic ladies and gentlemen!
Stephens, who just returned from a foot surgery in July battled Keys who had undergone two operations on her left wrist in the past 10 months.
With the US Open title under her belt, Stephens will climb back from just inside the top 1000 to World No. 17 in the span of 6 weeks!
---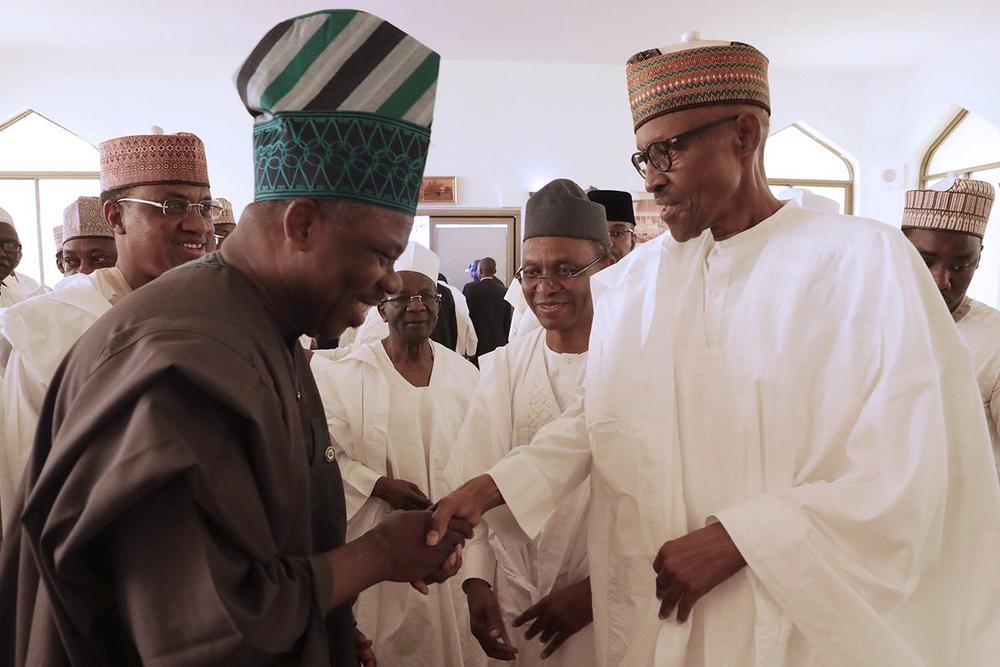 Only ill health can stop Buhari from contesting in 2019 – Governor Ibikunle Amosun
Governor Ibikunle Amosun of Ogun has joined his Kaduna state counterpart Nasir El-Rufai in drumming support for President Muhammadu Buhari to run for office come 2019.
Amosun made this known in Abeokuta shortly after attending a book launch put together to mark the one year anniversary of the death of renowned educationist, Lamidi Sofenwa.
Amosun said:
If President Buhari and his administration had not come in time with rescue mission, only God knows where Nigeria would have been today.

On this 2019 for me, the only thing that can probably prevent Mr. President from contesting is ill -health because if not for this administration of President Muhammadu Buhari only God knows where Nigeria would have been today.

As humans, we quickly forget things. If we could be fair to this administration, they came in at a time the country was plunged into a very deep end and imagine where the country is today. We were in recession and now we are out of it and it not easy to get to this point.

Again, I am saying it, the only thing that can stop Mr. President is ill- health. But as we can see today, Mr. President is back, rejuvenating and very soon, it would be clear for everybody to see that Mr. President is so well now.
---
President Buhari jokes about considering run away from the Nigeria
President Muhammadu Buhari, while speaking to the National Council of Traditional Rulers joked that he was considering running away from the country.
The president was speaking on the projection of famine in the country. He said the rainy season had been good these past two years, but if they hadn't, he was considering running. He said:
We are lucky, last year and this year, the rainy season was good. If it were not good, I'm confiding in you, I was considering which country to run to. But God answered the prayers of most Nigerians.

The rainy season last year was good, this year, from the reports I'm getting, it is good. We thank God for that, only God can do that for us otherwise there would have been lot of problems in this country.
---
I told Jonathan about Boko Haram's grievances but he didn't believe they were a problem – Obasanjo
Former president Olusegun Obasanjo has said that immediate past president Goodluck Jonathan did not nip Boko Haram insurgency in the bud in its early days, hence the big problem the country is facing now.
"We did not do what we should have done when we should have done it. We left it to become a very very intractable problem," Obasanjo said in an interview with BBC on Sunday.
"I went out in 2011 to Maiduguri. I took great risk to find out what is really happening. Boko haram, do they have grievances, if they have grievances, what are their grievances and I brought all that to Jonathan. Jonathan didn't believe that Boko Haram was a serious issue. He thought that it was a device by the North to prevent him from continuing as president of Nigeria which was rather unfortunate.

Even when Chibok girls were abducted, it took a while for the government to believe. Now if that is the situation, you can understand why the right attention was not paid to the issue of Boko Haram when it should have been paid.

Boko Haram will not be over. It started from a position of gross under-development, unemployment, youth frustration in the north-east. So we must be treating the disease not the symptom," Obasanjo said.
Obasanjo, in another interview with BBC News Pidgin has said that Biafra is not the answer to the agitations by the young people of the South eastern part of Nigeria.
"Di young, young people for Southeast, dem say na Biafra, wetin dem know wey bi Biafra? But di thing be say dem no happy. Dem no happy as things dey for Nigeria and I no blame dem," Obasanjo said.
"Some people are hungry, some people no get work… de problem be say, people are fed up because wetin dem want, dem no get. Hunger dey catch dem, family dem no fit take care of ," Obasanjo said.
---
Atiku says he'll fight corruption like no one has if given the opportunity
The former vice president Atiku Abubakar has said if given the opportunity to lead Nigeria, he will fight corruption like no one has.
Atiku said this in Abuja, during a tour of the new ultra-modern Yaliam Press Limited in Jabi area.
He criticized those who keep linking him with allegations of corruption, challenging them to come forward with evidence, if they have one.
"I will shock everyone because I believe that I will fight corruption like never before," he said.
---
German Police arrests Nigerians over Fake Marriages
Three Nigerians; one man and two women along with, two German women have been arrested following the raid of 41 homes and offices in Germany's capital Berlin.
German Federal Police Spokesman, Jens Schobranski, said the suspects detained are a 50-year-old Nigerian man, two Nigerian women aged 46 and 50, and two German women aged 55 and 64.
They are accused of selling certificates to Nigerian men documenting fake marriages with German and Portuguese women in more than 70 cases, charging up to 13,000 euros (₦5,577,593) each time.
---
Singapore gets first Female President without an election
Singaporeans are kicking back as their first female president is elected into office – without voting.
The citizens of Singapore have criticized the means through which 63-year-old Halimah Yacob, a former speaker of the parliament from the Muslim Malay community, was elected into office.
Yacob did not face an election for what is largely a ceremonial post, after authorities disqualified her opponents for not meeting the eligibility criteria.
After being certified as the president, Yacob said the process by which she was elected did not matter, as she would serve the best way she can. She said:
I can only say that I promise to do the best that I can to serve the people of Singapore, and that doesn't change whether there is an election or no election.
---
Apple Launches iPhone X – without home button and a facial unlock
Apple's announcement of the latest addition to its products, the iPhone X which is actually pronounced "iPhone 10" has set the internet on fire.
The new phone was introduced in addition to its new products, the iPhone 8 & 8s.
The iPhone X  features a new 5.8-inch OLED display that's more colorful than the LCD screens Apple used in earlier iPhones. Apple is branding it the "Super Retina Display." The screen runs almost top to bottom and side to side, too, something Apple has never done before.
There's no longer a home button. You swipe up from the bottom of the screen to return home. That gesture also allows a user to multitask — swipe up and pause, and you can multitask and switch between apps. Users can switch between apps by swiping along the bottom of the screen, too. Users can call up Siri by saying "Hey Siri" or by pressing the side button.
When you look at your iPhone, it will detect your face and will automatically unlock, even in the dark. Apple says it uses neural networks to create a mathematical model of your face and then compares that in real time, invisibly, to make sure it's actually you. The A11 Bionic chip has a built-in neural engine to process your face.
---
Mayweather says Trump spoke like a "real man" over "grab them by the p****" comment
Boxing champion Floyd Mayweather, in an interview with Hollywood Unlocked has said that Donald Trump's infamous "grab them by the p****" comment reflects how a "real man speaks".
"People don't like the truth. He speak like a real man spoke. Real men speak like, 'Man, she had a fat ass. You see her ass? I had to squeeze her ass. I had to grab that fat ass.' Right? So he talking locker room talk. Locker room talk. 'I'm the man, you know what I'm saying? You know who I am. Yeah, I grabbed her by the p—-. And?'"

I feel people shy away from realness. This man didn't do nothing. Listen, if y'all didn't want the man in the White House, y'all should have voted the other way. It ain't like he went and robbed—he done his homework. He did what he had to do and he got there," Mayweather said.
---
Aisha Alhassan apologises for Endorsing Atiku
The Minister for Women Affairs Aisha Alhassan has according to the All Progressives Congress (APC) apologised for publicly endorsing former Vice President Atiku Abubakar for the 2019 Presidency.
According to Bolaji Abdullahi, the party's spokesman, she apologised for her ill-timed statement, and for putting the party in a difficult position.
Abdullahi explained that while the minister is entitled to her opinions, it was too early to begin endorsing anyone.
Atiku has not said he will be contesting for the 2019 presidency, Abdullahi said, and he hasn't gotten the party's form.
**
What do you think about the top stories for this week? What else happened this week you'll like to share?