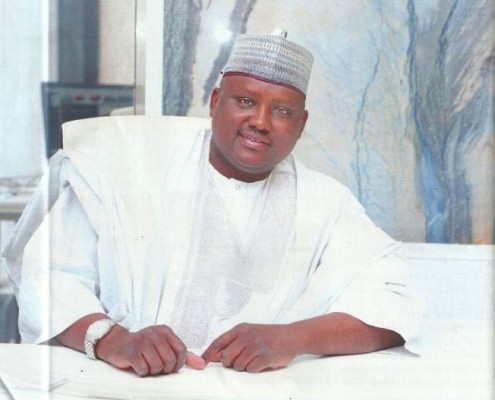 The Department of State Services (DSS), Nigeria's secret police, reportedly made a transfer of N152 million into the account of wanted former pension boss Abdulrasheed Maina.
According to Premium Times, the payment proves that Maina and the DSS have been in a relationship for a while.
It was reported that between 2011 and 2013, over N500 million was paid into a corporate bank account in the name of Cluster Logistics Limited, a fictitious company Maina used his brother Khalid Ali Biu, an employee at Fidelity Bank, to create.
Biu was reportedly both the account manager of the company's account with Fidelity Bank, and the director of the company.
Maina was also reported to be a signatory to the account.
Bank documents reportedly show that the DSS, paid a total of over N152 million into the account.
Premium Times also reports that Maina was escorted into the country by the DSS, who also provided security and a safe house for him.
Although Maina has since gone into hiding, his family, according to Daily Trust, has said he will not surface until his security is guaranteed.
Maina is in possession of facts that are against the cabal and will interest the Nigerian populace, the family said.
As you know Abdulrasheed Maina had been a target in the past, so experience is the best teacher. But when his security is guaranteed, he will surface from wherever he is and tell Nigerians the truth.

All the same, we have contacted our solicitors, Messrs Mamman Nasir & Co and instructed them to act appropriately.

We equally know that Abdulrasheed Maina is in possession of facts that are against the cabal and interesting to the Nigerian populace, which he will disclose soonest. One must ask whether it is an offence for somebody to serve his fatherland.
They added that Maina was invited to return to the country by the President Muhammadu Buhari-administration, to assist in the "Change" agenda. They said:
It is on record that Abdulrasheed Maina's reform put to a stop the fraudulent withdrawal of huge sums from both the Nigerian Pension Board, the Nigerian Police Pension Board, etc. Perhaps it is his noble efforts that made him enviable to the present administration when they came into power to convince him to come back and assist in its 'CHANGE' agenda.

Abdulrasheed was in fact invited by this administration and he was promised security to come and clean up the mess and generate more revenue to government by blocking leakages.

He succumbed to the present administration and came back to Nigeria. He has been working with the DSS for quite some time and he was given necessary security.
The DSS has however not reacted to the report as at the time of filing this report.