'Nedu Ahanonu: A Stutterer's Tale! 5 Things that Helped Me Thrive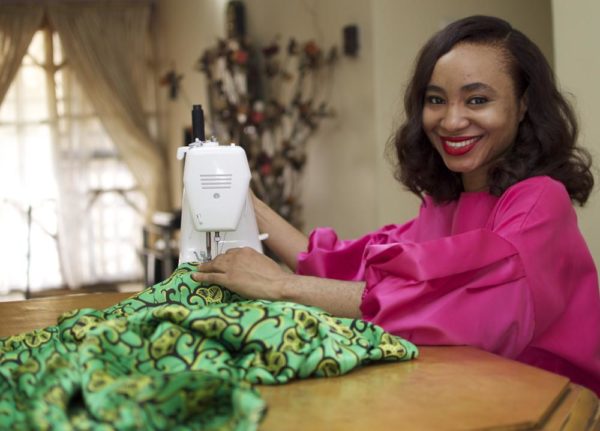 No, this isn't a heart-warming tearjerker a.k.a "Stories that touch" about how I conquered stammering and soared into the happy-ever-after blue sky. Hardly. It's a matter-of-fact tale of how I've achieved the things I've set my mind to do regardless of it.
I've stuttered since the age of 10. I do remember that it started from being somewhat shy, then graduated to speaking too quickly, a rush of words like I was in a hurry, and then it escalated to these painfully uncontrollable repetitions that made me feel afraid about speaking in front of large groups of unfamiliar people. I was nervous because I stammered and I'd stammer more because I was nervous about stammering. A circular dilemma…
It held me back for so long, gave me an excuse to not do things. A year after I completed a pattern drafting and dressmaking course, I started writing a well-received DIY sewing blog. Then, motivated by popular demand I decided that I wanted to teach a live class, but I procrastinated for the longest time because of the fear of being literally lost for words mid-speech while teaching. What would my students think? How would they perceive me?
I suppose we find ways to conquer our fears by testing the waters, one unsure foot after the other. Eventually, the desire to live better versions of our own lives gives us the courage to swim into the deeper end, not minding whether we sink or float, but mostly desperate not to regret never having tried in the first place.
Well, I launched the Nedoux Sewing Club and held my first live sewing class in July 2016. I did not sink. The anchor that stammering tried to tie around my neck did not pull me down. I swam regardless. I've held 16 monthly sewing workshops since then, and taught nearly 300 people so far. I really enjoy teaching.
We discover ourselves as we deal with challenges. In my self-discovery I've learned to:
Breathe
Because half the battle is the fear of ridicule. I realised that as I got older, stammering in itself didn't bother me as much as it did when I was younger. What actually bothered me was people seeing my struggle, them observing the inner turmoil visible on my face and in my body language, whilst I mentally tried to control the spasmodic words running amok like naughty children inside me.
Well, I've learned that people will be alright, nobody ever died from listening to a stutterer. I own it with zero apologies. Here are some tips I've used to manage my stuttering.
Practice my speeches
I make videos with my phone camera; I just talk about random things and record myself. It felt silly the first time, now it's fun. I've observed my speech mannerisms while watching my videos and learned how to pace myself with well-timed pauses. I've managed to control the struggle and it's improved my confidence with regards to public speaking.
Identify my lexical triggers
I cannot utter certain words easily, for some reason there's a time lapse between when my brain passes the words like a relay baton and when my mouth catches said words. So, I've learned to find synonyms of my trigger words that are easier to enunciate.
Address the elephant in the room before it starts break-dancing energetically
Right after I introduce myself and just before I commence teaching a class, I do something I call a "Disclosure Tradition". With a bright smile, I casually inform my new students that I have a mild stutter, and I assure them it will be a good class regardless. This disclosure does something remarkable, as they become understanding.
I've done this during job interviews too. I let the interviewer know beforehand that I had a mild stutter, and they smiled in understanding. I relaxed and allow myself to be interviewed. I was hired.
Self-validate
I set the standards for my life using my personal yardstick. I know I'm good enough. Simple.
Last year, I wanted to shoot sewing tutorial videos, as I was keen to increase my audience via YouTube. Again I procrastinated for the longest time, I wondered how many bloopers I'd go through before managing to arrive at useable content.
See, I'm certain that when one has the right intentions, God will use people to remind us that our dreams are valid. I finally found the courage to discuss with a video producer and right after I told him my concerns, he told me not to worry about it. Nnamdi had a brother who stammered too, so he understood. He patiently encouraged me to focus on doing my bit, because he would do his editing magic afterwards. So, we laughed good-naturedly while we shot several takes during production.
The day I received the post-production videos, I watched with tears of joy rolling down my face, it was perfect. I did a proper video. Me! Indeed, nothing is impossible, if only we tried.
I've done it afraid. I've done it regardless of a supposed flaw. I've simply done it.