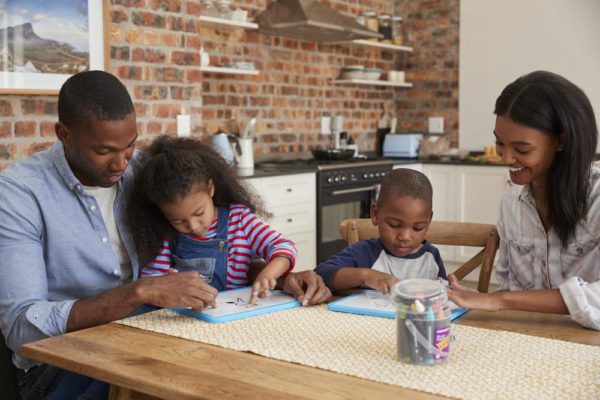 You may have seen a video or two on Instagram of a baby 'swimming', or young children making a mess for 'art' or quotes telling us parents to 'let children play'.
I won't blame you if you rolled your eyes, asking yourself 'which one is this again?' Or maybe your mind immediately went to – 'our parents didn't engage us in this way and we turned out OK'.
Both trains of thought would be understandable, because it's true, these baby activities are a new trend in parenting.
But… the difference to things like, family photoshoots*, for example, which are also currently on-trend, is that baby activities have been proven to provide numerous benefits to babies who participate in them. This is backed by top education experts based on research done, on how the brains of young children work. This research is new and has come out after our parents' days of raising children, so really it is a different world. We can't really compare what they did to what we do, knowing full well, evidence exists to back up current guidance.
Let me give two examples:
Back in the day, the experts believed experiences children had before the age of three years old had limited impact on their later development. A toddler's brain was believed to be less active than a teen's brain. No wonder our parents were relaxed about our learning, till we got to school age.
In today's world, research reports corrects this old school thinking. Early experiences do have a decisive impact on how the brain is formed and what the child-turned-adult is capable of. A three year old's brain is twice as active as an adult's brain. Activity levels actually drop in the teen years.
It's about brain connections and relationships, but the main gist is this: what your child does daily in their first three years counts in a major way, for determining who that child will be in the future. Those first three years are not only important, they are critical, like no other time in your child's life.
What should we parents do with this information? The answer is: do as much as you can, to make sure your child is exposed to high-quality early learning and care daily, during the first five years. The type that will support your child's development, preparing them for a healthy and productive future. Because, that's the goal right?
My top five suggestions for a beginner who wishes to offer early learning at home in the first three years are as follows:
Read to them
This is one of the best gifts you can give your child – a love for books and reading. You don't have to be the one to read. If you're away at work during the week, consider showing your nanny how to do it or checking if it is done at day care. She may not be a perfect naija-radio-accented English speaker – that doesn't matter. If she loves to read to your child and does it with enthusiasm, it will go a long way to helping your child develop a love for learning.
If Mummy or Daddy can do the reading – even better! Use voices high and low, read books out loud, read books by point at objects in the pictures, read books by simply letting your child turn pages and look through.
The first books can be a black and white book for a new-born. Graduate to touch and feel books, then book of first words, shapes, animals or things around them. If you're not sure which story books to buy – there are so many on the market, start with the classics – ask them at the book store for the toddler classics. Books like 'The very hungry caterpillar' by Eric Carle, 'Dear Zoo' by Rod Campbell. You usually can't go wrong with those.
You can put books in your car, read at night time or during the day, read during the weekend, get Daddy to read. Some research shows Dads actually do story-time reading better than Mums.
20 minutes a day of reading is the target, but any quality reading you do regularly is a good start!
Have conversations with them
I know this sounds obvious, but it's easy for some people to only talk to children when they are giving instructions. "Don't do that", "come here" "your food is ready". You should make talking to a child benefit the child by talking about things in your child's environment. Things they are eating, seeing, touching and doing. And talk about these all the time.
For example: "oh, you picked up the rattle, do you like the sound it makes?" You should ask questions and leave gaps for baby to answer, even before they start speaking. Repetition is key at that stage. You could say the word nappy several times as you change your baby's nappy to help then recognise and register that word – showing them the nappy, too.
Simple nursery rhymes and sing-along songs should be part of their daily life. When you hear recognisable words coming out at 12 months old for a child, know that the work to start doing the talking already began months before that. Also, you may have noticed this, children can understand a lot of what we say, before they start speaking. So, don't baby-down your words, speak as though they do understand, and in time they will understand even the bigger, more complicated words/concepts.
Provide an environment that supports play
This means making sure there is at least one safe area in the house for baby to be on a rug/playmat/tiles/floor to play. This area can then be made stimulating first with simple rattles and baby gym (toys hanging above to bat) for a newborn, then you might add other toys, even small pots and wooden spoons or an empty water bottle, for baby to play with as they grow.
You may also put some books in this corner. As baby grows older into a walking toddler, you can add a kid sized table and chair with paper and crayons for scribbling and some starter thick wooden puzzle toys, building blocks, shape sorter toys, and other age appropriate items.
Be careful not to overwhelm your child with toys, though. The type of supervision your child gets during play is important. You or Carer need to stand back and let baby get on with their play, interjecting only when necessary, in a way that does not constantly disrupt the child's playful learning.
Introduce some variety into their play-diet
When you take your child to the supermarket or market with you, you are actually helping their development. They are in a new exciting environment (you may not see it that way). They can see new faces, items of different kinds, hear different noises, perceive new smells etc. You will likely use different words; after all at home you are unlikely to talk about receipts and ask about kilos of meat or vegetables. So, you help increase your child's vocabulary by taking them to new places.
You can introduce variety in your child's play diet by simply taking them out of their usual environment (home) regularly. If it's a child-friendly place such as PoPP Lagos – even better, there will be other babies, music and activities developed specially to enrich babies mind. A space that allows your child to move around freely, picking what they want to play with. There will be more ideas to take home and replicate in your play with baby.
But, you can also introduce variety of play at home with toys and experiences. Bring out play dough for fine motor skills development and creativity. Bring the child into the kitchen to observe and maybe assist you with cooking (with relevant safety precautions). And my personal favourite – run toddlers a bath and put rubber toys, and bowls in for them to enjoy playing with. Please always watch children in a bath to prevent drowning.
Also play dates at home and at other children's houses, can be enjoyable for kids 18 months and older. Note that adequate adult supervision is still key at this stage.
Encourage outdoor play
This is an important part of early learning – physical development activities. Once your child becomes mobile, encourage them to climb, run, jump and engage in other activities that help strengthen their large muscles. Children are to engage in physical activity every day, if possible outdoors but there are things that can be done in doors, too.
For younger babies, you could put a bucket of water outside for them to play with? Let their feet touch the grass, let them touch dirt with their hands; if it's a warm day, let them feel the rain on their skin too. Remember, it's just water that can be wiped down, but to them it's a new experience. They learn better when they can see hear and touch things, at this stage.
For walking/older toddlers, if you have sand or water outside, let them dig and build in the sand. If you don't, can you walk around and explore the environment maybe while running errands or in the safety of a compound? You could provide a tricycle for riding around on.
Bonus point: Food and sleep for parents & the child.
These are an essential part of early learning too because they affect the brain. A healthy diet and adequate sleep will support your baby's growing brain and active bodies.
Encourage children to feed themselves from as early as they're interested. Now and then, it's OK to let them make a mess (put a black dustbin bag or plastic sheet on the floor). This can be particularly helpful for picky eaters who may feel better about trying new tastes and textures, after they've played with them.
Once solid food is the main food, typically after baby's first year, you want to offer a balanced diet of fruit, vegetables, grains, fats and protein. And, after first year they still need milk, too.
Have you noticed when you're in a hurry or just not feeling your best, you do more shouting or snapping at your kids? Food and sleep are also essential for parent or carer, too. It is hard to care for others patiently, when our cup is running low or at empty!
That's it; a quick run-down through five things you can do to promote early learning at home for babies and toddlers 0 – 3 years old.
One thing I did not add above that is very controversial is 'screen time'. TV/cartoon watching or app viewing, in the first three years, should be kept to a minimum or zero level! I would say at least until your child is talking. I know some of you will fight me on this point, but it's a discussion for another day.
Which of these five steps is commonly done in your home? Are there any you would like to do more of?
*No offense to photoshoots – they may not directly benefit a child's development, but they do add colour and light to our days and definitely have their place in preserving family history.
Photo Credit: © Monkey Business Images | Dreamstime