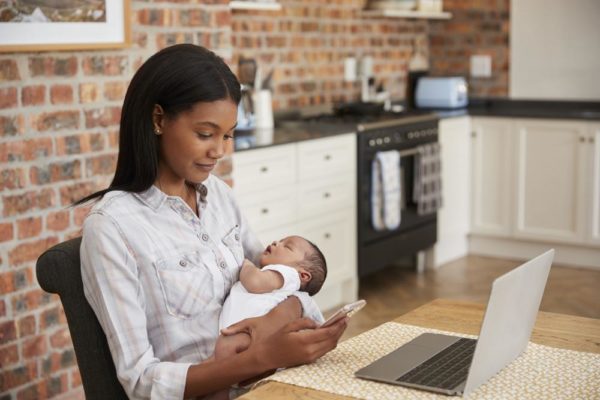 Returning to work after maternity leave can be daunting from a practical, emotional and financial perspective. The first few weeks are usually trial and error; trying to find a rhythm or a balance. Many highly qualified female employees have a hard time adjusting (or are not able to return) to the "traditional" workplace.
The good news is that there are several ways that the Nigerian government and employers can retain working mothers with the help of improved structures and policies both at organization and governmental level.
Here are a few suggestions of what employers and the government can do to support working mothers:
Enactment of specific Laws and policies to accommodate nursing.
To encourage working mothers, structural changes at the governmental policy level must be made to accommodate nursing moms in employment. We need specific laws / policies that stipulate for the establishment of lactation stations in public and private workplaces, or policies that encourage establishment of day care centres in work places.
The Nigerian labour law specifically provides – "if she (working mother) is nursing her child, she should be allowed half an hour twice a day during her working hours for that purpose (of nursing)."
While the labour law provides for time for nursing, it does nothing to provide for space at the work place for breastfeeding (or more realistically expressing of breast milk). As any nursing working mother would know, expressing milk every 3 or 4 hours is necessary to maintain a steady supply of breast milk to nurse your baby. In reality, however, the struggle to obtain a functional lactation space at work, and the time to use it, is a common problem for most working moms.
When I returned to work (after the birth of my second son, CJ) my colleagues were extremely supportive of my intention to exclusively breastfeed my son for 6 months – and I was also very vocal about requiring their support and understanding. I unashamedly carried my rucksack of electric pump and accessories to work every day and sometimes had to pump from my car, or in an office with a door that didn't lock – but again, my colleagues were very supportive and did their best to accommodate my pumping schedule. We did have a few awkward moment here and there though.
On a serious note, it is important to understand that breastfeeding and pumping of breast milk are two very different things. Lots of women breastfeed in public. It's sweet, natural and part of caring for a baby.
Pumping, however, is a totally different ball game. It is not natural. Pumping involves complicated equipment that needs to be assembled, used, disassembled and cleaned at every pump session. The pump itself makes loud, groaning noises – similar to a dairy farm machinery. Expecting or asking a nursing mom to pump in an intrusive space is like asking someone to pee in the hallway. It's barbaric.
The Nigerian Government can help by enacting laws or policies that requires employers to provide working nursing mothers with an in-house day care / crèche service or a space which can be used to express or nurse.
In addition, the law should explicitly state that this space cannot be a bathroom, should have an electricity outlet, a door that locks, be shielded from view and free from intrusion.
Employers should be encouraged to adopt better Family Leave Policies
One way to reduce the career penalties suffered by working mothers is for company's family leave policies to change, so that both male and female employees are entitled to some "family leave" time. When workplaces get used to men, too, taking paternal leave – that would encourage gender equity at work.
By introducing leave policies aimed specifically at fathers, such as Quebec's five weeks of paid paternity leave, both governments and employers can make becoming a working parent less of a gender issue. Essentially, if more men were encouraged to take time off work to care for infants, then women's careers wouldn't suffer as much, because in practice, consecutively taking maternity leave seems to hold profound implications for women's career advancement.
Notably, in Lagos state there has been significant efforts in making workplace policies that are friendly to mothers, and fathers too. The Lagos State Government approved six months maternity leave for female employees and 10 days paternity break for male employees.
Employers must share empathy!
Women continue to be disadvantaged because of the underlying assumptions that having a baby spells career suicide and that women are not serious about their careers post child-birth. This is utterly ridiculous, but it is a mind-set that still exists.
Unfortunately even the most family-friendly employer in Nigeria will secretly groan when notified about an employee's pregnancy. Hence, the unspoken popular trend that fathers are more likely to be hired and to be regarded as more competent employees than mothers.
It's important that employers, supervisors, and coworkers are not resentful about any "special breaks" that pregnant employees or working mothers get. It is also important to sensitize superiors at work to set a positive, respectful tone towards pregnant or nursing employees – for the rest of the company to follow. If you hear (of) rude / demeaning comments from coworkers about a pregnant employee or nursing working mom, it is your responsibility to address them, just as you would address a racist or sexist comment in the workplace.
We need your empathy. New moms are torn in two directions when they return to work. Sometimes it feels impossible to be both a good employee and a good parent.
One way to extend support is for employers to introduce workplace policies that prohibit any discrimination against promotion of female employees who have embarked on maternity leave within an appraisal period. 
Another way employers can help encourage working mothers is to afford new mothers to the opportunity to safely discuss with their supervisors about their intention to progress their careers even after maternity leave.
The Government could also enact laws that ensure that the right of a woman in employment to maternity leave shall not restrict / affect her right to equal treatment, especially application of the same criteria for promotion – in any appraisal period.
Create work environments that promote flexibility
It is also important to create work environments where both male and female employees are given equal opportunity for flexibility and it is not just granted on the basis of being a female employee who is also a mother.
For example, if a working mother is granted permission to work from home a couple days per week, she's likely to be stigmatized and stereotyped as a working mother who does not put in the same amount of working hours as her peers at work. However, if flexibility at work can be structured systematically and collectively instead of individually, then the stigma would be lessened.
Another possible option is giving employees the option of pursuing closed-end projects where a business gives clear deliverables and milestones for completion. If you want to encourage high-achieving mothers to stay in or to return to the workforce, offer more than an office and a work week filled with paperwork and meetings; offer something to get done and determine when you need it by.
Highly qualified mothers could work part-time or full time from home doing strategic analysis, building financial models, writing legal briefs or PR pieces, generating blog posts or planning corporate conferences.
Nigerian business' and employers just have to structure the job so that working mothers with young children can still function in the corporate world. The legislative arm of the Government can also stipulate regulations that require employers to ensure that workplaces support flexible work practices.
Leaving the workforce for a period of time, for whatever reason, can be a scary prospect. You work so hard to attain a certain professional level in your career or build a skill set, only to have to take time out and risk losing your footing. I know a lot of women who feel anxious about it….. I certainly did when I had both kids.
So what else do you think employers or the Government can do to support working mothers?
Photo Credit: © Monkey Business Images | Dreamstime