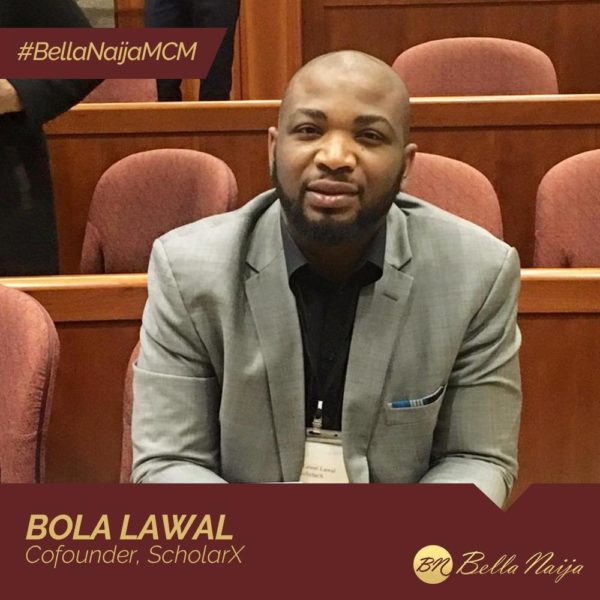 At the National summit on Education last month, President Muhammadu Buhari disclosed that the number of out-of-school children in Nigeria has risen from an earlier statistic of 10.5m few months prior, to 13.2 million as at the time he was making the statement. It's a no-brainer, poverty is the leading cause; this is not excluding the fact that violence and poor funding, which translates to poor infrastructure also contribute to this figure.
Our #BellaNaijaMCM today Bola Lawal, together with his cofounders Maxwell Ogunfuyi and Abayomi Johnson created a product to tackle this across Nigeria and Africa. Riding on the wisdom in an African saying – "It takes a village to raise a child," Bola and his team created "Village," a product under their ScholarX platform, to fund out-of-school children's education across the country.
ScholarX, a mobile and web platform for Africans describes itself as "a social impact startup that focuses on Education Financing to help young Africans access quality education through Scholarships, Crowdfunding (Village) and E-Learning. Essentially, we are the opportunity bridge that connects young people with opportunities both home and abroad."
The "Village" platform which began a few months ago has already raised almost N2m for children's tuition across the country.
Bola, who graduated from University of Houston with a degree in accounting, had worked as a Business analyst with companies such as ConocoPhillips, Accenture and Shell.
Bola, speaking to BusinessDay in July, said ScholarX is working on an accelerator for student run tech platforms, adding that it is also looking to create Entrepreneur focused scholarships.
Bola writes a column for BellaNaija tagged "Opportunity Hub with Bola Lawal" where he shares insights on how young Africans can access opportunities around them as well as make the best of what they have.
Bola is contributing his quota to tackling the education crisis in Nigeria and we are rooting for him.