You're invited to the launch of "Cash Your Passion" – A Book on Entrepreneurship | Tomorrow, December 17th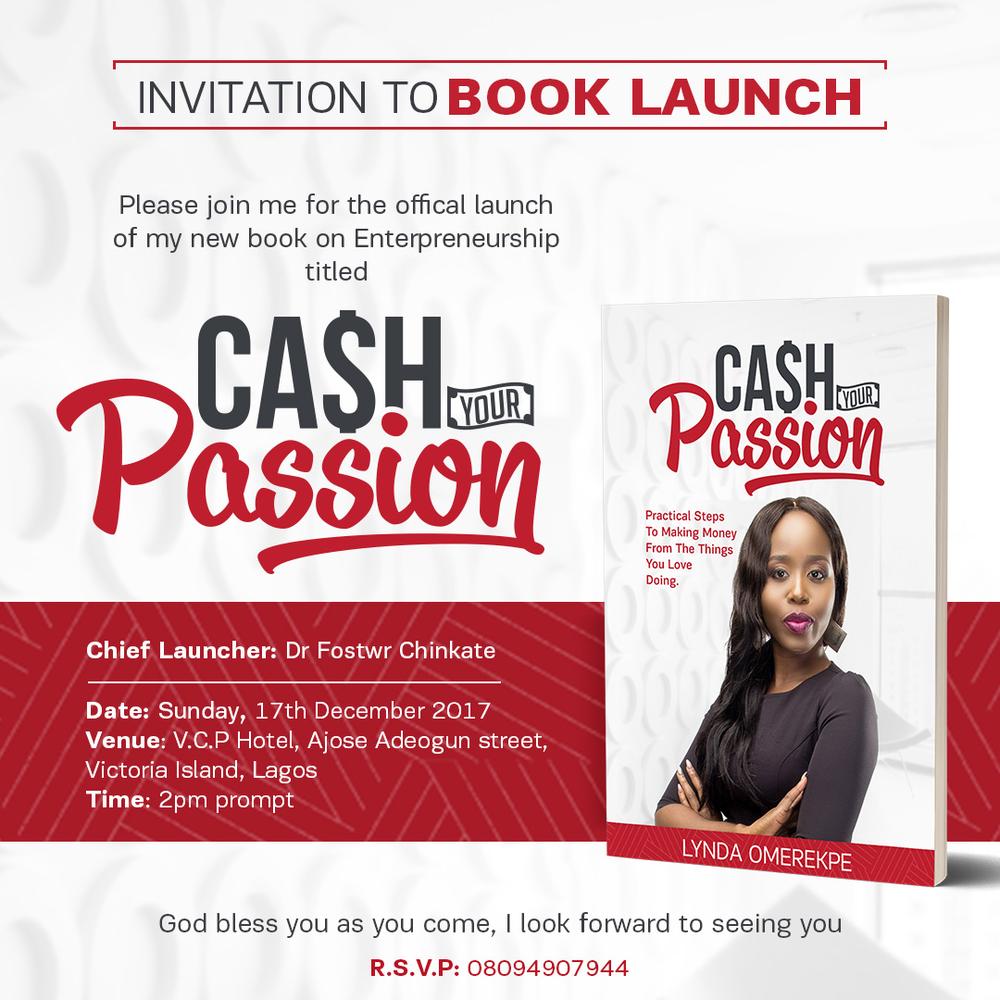 Digital media expert and motivational speaker, Lynda Omerekpe, yesterday unveiled her new book on entrepreneurship, titled "Cash Your Passion" (practical steps to making money from the things you love doing). The book is a guide to helping young Nigerians overcome the difficult economic climate and achieve excellence by monetizing their passion for financial security.
Lynda Omerekpe, who is the founder of Lynnville Consulting, a digital marketing firm, is focused on inspiring the youth to develop their entrepreneurship skills from their hobbies and daily activities believing that this will help reduce the time wasted in the labour market while increasing productivity and economic growth.
She said, "Nigerians are highly talented but unfortunately most have been configured to see employment as the only means of livelihood; leaving many talents undeveloped". I strongly believe that the level of unemployment and poverty index in Nigeria can be reduced if every individual finds their hidden value in the form of talent, skill, interest, gift, and hobby and offer it to the world as unique products and services for monetary reward."
In his review of the book, Motivational speaker and author, Dr. Samuel Ekundayo said, "Cash your passion is a book that takes the reader on an extraordinary journey of locating their space and place in the world. A journey that emphasises the power in monetizing your natural gifts while making an impact in the world. Lynda starts from where every life-changing resource should start – Identity! It is how you see yourself that matters and once you are clear about your identity, it is easier to discover what is unique about you. And this is where the Big Bang of breakthrough starts. I love how Lynda practicalises the thought process in this book beyond just the theory to how the user can apply all the principles in the book to his or her own advantage."
Date: Sunday, December 17th, 2017
Time: 2.00 pm
Venue: VCP Hotel, Ajose Adeogun Street, Victoria Island, Lagos.
Muna Okam, Chief Executive Officer, Chloe's Food and Dairy describes Cash Your Passion as "A very well thought-out guide for the millennial entrepreneur who is looking to cash their passion. This book will help you identify your passion and take the necessary steps to actualize it "from passion to profit business" with minimal setbacks. The writer has set out to expand the capacity of your mind as you read this empowering book and has achieved this by sharing the wealth of knowledge and expertise she has gained both directly as an entrepreneur herself and as a coach to other entrepreneurs. Cash Your Passion is definitely a worthwhile read for anybody seriously considering the entrepreneurial journey."
Cash Your Passion is available in hard back and soft copy.
For further information please contact.
___________________________________________________
This content has been published for free as part of BellaNaija.com's commitment to youth, education, healthcare and community development as part of our corporate social responsibility programme.