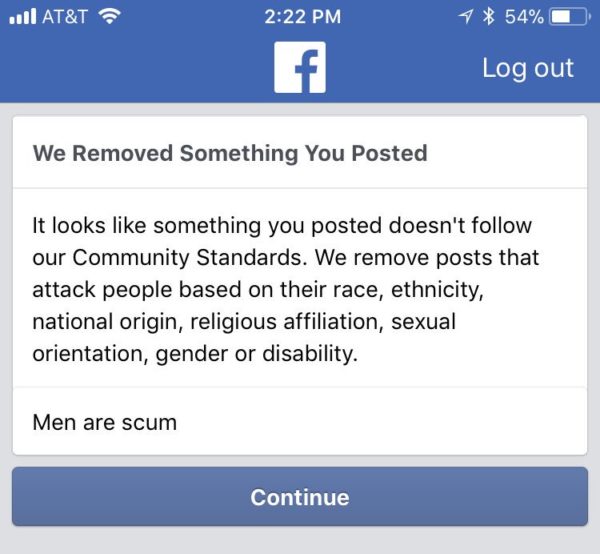 Facebook users have discovered that posting "Men are scum" gets them banned from using the platform, deeming it as hate speech.
Comedian Marcia Belsky complained on her Twitter that she was banned for 30 days after posting "Men are scum" as a comment on a friend's post.
I (sarcastically) posted this comment on @nsilverberg's post screenshotting dozens of death & rape threats

30 day ban lol

Bye @facebook ✌️ pic.twitter.com/6PPVeClv9o

— Marcia Belsky (@MarciaBelsky) October 19, 2017
She isn't the only one. Comedian Kayla Avery revealed that she too was banned for posting something with the phrase "men are garbage files."
Please @facebook I'm DYING to hear how my comment on this post violated communty standards? I know I'm no @rosemcgowan so ill get ignored pic.twitter.com/UYkt9MY68A

— Kayla Avery (@averykayla) October 12, 2017
Facebook, speaking to The Daily Beast, said the bans are a result of its moderating guidelines which removes threats and hate speech directed toward a protected group – which includes race, gender, religion, ethnicity and sexual orientation.
Facebook told The Daily Beast that "men are scum" is a threat and should be removed
Photo Credit: @MarciaBelsky