#BBNaija – Day 2: Forming Bonds, Double Wahala's First Kiss & More Highlights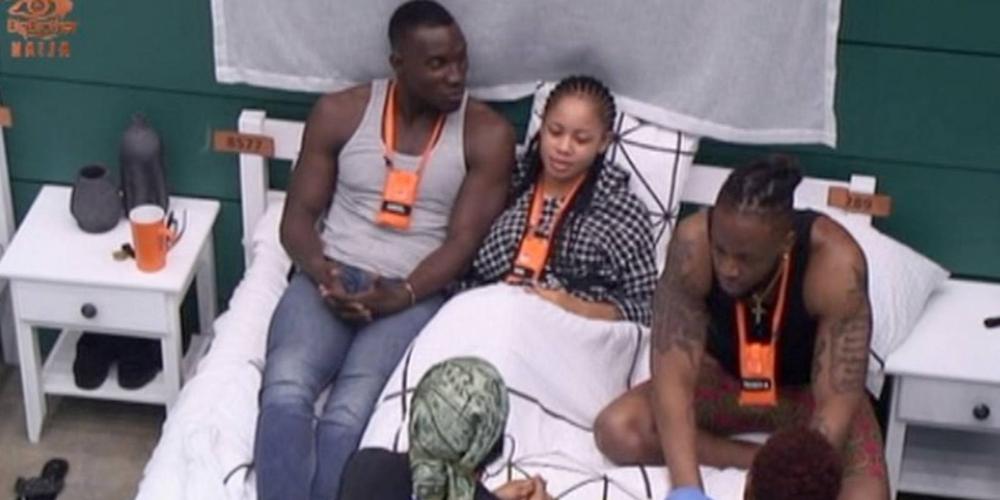 Did you watch day 2 of the Big Brother Naija 3 reality show?
If you missed it, we've got the highlights for you!
..
Bonds are forming
It seems as if the Housemates are all getting on with each other, for now. Most said in their Diary Room sessions with Biggie that they were still observing and working out who was who in the House before they started making actual friends and alliances. Some did say that they were forming bonds with people but most were cautious in their optimism.
With the morning workout in full swing, we see Khloe and Ifu Ennada goofing around and having some fun, bringing some sunshine to a rather cloudy day. Slowly but surely we can see budding friendships and alliances on the horizon.
The Housemates spent much of their evening either bonding inside around Angel's guitar or lazing around outside in the Jacuzzi where Head of House, Tobi held court with his intellect and his hot body, which appeared to be to the liking of some of the ladies, here's looking at you, Khloe. Bitto decided that it would be a good idea to snuggle up to Princess in her bed as she tried to sleep. she was initially annoyed but clearly enjoyed his company as they chatted for a long time.
The Diary Sessions were illuminating as Biggie asked the Housemates a variety of questions about who they would like to pair up in a strategic alliance, who they were making friends with in the House and what they thought of Tobi as Head of House. Most thought he was a great Head of House but some were envious of him, especially as the Head of House has many privileges.
The Housemates spent the rest of the night after the Diary Sessions in the dining room around the table laughing and chatting long into the night. It has been a noisy day with some saying that it was like a "talking competition." Some of the Housemates mentioned just that to Biggie in their Diary Sessions and that it meant that most of the Housemates were exercising caution with who they make friends with in the House. Another thing that many mentioned in their Diary Sessions was that everyone in the House was really smart and that the competition this season was fierce. Most, however said that they were confident of winning the game.
There is so much to unpack after a hectic and exciting first day and it will be interesting to see who forms relationships at this early stage and how long they will last. With so much still to come, we couldn't have asked for a better House full of such diverse and talented individuals. You asked for Double Wahala and Biggie is delivering in spades.
Double Wahala's First Kiss
Mamma Mia! Miracle is turning out to be quite the charmer in the House. In an interesting turn of events this morning, Miracle and Nina shared a rather intimate kiss in the Shower together.
This comes as quite a surprise because it appeared Miracle was quite enamored by Ifu Ennada originally and Nina has made it clear that she is very serious about her boyfriend outside the House.
Was this just a case of carnal attraction or are both Miracle and Nina making moves as a part of a strategy?
Big Brother Naija is turning out to be a melting pot full of flavour and we wouldn't expect anything less, what with all these smart and attractive people all in one confined space.
These have been glimmers of other connections as well and its only Day two! Bitto has already made a slight play for Princess by snuggling up to her in bed and Tobi had obviously made it clear that he has a thing for Cee-C which really irked Khloe.
All of this is even further complicated by the Housemates that have relationships outside of the Big Brother House. Most of them keep reiterating that they are single, but are they?
"One Love" or nah?
With the Housemates' Wager of 75% yesterday, today saw them getting briefed for their first major group Task presentation. This required them to seperate into two groups (this is Double Wahala after all) and come up with a solid ethos.
The Housemates had one hour to decide on the groups, the group names and the group leaders. The reason why Biggie established these ground rules is because the groups will have an elaborate Task presentation on Thursday.
Big Brother has decided that the 10 presentations are to be equally divided among the 10 Housemates in each group.
There will be a poem presentation, two members will each perform a song, three members will put on a runway catwalk and four cooks will present a meal.
The Housemates are expected to create original content of their artistic expression and let's just say that some Housemates were expressing themselves more than others.
During the group discussions Khloe got extremely fired up when deciding on her group's colour – she lay into Dee-one and caused a huge scene within the group. Ahneeka told her to "stop bringing negative energy" into the situation. Tobi tried to intervene but this only made things worse then Leo came to the fore with his opinion about Khloe's seemingly bossy behaviour.
With the tension mounting, which team do you think will win this week's Wager?
**
Have you been watching? What did you think of today's activities?