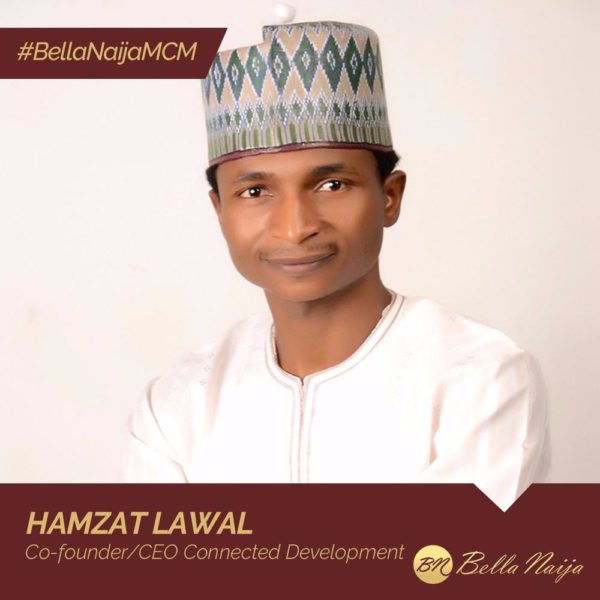 The highest office in the land is not that of the president, prime minister, or King, but that of the citizen. Sadly, many citizens (in Africa) do not know of the power they wield – the power to decide who occupies a public office, the power to hold government accountable, the power to influence government's policies among others. When citizens do not utilise their power, corruption thrives.
Our #BellaNaijaMCM this week Hamzat Lawal is activating citizen action by pushing for citizen education and encouraging citizen participation in governance through Connected Development (CODE) which he co-founded with Oludotun Babayemi in 2012.
Hamzat is passionate about grassroot campaigns and how open data can help facilitate development in rural areas. He has successfully led grassroot campaigns in 40 countries in Africa.
CODE is an advocacy organisation with a mission to empower marginalized communities by improving access to information needed to better local public services.
CODE's vision is to have "a world where citizens can hold their government accountable." To fulfil this, it has "trained 1,345 community champions who have had direct impact on 154, 223 lives by engaging their various government, from national to subnational, to provide water facilities, educational facilities, and teaching aid; and also health facilities, drugs, and vaccines."
The organisation, through its network of journalists, data wranglers, development consultants, information analyst, legal practitioners and others interested in how open data can make our world transparent and accountable, "advocates, visualizes and tracks government spending and international aid, and let you know how effective it has been in our rural communities."
Corruption will continue to rise when citizens ignore it or leave it to anyone but themselves, hence the need to follow the money that has been budgeted for various (grassroot) projects and ensuring that funds are used for what they are supposed to be used for.
A great part of CODE's work is its Follow The Money platform which aims to promote transparency, accountability and citizen engagement by monitoring and tracking aid and governmental implementation of capital funds intended for local communities in three basic thematic areas: health, education and environment.
The campaign has engaged local community members by providing training on how to track missing or misappropriated local funds and used their robust online presence to educate citizens and lobby governments to produce funds where they have been promised.
CODE's Follow The Money won the 9th annual $100,000 ONE Africa Award in 2016.