#BBNaija – Day 10: Game On, Body Confidential & Many More Highlights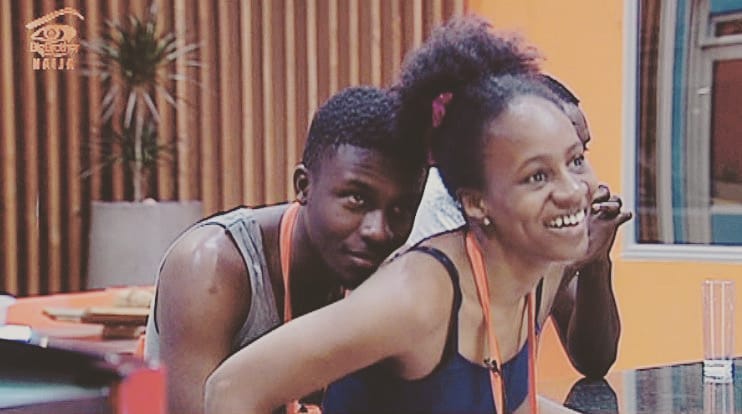 Did you watch day 10 of the Big Brother Naija 3 reality show?
If you missed it, we've got the highlights for you!
..
The Game is On
Last night was extremely eventful for all the Housemates, in the midst of all the secrets and cat fights, Biggie threw in two Tasks. The main event however was Lolu's Secret Task and the admission of his strategy in the Diary Room.
The Targets
Lolu openly admitted that he was going to make a play for either Ahneeka or Vandora in order to succeed in his Secret Task. After all the practicing for the pantomime and the Presentation Task was over last night, Lolu began to take the first steps on his path to hopeful victory.
Plots and complications
He began to chat and flirt with Ahneeka in the kitchen, asking her who she has feelings for and her reciprocating by asking what kind of girls he likes. They were exchanging cute laughs and smiles for miles. This is definitely a tricky situation because Ahneeka knows that Lolu is partnered up with Anto and she may not want to step on her toes. Obviously everyone knows that Lolu has a Secret Task too so his actions may seem transparent. Both Ahneeka and Vandora have stated that they are happy in their partnerships with Rico Swavey and Dee-One respectively. Biggie really knows how to shake things up.
All the Unanswered Questions
What will the new day bring to light for Lolu's Task? Will he make a play for Vandora next and if so how will this affect the pairings? Do you think Lolu will be successful in his Task? Or will his actions fall flat? He only has one more day to make it happen.
She's Got Game
We take a look at how some of the ladies have played their game in the House so far:
Somehow Vandora has always managed to avoid being part of confrontations, even though she has instigated some and always managed to know what was brewing in the House.
There is more to Anto than meets the eye. Forever diplomatic and purposeful, Anto has managed to never find herself in an awkward position. From the start, she has benefited from Housemates' assertion that she was kind of out-of-their league. Anto's geeky aura has also helped her build a persona.
As for Nina, she projected a certain genuineness. While she hasn't gone an extra mile to make friends, she has put all of her trust in Miracle, her partner and anchor. Nina has shown quite a humble front, as she was open to learning, never allowing her ego to get in the way whenever Miracle corrected her. She hasn't pulled any tricks from her hat to manipulate her environment yet.
Beneath her blinding smile, Ahneeka has proven that she had the upper hand and was in full control of Rico Swavey. She let him be the social butterfly that chats everybody up while she takes a back seat to observe, strategise and instruct Rico Swavey accordingly.
A lot of oil was spilled over K_Square (Khloe and K.Brule), and Khloe has equally fired back for she believes K.Brule is not pulling his weight. For Khloe, K.Brule is a non-factor so much so that she freely changed her mind during the mock Nominations, thereby proving her contempt for K.Brule's opinion.
Well Cee-C has been able to maintain her position as Queen of the House and bedroom mate to Head of House Tobi without giving into his advances or ceding an inch of her charms. She has mastered the art of leading Tobi by the nose with ever-evasive promises of a future together.
How far will these leading ladies take their game?
Body Confidential
What started off as an innocent revelation from Princess spiraled out of control and got everybody to give their two cents on the issue. Princess confessed that she had always wanted a tiny waist and had planned a fat removal surgery.
Such an early morning graphic statement churned a few stomachs out and cut appetites short: Ifu Ennada jumped in the conversation to share that she wished she had more hips, followed by Anto who said she could do with larger breasts. Who would have expected such admissions from these confident ladies?
Suprisingly, of all people, it is K.Brule whose self-confidence issues are no secret, who pleaded with Princess to 'not let anyone make her feel inadequate'. K.Brule also slid in that he was not a fan of plastic surgery and only needed his teeth fixed.
It turned out that this chat was not as trivial as it sounded for Angel came across as quite gritty, revealing predatory traits previously kept under wraps. He chuckled about everything, punching in that God's work needed no changes and boasted that he intended to age without using steroids. Preying on the occasion, he also didn't miss the chance to mock Ahneeka and said she should be renamed Acne Girl. Sure, the two never hit it off but this was quite a low blow.
Across the kitchen counter, as if on an isolated island, Lolu held tightly onto Anto's waist, breathing into her neck while his cheek stroked against her soft tuft of natural hair.
What do you think was the hardest part to digest, the foods or the revelations?
Work It Out!
Earlier today, when Biggie gathered Housemates to instruct them on their new Task, something hilarious happened.
He summoned Head of House Tobi, who had stood up to read the instructions, into sitting in the Chair. Biggie poked Tobi further, asking him "are you unfamiliar with your title of office" in front of a crowd that burst out in laughter.
Remembering who he was in the House, Tobi bounced onto the green Chair in a relaxed attitude. After the little intermission, Head of House Tobi repeated the instructions for the weekly theme of "Be Humble and Learn".
Biggie had a very clear idea of what he expected from Housemates, this time, the task was to learn a dance routine by heart and remember it to be able to present it whenever Biggie would request it.
A choreographer was waiting in the Arena to teach the Housemates their next dance moves. In a pretty organised fashion, they all followed the instructions and gave their best to the exercise.
However as soon as the lead dancer ended the class, they went back to puffing and sweating and dragging their feet. Only a handful tried to rehearse their new routine in the garden. Most were sleeping or just hanging around. Housemates have yet to develop their songs as they are still awaiting for pen and paper.
This task counted towards the weekly wager. Will Housemates jeopardize it?
***
Have you been watching? What did you think of the Day 10 activities?