#BBNaija – Day 8: Talking Shop, Rolling with the Punches and More Highlights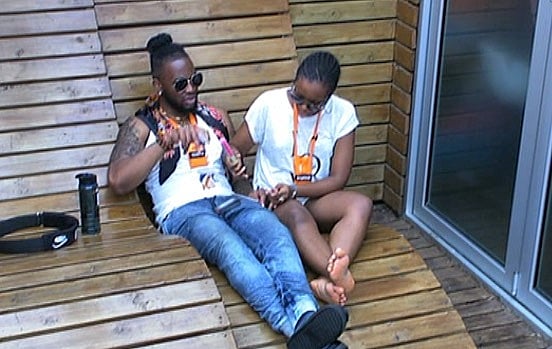 Did you watch day 8 of the Big Brother Naija 3 reality show?
If you missed it, we've got the highlights for you!
..
Talking Shop
Maybe it was jitters from the Live Show that struck a chord and made them realise that they are actually playing a game but ever since last night, the pairs have been seen dotted all over the House talking strategy, plotting and scheming.
Cebi
In a very cheeky turn of events, Cee-C and Tobi could all of a sudden be seen mingling with other Housemates, trying to gauge what their plans were and chatting about their various strategies. Last night's Truth or Dare however, threw a spanner in the works for the power couple when Anto gave Tobi a lap dance causing Cee-C to throw a full blown performance. How is this going to affect their previously strong alliance? This morning saw the pair trying to hash things out and get back to their power status.
K_Square
K.Brule has been on a rollercoaster of emotion since the party on Saturday night, he was clearly into Khloe who kept giving him mixed signals and he later showed a very keen romantic interest in Anto which was blatantly shut down. After getting a strike last night during the Live Show, Khloe seemed extremely unimpressed with him. Funny how everyone thought Khloe would be the downfall of K_Square but now it looks to be the complete opposite.
Mina
Miracle has openly said that he thinks he will be the one to go home and when Cee-C asked him why he said it was because of his partner. Wow! Even after all the kissing and intimate moments, has Miracle been playing Nina this whole time?
Van-Dee
This morning saw Van-Dee getting deep, while the pair sat plotting in the garden you could really feel the apprehension in the air. Last night Dee-One also admitted that he thinks he might be sent home because he "talks too much".
Rineeka
The Big Brother House was scheme central this morning as Ahneeka told Rico that nobody really has his back. She said she is trying to protect him which is why she is not intimate with him. She believes having a strong alliance means knowing your partners' weakness and being their strength. The rambunctious Housemate also said she would want them to remain unemotional when nominating. She thinks they should nominate based on who brings out the worst in them and Rico suggested Dee-One to which Ahneeka disagreed because she has no issues with him despite his rejecting her.
Tobi is HoH again!
Tobi reigned supreme for the second time in a row today during a quirky take on a sudden death style football challenge. This was perfect for the athletic Housemate as he has stated before how passionate he is about soccer.
The Task
It was Cebi and BamTeddy going head to head for the HoH crown and while all the Housemates were required by Biggie to be present, it was evident that they were rather lacklustre and unenthusiastic cheerleaders. The Housemates only had 60 seconds to score a goal and Tobi made his mark within about 30. Teddy A came close but no cigar while the ladies were left in the proverbial dust.
The Reaction
It was evident that Tobi was over the moon at his victory but the Housemates did not share in his enthusiasm. There was nothing but a half-hearted clap at the announcement and the mood immediately dropped to the point where it was low key awkward. Alex even remarked under her breath that Tobi could see through his binoculars and had an unfair advantage. Biggie then asked Tobi who he would choose to share the luxury bedroom with him and not surprisingly Cee-C was his girl, making Cebi this week's King and Queen.
The Wager
This week the Housemates have decided to Wager 50% for their Task presentation, with the theme being "Be Humble and Learn". Quite ironic wouldn't you say? The Housemates really need a win to their name, having lost last week's Wager, and supplies are looking dismal in the House.
The Housemates blatant dismay may stem from the fact that Tobi did not lead them to victory last week or that Teddy A has become quite popular among his peers. What do you make of the outcome of this week's HoH and how do you think it will affect the social dynamics going forward?
Killing 10 birds with one stone
Housemates gathered in the living room to await Biggie's instructions, unaware that the Nominations were just a joke, a wild one maybe, but still a joke. Biggie called on a representative from each pair into the Diary Room for them to decide in forty-five seconds who – not one, but two pairs for possible Eviction – should leave the House .
The lynching behind closed doors
Representing Prito, Bitto was the first to be called and shot at Bamteddy and K_Square.  Loto were next in the Diary Room, with Anto naming Angelifu and K_Square without a blink, even though Ifu Ennada liked her pretty much. Speaking on behalf of Van-Dee, Vandora named Angelifu and dropped Loto upon hearing Biggie's repeated instructions.
Then Ahneeka sashayed her way into the bamboo chair, deeply exhaling, before uttering Mina and Prito all the while tapping her fingers onto the chair's edge. Strolling towards the Diary Room, Khloe on behalf of K_Square jumped at the occasion to vote Mina and Prito out as the dynamics between the three pairs are not particularly vibrant given Khloe's dictatorial tendencies.
When Leolex' turn came, Leo was biting his lower lips, nervously looking down before softly voicing Angelifu and Prito, as if he was betraying fellow Housemates. Then Biggie called Bamteddy, and Teddy A made his way to the room to declare K_Square and Mina persona non grata. Who knew Teddy A had an axe to grind against Mina in particular?
Biggie's legendary sense of humour had Miracle follow in the Diary Room, on the heels of Teddy A to put forward K_Square and Angelifu.  As for Angelifu, it was clear from Ifu Ennada's awkward look that she was reluctant to drop the names of K_Square and Leolex. It is Head of House Tobi who closed this first Nomination session by promptly suggesting Big Brother let go of Prito and Loto.
Reversal of fortune
At the conclusion of the Nominations, Biggie named all the pairs up for Eviction. Upon hearing his name, K.Brule opened his eyes widely and uttered a swear word. He was flabbergasted. The Mina pair looked down, while Bitto slid into his chair and blew a kiss with his left hand to his Housemates.
Then Big Brother called upon the reappointed Head of House Tobi to use his veto to save and replace one of the pairs up for Eviction or risk forfeiting his immunity. In less than twenty seconds, and in the name of their budding bromance, Tobi chose to save Mina over Bamteddy.
Rolling with the punches
What would you do if you were Nominated, just a week into the game of your life for the ₦45 Million prize? Tonight Housemates have shown their resilience in the face of adversity.
There are those like Nina and Leo who "Keep the Faith" under any circumstances, feeling that fate smiled upon them. While others refuse to shy away just to please Housemates deemed oversensitive: "I keep shining and shining day after day and it's natural that some people want to cut my head off" complained Princess, whose likability keeps plunging.
Everybody also agrees that rivalry is in the air and is the reason Head of House Tobi chose to let go of Bamteddy. It was clear for everyone to see that Teddy A had become major competition to Tobi, and it remains to be seen how this surplus of testosterone will play out in the next couple of days.
While Loto's low-key game has pushed the buttons of many for their combined brains are seen as an ever-present silent threat to tackle.
On the girls' side, catfights are hanging in the air between Cee-C, Khloe and Alex who made no attempt to hide their genuine dislike for each other.
Perhaps the one who gave the most punches was Bitto for his strategy to play dumb has definitely left the House dumbfounded.
***
Have you been watching? What did you think of the Day 8 activities?