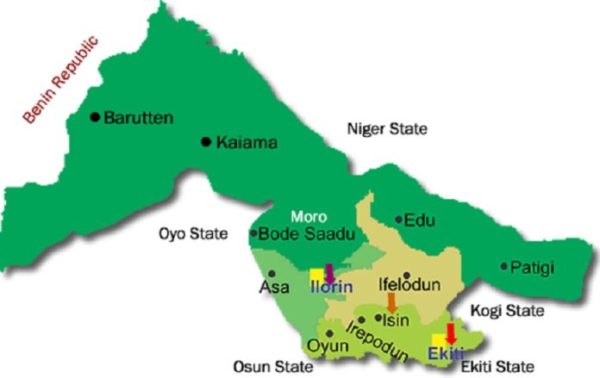 Residents of Baruten Local Government in Kwara State have "renounced" the state, PM News reports.
In a statement released by Abdulrazaq O. Hamzat of Kwara Must Change, it was revealed that some of their members had quietly renounced their citizenship.
Hamzat blamed the lack of basic infrastructure in his statement.
Residents of the local government, he revealed, have to travel to Saki in Oyo State, or to Benin Republic, to receive medical treatment.
Neither the state, nor the federal government has positively impacted the local government, he said.
He added that during campaign season, the senators running to represent the district and the gubernatorial candidate often make campaign stops, promising to fix the town. However, once elected, nothing is done, he said.
Read the full statement below:
Kwara Must Change wishes to bring to public attention, the unfortunate situation in Baruten Local Government Area of Kwara State that has made the people renounce their beloved Kwara State.

Baruten is a Local Government in Kwara State sharing border with Benin Republic, but unfortunately, there is no road leading to the Local Government from Kwara.

When going to Baruten, one has to travel a long distance to neighboring Oyo State before connecting back to Baruten Local Government. However, apart from Oyo State, one can as well travel to Benin Republic and come in through the other axis.

Although, Nigeria's border road to Benin Republic located in Gwanara district of Baruten Local Government is stinkingly terrible, not withstanding, one can still use it at grave discomfort.

According to the people living in the local government, since the creation of Kwara state over 51 years ago, no single meaningful project has been done in the local government by either state or federal government.

Few days ago, some members of Kwara Must Change residing in the local government confided in us that they have since lost hope in the Kwara State government and have silently renounced their Kwara State citizenship due to absolute neglect.

I am from Baruten local government, in Gwanara district specifically. We call ourselves citizens of Benin Republic because we are not sure if we are part of Kwara state. From Gwanara, we travel to Saki in Oyo state for medical treatments and some even die on the road while going. Others go to Benin Republic for medical treatments too, because we really lack everything at Baruten especially Gwanara district.

This is why Kwara Must Change is forced to ask the Kwara State government if Baruten Local Government is no longer part of Kwara State. If they are part of the State, why is Kwara State government not responsible for those living in Baruten and why are they completely abandoned over the years?

It is important to note that, the Kwara State governor, Senator representing Kwara North and other office holders often go to Baruten during electioneering campaigns. When they go there, they make all sorts of promises, but after getting into office, they forget the people.

We contend that, If government cannot build ordinary road into Baruten local government, how would they provide schools, medical facilities and other infrastructural developments?

Kwara Must Change is hereby calling on the Kwara State government to tell the people of Baruten their fate, whether or not they remain part of Kwara and Nigeria in extension.

Abdulrazaq O Hamzat
Kwara Must Change