UBA launches Leo- Innovative Chat Banking Personality to revolutionalize Digital Banking
While some banks are still sticking their head in the sand, United Bank for Africa, amongst many, have realized that social media is fundamentally changing the way people communicate. Therefore, when contemplating their future, banks would be ill-advised to overlook social media. It is with this realization that the Pan-African financial institution, has moved to change the face of e-banking with the introduction of Leo, the UBA Chat Banker that enables customers to make use of their social media accounts to carry out key banking transactions.
On Thursday, January 11th, 2018, the bank brought together its customers and financial journalists at The Backyard Bar & Grill on Musa Yar'Adua Street, Victoria Island, Lagos for the launch of its latest app, everyone present at the event knew it had to be something revolutionary.
For a bank that has scored many firsts in the industry and is ranked among the top three banks in effective use of social media in Nigeria in a social media report by Alder Consulting; a bank that has invested heavily in building a robust and secure e-banking platform that supports its e-banking operations globally through strategic partnerships with various local and international organizations, you could only expect the bar to keep going higher.
Beyond being active on Twitter, Facebook, Youtube, Instagram, Google Plus, and also running a corporate blog, Africa's global bank is continuously innovating and developing strategies aimed at making banking seamless and effortless for millions of its existing and potential customers, while also ensuring the utmost safety of their transactions.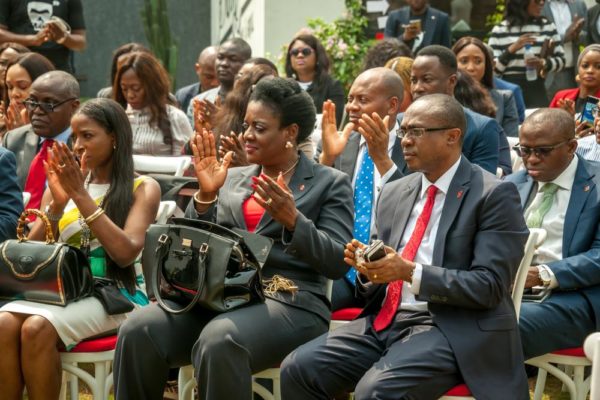 It was, therefore, not surprising that UBA would score yet another first with the introduction of Leo, an innovation that is capable of revolutionizing the way banking is done in Africa. Leo, a UBA Chat Banking personality that enables the bank's customers to make use of their social media accounts to carry out key banking transactions, comes as a solution developed with people's lifestyles in mind.
With Leo, customers are able to open new accounts, receive instant transaction notifications, check their balances on the go, carry out money transfers and airtime top-up, pay for Uber, as well as perform other transactions like payment of bills, data top-up, mini-statements, loan applications, cheque confirmation, account freezing, among others right on their mobile phones.
Designed to work with the platforms people are already familiar with, Leo has already taken off on Facebook Messenger. In the nearest future, the app is expected to show up on other social media platforms and all it takes to enjoy the services is simply to have a Facebook account. At the official launch of Leo in Lagos, Kennedy Uzoka, Group Managing Director/CEO, UBA Plc, explained that Leo, being an intelligent personality, will give customers instant feedback as they transact their business on the platform, describing it as "a solution that is from the customer's standpoint which is easy to use by anyone regardless of your career".
"The formulation of this product is consistent with the bank's customer-first philosophy, where we are doing things not the way we like but exactly what the customers want, where they want it, and in the exact platform they want," Uzoka said.
"And so, we have been working with technology giants from around the world because for UBA with so many customers, we have to deal with those who have the global capacity. Therefore, we at UBA have collaborated with Facebook to come up with this. In future, Leo will show up with other platforms. All you need to do is to have an account with Facebook," he said.
Highlighting some of the advantages of using the app, Uzoka said the chat language is elementary, and Leo can even help one remember what he or she needs to do at every particular point in time. On the security of the platform, he said that Chat Banking with Leo does not elevate the risk already available. "You do not need to learn to use it because it has always been part of your life. It is the solution from customers' point of view. Its greatest asset is its simplicity. Leo is an artificial intelligence. He will address all banking concerns. He should help pay for everything but you need to have an account with UBA to transact with Leo," Uzoka said.
"This is the first time that a financial institution in Africa has come up with this manner of solutions to simplify the way customers transact, something that has become necessary in today's fast-paced world with demands for quick-time transactions and response," he said. He expressed a belief that with the huge number of customers the bank has as well as its growing customer base in all the 19 countries of operation, customers would be served using modern and forward-looking technology.
Austine Abolusoro, group head, Online Banking, UBA Plc, who took UBA customers and journalists present through a step-by-step demonstration on how to make use of Facebook chat function to enjoy seamless banking services through chat sessions, explained that Leo is not just a chat machine but an artificial intelligence service as well a personality meant to address any type of banking concern.
"Leo is ready and waiting to help with most transactions and to deliver any form of banking services. Leo is operating a lifestyle banking platform on Facebook Messenger to assist with your transactions while chatting with your friends and business partners," Abolusoro said. "The security with this platform is that for every transaction, an OTP (One Time Password) is generated to the phone number that is registered on the account," he said.
He explained further that to open an account and enjoy the chat banking advantage, the prospective customer just needs to log on to the Facebook Messenger and opened up the chat with Leo, who then takes over the conversation by telling the customer what steps to take. On security measures, he said the prospective customer needs to provide a Bank Verification Number (BVN) and phone number that is linked to the BVN.
But there is a ceiling on the volume of transaction that can be done by customers, the bank said. Customers with low-key Know Your Customer (KYC) will transact to a limit of N50,000 daily, already existing customers can do N200,000 and N100,000 in the first seven days even as the accounts can be upgraded to do higher transaction volumes.
"We are increasing customers' happiness level with this product. We have brought banking to the chartroom," Uzoka said. No doubt, as e-banking continues to reshape the way bank customers carry out their financial transactions by providing 24-hour services and saving customers the stress of joining long queues in banking halls, UBA Plc is leaving no stone unturned in its bid to not just keep up with technology but to always stay ahead of the game.
With eyes on the future, and conversant with the new trend in customer behaviour, the bank is constantly innovating, taking strategic steps to integrate more people into the digital financial services net, drive down the cost of service, and build consumer confidence in digital platforms.
———————————————————————————————————————————————————————
Sponsored Content