#BBNaija – Day 36: Life Goes On, BamBam Them Gang and More Highlights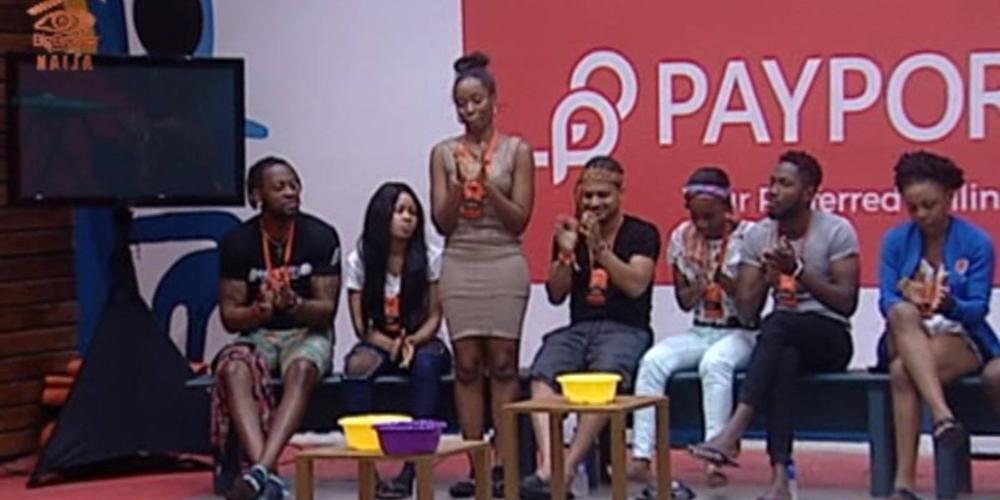 Did you watch day 36 of the Big Brother Naija 3 reality show?
If you missed it, we've got the highlights for you!
..
Life Goes On
Last night we saw Ahneeka and Angel leave the Big Brother House as they received the least number of votes from viewers against Ceelo and Lifu.
When Ebuka asked them if they had any idea who nominated them, Ahneeka's response was 'everyone' and that she had told Angel so.
Surprisingly or not so, their departure seems to have been forgotten by the remaining Housemates.
Unlike the previous Eviction where we saw uncontrollable tears, this time there was none of that. The Housemates continued with their business as if nothing happened.
Isolated Themselves Much?
Looking back at their stay in the House, the pair has, on a number of occasions isolated themselves from the rest of the Housemates, Ahneeka notably.
Even though Angel was visible and engaged with others [more especially when he still had his guitar] he mostly spent his time with Ahneeka, more so when they got to be strategic partners.
For someone who constantly pursued Ahneeka in the House, Rico Swavey took time to reminisce and explain to Miracle and Nina what his relationship with Anheeka was. He added that Ahneeka made it clear that she chose Angel, and even though he liked her, he knew where he stood in that triangle.
As life continues in the Big Brother House we can only be sure they both left with their tell-it like-it is personalities. And even though their void seem to be filled already, many are left heart broken by their departure.
The Lion and the Lamb
What started as a strategic pairing between Alex and Leo slowly grew into a budding romance, the plot thickens each day and many are concerned that she will end up with a broken heart.
Little Finger
Just like the prolific character in Game of Thrones, Leo posesses many qualities of the rather manipulative on screen sensation. He defnitely knows how to manipulate and play people to his advantage and that is why many of the Housemates feel that his relationship or "friendship" as he likes to call it is dangerous. Leo is a businessman so he knows what to say to people to get what he wants and orchestrate situations to his advantage.
Opposites Attract
On the flip side, Alex is a very sensitive soul, and is known in the House for her crying and getting down over what seem like small things. She is young and naive and also kind at heart so it is no wonder that she would very easily get swayed by the charming affections of someone like Leo. His actions towards her are always gracious and loving but as each day passes, it is evident that Alex' feelings are growing strong. She always wants to be around him, she is constantly doting on him acting very much like they are in a romantic relationship.
Behind Closed Doors 
The reality is that all of this is extremely confusing because as soon as Leo gets into the Diary Room, he always talks to Biggie about how he has someone outside the House, he reiterates that him and Alex are "just friends" and that the whole situation is under control. This is clearly not what Alex thinks at all because even though he has said it to her, his actions and his words do not meet up. Saturday's Diary Sessions revealed that almost all the Housemates think that Alex' affections for Leo are real but his are just a part of the game.
Is Leo really the only one at fault here, or are they both just playing with fire?
Ifu is on Fire!
Last week was full of challenges for the Housemates, with the Evictions looming and the Pepsi challenge taking center stage, there was one lady who really came out on top and she is celebrating every minute of it.
Character building 
Ifu Ennada has been an open book since Day one in the House and it is no secret that she has been through some seriously character building situations. Through all the drama in the House she always remains true to who she is and unlike other Housemates, has not become romantically linked to anyone in the House.
This Girl is on Fire
Last night's Live Show was tense and obviously Ifu Ennada and her partner Leo were up for Eviction, it was tight but they managed to stay in the House and just to really sweeten the deal, they also managed to win the savage Pepsi "Roc Da Mat" Challenge. What could of been a dark day for the Lifu pair turned out to be an evening in Paradise. What is special about Ifu is that she is free of any complications and relationship woes, unlike Leo, who is in a rather tricky situation with fellow Housemate Alex.
Good Vibes
Ifu Ennada has embraced her blessings and is spreading her good vibes all around. With her beautiful new long hair look, positive energy and spunk she has been walking on cloud nine all day in the House. During lunch she spent a large amount of time vigorously dancing in the mirror and feeling herself. You go girl!
What do you think the future will hold for Ifu Ennada in the House?
BamBam Them Gang!
As always, the HoH qualifier was a relatively easy challenge. So unbiased that it was literally any one's game. Leo, Tobi, BamBam and Alex were able to balance for their lives and earned a push in the right direction however, BamBam proved to be the queen of grease because she managed to ball out and ball up, bagging Bamco the coveted HoH title.
So It Began
The initial stages of the HoH marathon were pretty straight forward and somewhat self-explanatory. Which is why there was so much frustration surrounding the other Housemates' inabilities to secure themselves a qualifier. Similar to last week's parade, both the demographics were equally represented and it could have gone both ways really; girl power and boys being just that, boys.
The Storm Before The Calm
This time around, the objective was to use their petroleum jelly greased noses to collect cotton balls from one bowl and deposit them into another without the aid of their other body parts. BamBam's efforts saw her tally an impressive twenty balls, a whole five balls more than her nearest competition, Leo and Alex who tied at fifteen; bagging her very first victory and of course, the high chair.
The games have certainly just begun for her and Rico. Even after being fed a serving of relief by Tolex (Tobi and Alex) last week, it won't come as a surprise if they return the save and replace favour by nominating them (Tolex) and crossing fingers for their eventual Eviction. After all, this is a game and participants are to strategize accordingly. BamBam has had a relatively kind approach in her nominations as her reasons were less vindictive and more on the 'current affairs' tip; looking at what Housemates had to offer in the House. Now however, it seems like the title that sits on her lap has brought a lot of changes with it. Her post HoH win conversation with Rico Swavey proves this by shedding some light on what a potential danger she really is.
As the dynamics change, the lenses through which she views the game change along with it after tonight, we'll be able to see who the friends and foes are.
Eeny Meeny Miny Moe
Who said being in the Big Brother House would be a bed of roses? If such a notion exists, then they'd probably forgotten that roses have thorns too, sharp ones at that. The Nominations took place and if they were a fragrance, we'd easily pick up notes of revenge, vindictiveness and downright game playing.
Decision Decisions
Even an Ohafia fortune teller wouldn't be able to tell what the Nomination had in store for us because after last week's turn of events and the Eviction of unsuspecting Gelah (Angel and Ahneeka), the Housemates were left 'shook' and the flavor of the game changed from mild to peppery. Mito (Miracle and Anto) seems to have been at the tip of the Housemates' tongues because they topped the charts with a whopping 4 Nominations, one of which came from none other than Miracle's BFF Tobi; and because Karma stays winning and the game must be played, Tolex (Tobi and Alex) followed the lead with a total of 3 Nominations. Lifu (Leo and Ifu Ennada) and Tena (Teddy A and Nina) followed with two Nominations each and Ceelo (Cee-C and Lolu) with just one.
HoH Save and Replace
As always, the Housemates look forward to the HoH challenge as this piece of pie is always immunity flavored and as fate would have it, BamBam managed to snatch the slice and swallow it whole, guaranteeing her and Rico Swavey another week in the Big Brother House and most importantly, a step closer to 25 Million Nairaland. After very little to no deliberation, the fortunate pair decided to save Tena and replace them with poor Ceelo, who thought they'd dodged the bullet only to have it change course and hit them where it hurts most.
Fear Files
Mito, Tolex, Lifu and Ceelo are the pairs to be tried and tested this week. Even though they didn't express much worry and showed to have understood that this is in fact a game where one wins some and loses some, these potential Evictees have a lot on their plates and pressure is sure to build during the course of the week. Seeing as romance is the most explore theme in the House, the possible twists to the coming Evictions are sure to cause a stir and have Housemates a bit thrown off; especially Alex and Nina that seem to be very invested in their love interests.
***
Have you been watching? What did you think of the Day 28 activities?