#BBNaija – Day 47: The Cooking Task, BamBam's Grand Slam & More Highlights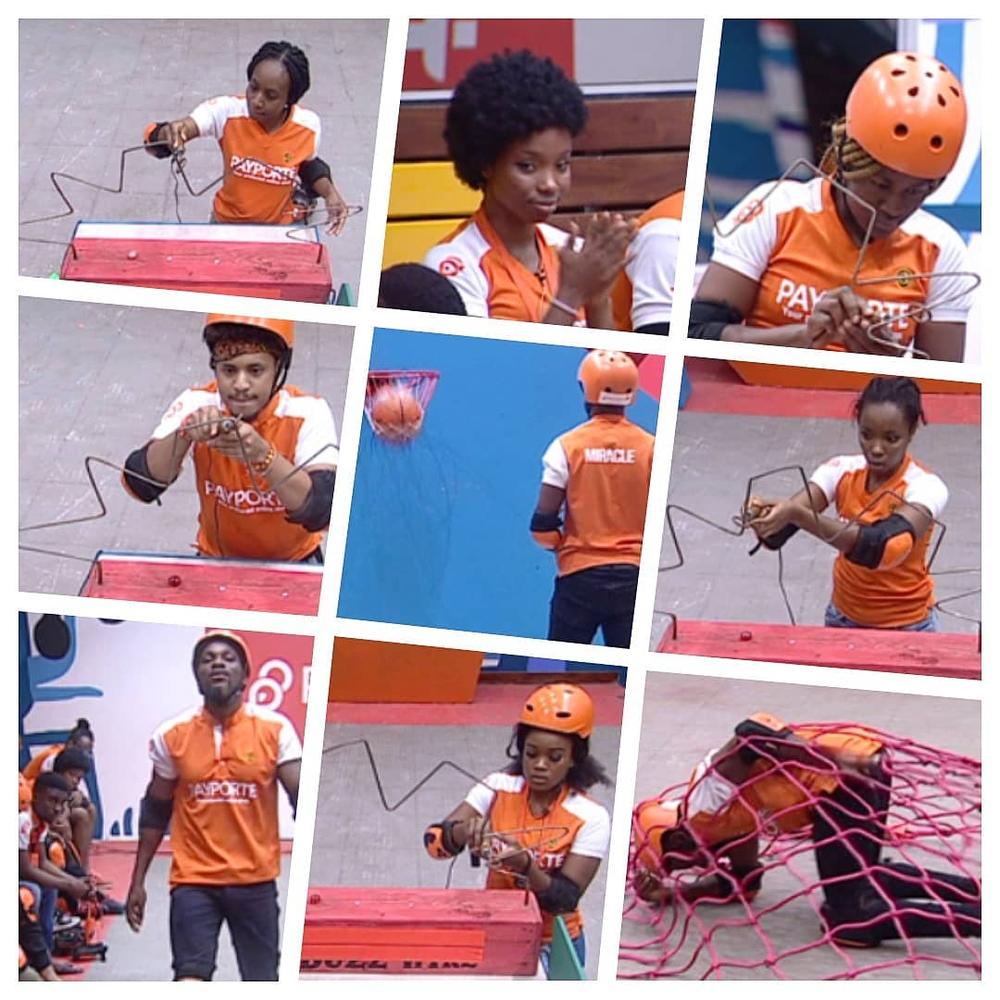 Did you watch day 47 of the Big Brother Naija 3 reality show?
If you missed it, we've got the highlights for you!
..
Nina's Diary Room
The Housemates had quite an active night. After their Musical Wager Finale the Housemates had Diary Sessions with a twist as Biggie replaced himself with HoH Nina for the sessions. The will to win the Nokia Task had Alex putting on make-up at 03:00 a.m. as she and Lolu worked through the night. In between all of that there was an ice-cream fight and dressing room table tennis.
Nina's Diary Room
For the first time, Biggie granted Head of House Nina the privilege to hold Diary Session on his behalf. He ordered Housemates to stay in the bedroom while she prepared herself, and had a Ninja deliver a large green notebook with a pen for her to write on. At first intimidated, Nina sat comfortably in the chair, and couldn't repress her giggle whenever she would call her fellow Housemates to come to the lounge. The Housemates except for Rico Swavey kept their Diaries short and to the point, being sure not to let Nina into their deepest thoughts. Upon Biggie's orders, the only Housemate excluded from the Diary Session was Tobi as he is still being punished for ignoring Big Brother last week.
Food Fight
Nina was set on her task of feeding her fellow Housemates until Alex walked in the kitchen with a spoon solidly set in a bucket of ice cream. Enticed by the sweet sugary smell, Nina dropped everything and tried to plant her own spoon into Alex's bucket to no avail. Alex ran away, jealously guarding the ice cream, until finally she conceded to allow Nina to scoop some in order to restore the peace in the kitchen.
Nokia Task
Alex and Lolu woke up in the early hours of the morning to work on their Nokia Task. Alex even put on make-up at past 03:00 a.m. so that they could shoot their scenes. This is the most dedication we have ever seen from Alex apart from being the queen of the dance floor. Has Leo's Eviction made her shift her paradigm?
Dressing Room Table Tennis
The Housemates have made the dressing room more than just that. It's been used as a dance floor, psychology room, hiding place and as of late a table tennis challenge room. Tobi, Lolu, Teddy A and Rico took turns playing tennis table on the island unit, surrounded by a glorious mess, nonetheless happy as can be.
The Day to Come
It was difficult for the Housemates to wake up this morning which is completeley understandable based on the night's activities. Music finally got them out of bed, we have a lot to look forward to as the Nokia Task culminates today. Which team do you think will win this Task?
Will the Extra Time Bring Extra Value?
Extra Time
Big Brother called the Housemates into the lounge and told them that they have been given an extra hour to finalize their Nokia Duo-Clip Task, and then submit the phones back to the Ninja for Biggie to assess. There was some nervous laughter after Biggie's announcement. The Housemates were concerned when Biggie said he gave them, "a simple Task" as though they have possibly gotten the brief wrong.
Food Fight
Nina immediately turned to Miracle about working on their edits as soon as possible so they can get it right, but Miracle said he wants to eat. But that in turn sparked a bit of a brawl when Teddy A made a comment about rations. It sparked a debate between Nina and Alex around the food usage in the House, and how the HOH Nina listens to their suggestions. The argument escalated and ended up involving Lolu, Rico Swavey (who was more like Alex's yes-man whenever she commented), and of course Miracle, who was on Nina's side… well for the most part.
Priorities Right
In another part of the House, Anto said to Teddy they have to win this Task. She can't take losing out on prizes anymore. She was nervous because she feels that people have really brought their creativity out on this Task. She was impressed by the music that Teddy A put on their own. In the garden, Tobi appreciated Lolu for good work on the Task, and how well they treated their introduction. Cee-C and BamBam on the other hand, chose to focus their energies on doing their make up and fixing themselves up for that perfect selfie or 'bothie'! Anto sat with them for a moment, but she decided to move on and take a look at other clips by the Housemates. She said she hopes 'Bam-C' have their Task ready and sorted, otherwise they may suffer when it comes to the judgment by Big Brother.
The Samvita Cooking Task
The time came to settle the debate and find out who is the best and worst cook in the House with the Samvita Cooking Task. BamBam emerged victorious after she prepared a perfectly textured and presented Samvita meal.
Ex-Housemate Miyonse
Ex-Big Brother Naija Housemate Miyonse was the guest judge for this Task, making him the first celebrity guest in the House this season.
We wonder what it was like for the Housemates to see their alumni back in the House as a celebrity guest. Many come to the big Brother House with the aim of exposing their talents to the public in hopes that when they leave the House their careers will soar.
The Housemates worked in teams to create either Vegetable or Egusi soup.
The Teams
Teddy A and Bambam
Cee-C and Alex
Lolu and Rico Swavey
​Nina and Anto
Miracle and Tobi
Gender Kitchen Wars
Miyonse said that in his experience men are better cooks, and in that moment we saw the determination in BamBam's face to change his mind.
At this point Teddy A and BamBam with the resident House chef Rico Swavey truly giving his all in this Task his all but alas, it was not his to win. He was great sport and congratulated BamBam.
Camaraderie
There is definitely a bond of true camaraderie forming in the House. Although it was a competition the Housemates were supportive and displayed good sportsmanship throughout. The Housemates have definitely matured from their first few weeks in the House when everything was a fight to the death.
Once the soups were ready the Housemates had compete individually and prepare perfectly textured Samvita and BamBam led the pack.
BamBam's Grand Slam
Madame Bambam
After her Head of House tenure, and having knocked the Samvita Cooking Task down, BamBam has secured another win during tonight's Arena Games.   It all started off well as Housemates were all ready to take on another Challenge. Gathered in the Arena, they learned that unlike previous Arena Games, this one was made of four smaller tasks and to everyone's relief, no puzzle.  It was the first time since the start of the season that Housemates had been spared the puzzle ordeal, for it had earlier proved to be the breaking point for many.
Ready? Set? Go!
Being good sports, one by one Housemates entered the Game with their best foot forward, under their peers' cheerful attention. Lolu and Nina landed in the seven-minute range, while Cee-C and Anto remained in the five-minute bracket. Rico and Alex stayed in the four-minute window, which Miracle and Tobi easily lowered to the three-minute timeframe. When BamBam was announced as the ultimate winner, she was beaming of pride and Housemates seemed to be genuinely thrilled at her victory. In addition to a Super Reward to be unveiled the next day, Biggie promised celebratory drinks to the House.
Biggie Slammed It
Yet Biggie was not done with them, and he kept Housemates seated on the bench, waiting to hear about how they had fared on the Wager Task.  Sandwiched between Tobi and Miracle, Nina was mumbling prayers with her eyes shut as Biggie maintained the suspense. Finally Biggie's voice thundered that Housemates would have to wait until Sunday to find out whether they had lost or won the Wager. Housemates grumbled and exited the Arena, leaving whiffs of disappointment on their trail.
***
Have you been watching? What did you think of the Day 47 activities?