#BBNaija – Day 57: Tongues are Slippery Slopes, Tobi is HoH and More Highlights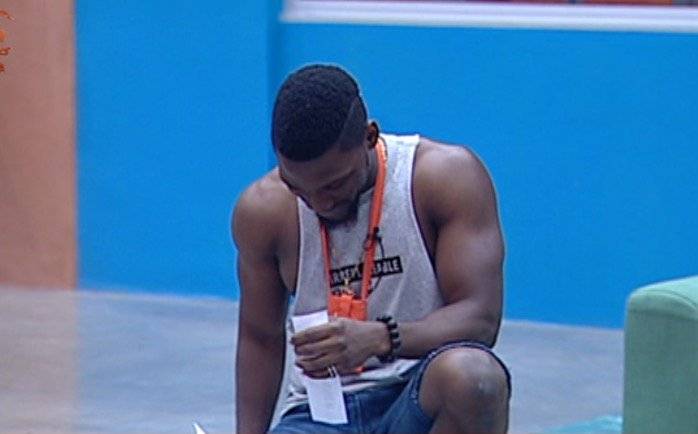 Did you watch day 57 of the Big Brother Naija 3 reality show?
If you missed it, we've got the highlights for you!
..
Surprise! We're back
Peaceful sleep was disturbed by the sound of Big Brother's rather strangely sounding alarm. The Housemates are used to it and even though they were woken up later than their usual waking time, the screams that came for the upstairs bedroom were nothing they could have anticipated.
If You're and You Know It
Anto couldn't hold herself back. When she saw that some had woken up, she was the first to shout, 'we're back' and the Housemates quickly ran to the Head Of House Bedroom suite. Just like school kids returning from spring break, the shock and excitement from the Housemates was too visible to ignore. In disbelief, all trying to gather as much information at once, smiles and questions followed and all they could say was 'we just flew in' and Anto jokingly said she went out of the House to fetch Khloe. Shock Or worry? It was hugs and laughs all around with everyone suddenly fully awake and Anto and Khloe were really in the Big Brother House again.
Not Too Happy About It
However, Cee-C and Nina were not about all the excitement. Having been woken up by a Housemate they knew had left brought all kinds of shock and confusion and they were not afraid to show it. Nina even took time to be in her own zone which she came out of when one of the Housemates asked if she was alright. A Genuine Welcome Back after the screaming and being clear that Anto and Khloe were really in the House, BamBam, Lolu and Rico Swavey showed immerse and genuine appreciation of their presence. Though others also welcomed them back it was nothing compared to the love they were given by these three. From there on, it was controllable chaos in the House with Housemates trying to get a piece of the returning Housemates.
Where To From Here?
The generosity Biggie has displayed to the Housemates has them starting over on a clear slate, something that will trigger more competition from the Housemates. Last night, Big Brother pulled a spin and reset the game which means going forward, all the transgressions of the Housemates have been forgiven with no hidden agenda. All that Biggie is asking is that the Housemates respect his House and his rules. We'll just have to wait and see how the new set-up will be.
Tongues are Slippery Slopes
Just as the dice game revealed some much needed truths to which Cee-C and Alex' reconciliation can be attributed. This morning's game seems to have been a way for Khloe and Anto to lowkey reveal what they learnt about the Housemates and the game as external spectators.
Hyped and Untamed
As always, the Housemate that rolled the highest tally was the one privileged with asking questions or the giving of unsolicited advice. In the mix of things, the Housemates revealed what they think about each other on the friendship front. Alex told Khloe that despite her being overly competitive and out to 'cut' her, she sees her being a good friend outside the House. This piece of info seems to have prompted Khloe to slap each of the Housemates with wisdom coated advice. Telling them about their potential and everything in between. Although Nina was almost unable to construct game relevant sentences and participate, she prompted the other Housemates to advise her and so they did.
No Brokenhearted Girl
Anto seemed to be measuring the playing field and trying to calculate how much she'd have to run but when her turn came, she blew a very small but overly noisy trumpet that left Lolu somewhat dumbfounded. She finally wore her heart on her sleeves (or so we thought) and confessed that she did feel some type of way for him but what she learnt outside the House made her realize that he wasn't all that sincere about his intentions towards her. On the relationship tip, Alex revealed how she and Leo came about but later said she didn't see herself being in a relationship any time soon. Cee-C on the other hand said that love isn't enough. These revelations kind of give us an idea about where this 'ship' is sailing to and how the Housemates seem to be growing out of sentiments and seeking to be more strategic.
Defence Mode
The Game quickly took a different turn when Teddy A brought out his metro-man defence mechanism and raised his voice, demanding that he be allowed to speak; basically defending BamBam's honour, or maybe his own. In a nutshell, Khloe threw questions that directly challenge all of their personalities and their responses were meant to redeem their images seeing as Khloe and Anto knew more than they were letting out. It looks like these tongues can't be tamed.
The Wild HoH Chase
We wouldn't blame the Housemates for going 'octa-polar' on us o; never have we seen a group of people driven by so many different emotions all at once. Biggie had definitely let them submerge and giving a 'chance based' HoH challenge seems to pull them even deeper into the unknown.
The Deep Unknown
After their very long and somewhat intense dice game that lead to Housemates expressing and defending themselves, they received their HoH Challenge brief. Seeing as Biggie has been somewhat traditional in his approach, the big RESET came as a surprise and the man has gone off the rails and became downright unpredictable. The brief stated that a ninja would come into the House, bearing enveloped gifts, or should we say 'a' gift? This meant that the challenge was completely chance based, making it anyone's game.
Hide and Go Seek
The Ninja was to strategically hide the envelopes in plain sight for the Housemates to find and each Housemates was to collect a maximum of 15 envelopes. True enough, the buzzer did go off and the Housemates rushed to the hunt. While the boys knew exactly where to find the envelopes as they'd tailed the ninja, the ladies seemed somewhat lost in their quests.
All Or Nothing
Day 57 came with a lot for the Housemates to swallow and the fact that the dynamics have gone 360, today's HoH challenge was clearly their focal point, especially because a lot was revealed during the dice game and new vendettas seemed to have risen; with Housemates possibly targeting those who'd directly challenged their places in the game. Saying it's now 'do or die' would be a big understatement.
Tobi is the HoH King
Tobi must be blessed with a gift or maybe it is his competitive nature but today he went on to win the HoH challenge for the fourth time, making him the HoH champion.
King and Queen
After Tobi won the title of HoH after everyone opened the 120 envelopes provided by Biggie, his reaction was one of total elation. While there were still chance cards to be opened, Biggie told Tobi he must choose one Housemate to share the luxury bedroom with. Tobi surprisingly chose Khloe, much to the disgust of Cee-C. The complete horror was written all over Cee-C's face. The terms state that Tobi must share the bedroom only with his chosen partner. This is definitely going to bring the spice!
Card 1
After winning HoH, there are chance cards that determine what benefits you will get as this week's HoH, Tobi chose card 1 which gave him full immunity but did not allow him to save or replace any of the other Housemates. Tobi looked disappointed at this as he probably wanted to have the chance to return the favour to the other half of his "bromance" in the House, Miracle. Thankfully Miracle was not put up for Nomination.
From Zero or Hero
Tobi has certainly done a complete 180 in the last 24 hours, he went from having two strikes in the House and being reprimanded by Big Brother to having both his strikes removed and then winning HoH. This is a record for the season but this week is definitely going to be a total Game changer with the King of HoH choosing the controversial Khloe as his Queen.
Four Housemates up for Eviction
The House has been a whole new world since Khloe and Anto returned. Things are getting spicier by the minute and the Nominations were no different. BamBam, Teddy A, Cee-C and Nina are all up for Eviction this week.
House vs. Cee-C
Cee-C seems to have ruffled too many feathers lately as she was the Housemate who accumulated the most Nominations of them all. Now that there are so many ladies in the House, it was inevitable that some would turn on others and as Cee-C has proven that she doesn't do so well in the company of other women, it has worked to her detriment this week. Four of her five Nominations came from the other ladies in the House.
Powerless Couple
The fact that BamBam and Teddy A are up for Eviction this week does not come as that much of a shock due to last week's spicy fake Nominations. Could it be their demeanor towards the other Housemates or the fact that they tend to close others off and keep to themselves a lot? Needless to say, the onetime power couple in the House have lost their armor and are now powerless to their possible fate.
Princess Nina
Nina has been safe for most of her Big Brother Naija journey, getting saved by Miracle or not getting Nominated at all but her recent actions in the House have caused many of the Housemates to think twice about her. Her tendency to play the victim and constantly bring up her age have gotten a few people irritated, or perhaps they see her as a threat.
All in all it was a riveting experience all around, it is important to note that no-one Nominated the two new additions to the House and that all four that are up for Nomination have previously held quite a lot of power in the House. Oh how the tables have turned!
***
Have you been watching? What did you think of the Day 57 activities?