Hey BellaNaijarians!
Facebook launched the #SheMeansBusiness initiative today and it was so inspiring to see how African women are harnessing the power of technology to build their dreams and connect with the global world. I was at the event to represent BellaNaija and I left feeling ready to take on the world.
The #SheMeansBusiness initiative is designed to inspire and train existing and aspiring female entrepreneurs across Nigeria, empowering them with the right digital skills to run successful businesses. Isn't this so cool?
So, how does this initiative work?
In partnership with She Leads Africa, Facebook will connect female entrepreneurs to digital experts and offer in-person trainings in different cities across Nigeria. The trainings are targeted at teaching participants how to start a business, establishing and growing an online presence and harnessing the power of digital for business growth.
Make sure you look out for the #SheMeansBusiness team in your city. See the schedule below:
Aba – May 18-19, June 22-23, August 10-11
Abuja – June 1-2, July 20-21, September 7-8
Ibadan – June 15-16, July 6-7, August 24-25
Kaduna – June 8-9, July 27-28, September 14-15
Lagos – May 4-5, May 25-26, July 13-14, August 17-18, September 21-22
Port Harcourt – May 11-12, June 29-30, August 3-4
You may ask, why is Facebook interested in helping female entrepreneurs across Nigeria?
According to Abi Williams, SMB Sales Manager, EMEA Facebook, 57% of Nigerians on Facebook are connected to local businesses and globally, more than 35 million Facebook users are connected to small businesses in Nigeria, with the top countries being the UK, USA and Sweden. Yes, Sweden! These are some really big numbers and if you are still deliberating whether or not your business needs to be online, I think you have an answer!
The big question is why Facebook is focused on women?!
I mean, it could have been #NigeriaMeansBusiness but Facebook noticed a 319% increase in the number of female-owned small business Facebook pages and knew there was something about Nigerian women!
Beyond the research, facts and figures, it is important to hear from people who have successfully grown their businesses using digital tools. We heard from Honey Ogundeyi who started Fashpa because she saw a gap in the availability of clothes for online purchase and delivery. Bella Adeniran started Naphtali Party Rentals first as an exit strategy while in the corporate world but has been able to build a successful rental business. Anike Lawal left us with a new mantra- 'Never clap in the dark'. This was something her mother told her when she stared Mamalette, an online community for parents and parents-to-be.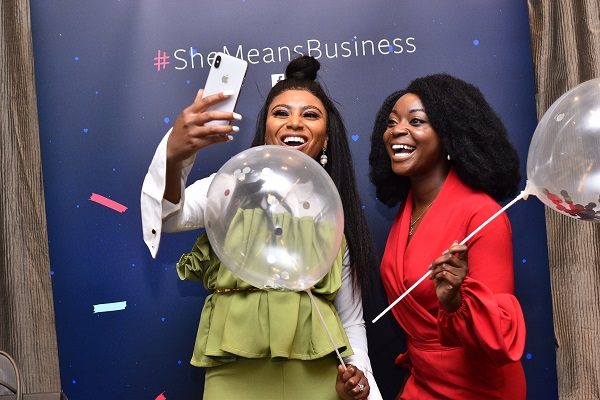 Want to be a part of the #SheMeansBusiness program, click here to start! I just did!
You can also visit the #SheMeansBusiness website for mentoring, business tips and more!