MTNF-MUSON Scholarship Beneficiary shares her Inspiring Story & Journey to an Ivy League US Institution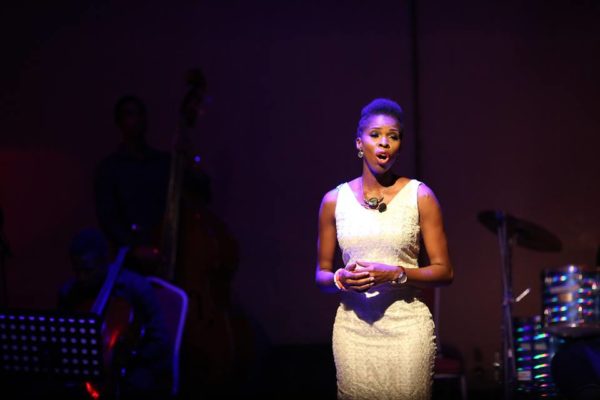 In Nigeria's classical music domain, Fatima Uriame Anyekema is regarded as one of the leading contralto voices, a concert artist/recitalist who is always in high demand. From following her mother to choir practices to becoming an MTNF-MUSON scholarship beneficiary which was the beginning of her getting a formal education in music in 2007, Fatima has performed celebrated operas and oratorios like Handel's Messiah, Bach's Mass in B minor and Christmas Oratorio, Beethoven's 9th Symphony, Gilbert and Sullivan's The Pirates of the Penzance thus building an impressive repertoire of international standards. Fatima who recently gained admission to study a Masters in Sacred Music at an Ivy-League institution in the US University of Notre Dame, shares her story.
This is my story, This is my song by Fatima Anyekema:
Growing up as a child with my other siblings in a Christian home, church and the choir was a part of my childhood experience. Even though I and four of my siblings were involved with the choir at some point, I was the only one who took music up professionally.
Attending choir practice with my mother at St. Monica's in Benin, Edo State was my earliest recollections.  And then as the little girl in the room, the elders would teasingly ask you to lead the songs for others to sing. Those were fun days as children. My Dad was a policeman and this meant we moved a lot while was growing up – I was born in Jos, Plateau State, spent time in Benin, Delta and Ondo states because my dad's postings determined where we lived.

But life happens and the unexpected is what the universe throws our way. My Dad is retired and from the Force and the when there are a handful of kids around the house and there is need to ease the burden, it means only one thing – separation. And so I had to go stay with one of my uncles.  In secondary school, my music life was centered around singing during school fellowship outreaches to other schools in Asaba, Ibuzor and other communities in Delta state. And then, I gained admission to study Accounting at the Ondo State Polytechnic and a new vista opened up. By this time, I was solely focused on making good grades and school and so music took a backseat in my life. After my ND, I moved to Lagos for my Industrial Attachment. While looking for a place to intern, I stumbled across the Musical Society of Nigeria, MUSON and my passion for music was re-ignited.  When I heard classical singing, I knew my voice was born for this.
I entered for the MUSON Talent Hunt/Competition where I got to the semi-final in 2005. In 2006, I was invited to join the MUSON choir after the Music Director; Emeka Nwokedi noticed my unique voice.  In 2007, my helper came along. I had wanted to apply for the expensive and extensive two-year music diploma programme at MUSON but there was no money. I applied for the MTN Foundation scholarship, took the tests and I was awarded a scholarship that covered my tuition fees, provided book allowance and a stipend that catered for transport, feeding and other necessities. Little did I know that this would mark the beginning of a great musical odyssey. The programme was tough but I survived and honed my music skills especially my voice. From that point on, there was no turning back as the MTN Foundation provided platforms for self expression that enabled me to grow in this journey but much more importantly, they empowered me to make meaningful connections as a member of the largest conglomeration of trained musicians in Nigeria.  
In search of self fulfilment, I applied to the Music programme of the University of Lagos with my MUSON Diploma in 2013. This was after many years of trying to go abroad and study music like many of my contemporaries.  I wasn't ashamed of going back to school, even though it seemed late in the day. But I put in a decent shift and with God's help, I was the best graduating student of my set. Preparation, Focus and Discipline were the keys that unlocked the world of academic success.
How did I get to Notre Dame? While studying for my degree at Unilag, I had the opportunity to speak with one of my parish priests who had studied abroad. He had informed me about a school in the US that offered Sacred Music for postgraduate study. Because I had no intentions of pursuing a career as a reverend sister or religious personage, I simply brushed aside his suggestions.  After graduation, the priest called to congratulate me and asked what my plans for the future were and if I had considered his earlier recommendation. At this point, I decided that there was no harm in trying and gave it a shot, as I had applied to various singing and music competitions abroad in the past.
My joy took on a new note when an email dropped in my inbox that I had been accepted into Notre Dame on a scholarship. How would I ever have been able to afford that kind of money to pay for school fees? Not even if I sold all that I had in this world. So today, when I look back, I can't but thank God for the days of little beginnings. Had I not received a scholarship from the MTN Foundation, Had I not met many wonderful human beings at MUSON, especially my mom, Mrs Akpata, Had I not taken the difficult step of going back for a full degree programme, had I not taken that suggestion to apply to Notre Dame? No regrets as I can only look forward with joy to the future all thanks to the wonderful education I received at MUSON, the foundation that has set this little girl, who followed her mom to choir practice, who had a vagrant childhood, who got a helper (MTNF Scholarship) to study music, who pursued her dream, on the path to take on the world.
————————————————————————————————————————————————————————-
Sponsored Content