#BBNaija – Day 71: Winds of Change, The Caucus Diaries & More Highlights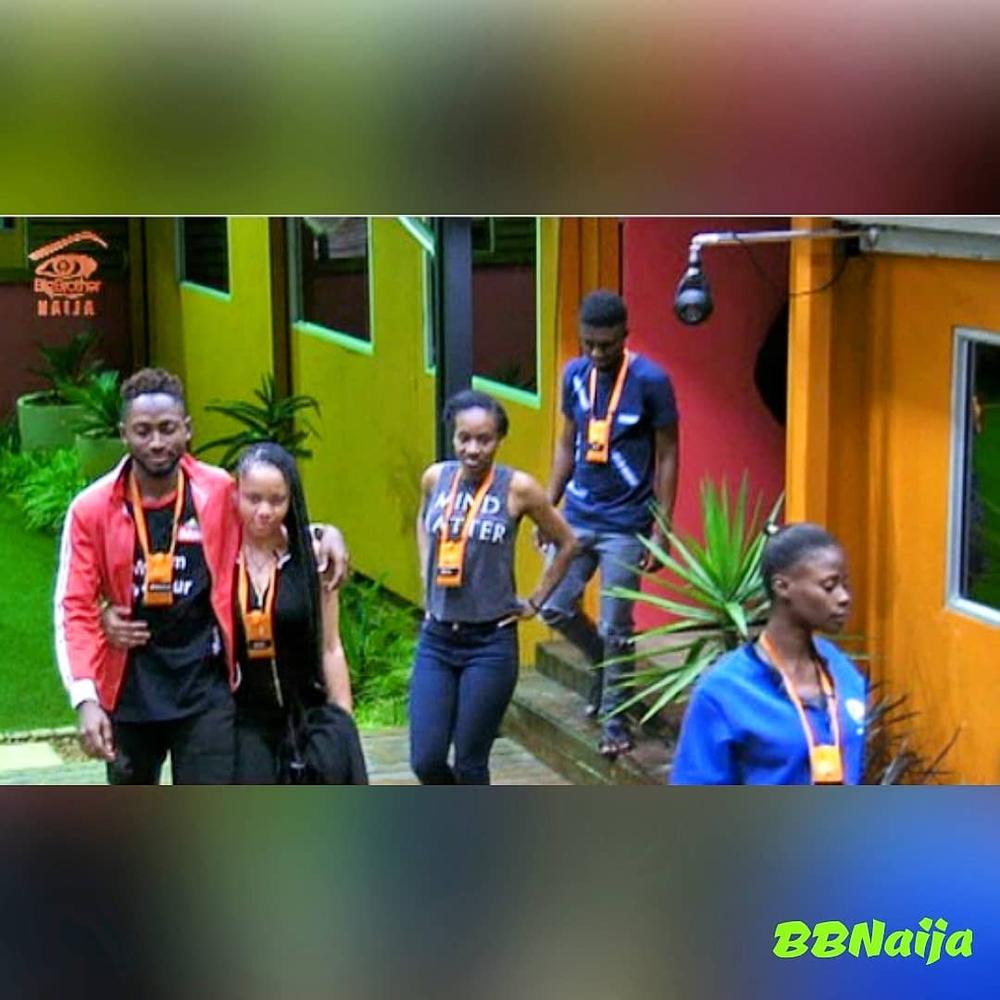 Did you watch day 71 of the Big Brother Naija 3 reality show?
If you missed it, we've got the highlights for you!
..
Winds of Change
The Missing Housemate
With Rico Swavey's Eviction, Housemates returned to their routine although feeling slightly orphaned. And for a good reason, for Rico had always taken care of the kitchen business, which was acknowledged. Yet Rico's departure didn't give way to the dramatic scenes the House had gotten used to. If anything Rico had won the award for spending ten wahala-free weeks in a pure Double Wahala House.  As such he never quite made foes just like he never quite made friends.
The Third Conversation
Later, Anto and Cee-C sat together and for the third time only since the start of the game did take time to speak together. What appeared to be more of a Cee-C's fulmination as she blamed Alex for coming in between Tobi and her, ended up with Anto nodding a few times to mark her attention more than approval of Cee-C's comments.
Men Behind the Stove
It's not like it's everyday to see Tobi and Miracle behind the stove, trying as much as they could to put together an edible dinner for their peers. Tobi had clumsily tried to clean-up the fridge's vegetable compartments while Miracle was busy stirring a wooden spoon into a pot. Because might is right, none of the hungry Housemates had the energy to complain about their cooking, and instead calmly resolved to fill their tummies ahead of a long night.
The Caucus Diaries
The reshuffle twist Biggie introduced a few weeks ago that saw the unexpected return of Anto and Khloe was definitely just a seed because everything that's happening in the House right now seems to be a direct result. One such being the evident separation in the House; this is certainly fuelling bad decisions. Afterall, a house divided cannot stand.
Assumptions
Last night, Ebuka asked the Housemates about the deep cracks on their walls that are slowly leading to the formation of 'alliances' and mini preferential groups. This question was primarily extended to Khloe, seeing as she seemed to have highlighted the fact during her conversation with Alex. She seemed to lack direct courage though because when asked to name the members of the 'caucus' she had referred  to, reluctantly mentioning Alex, Tobi, Miracle and Nina, and claiming that they had straightened it out and were united again.
Defence Mechanism
Tobi on the other hand begged to differ, he blatantly named Khloe as the initiator of the separation in the House due to her less than forthcoming management of resources. Furthermore, he believes that they were living in perfect harmony before the 'Bring Back' but Anto too was contra. She shifted the blame towards Cee-C, saying that she in fact was the culprit, seeing as she'd cooked for only 5 people, leaving 4 Housemates on the side-lines. This statement was either true or a defense mechanism meant to shield Khloe.
The Reality
In all honestly, there is in fact a prevalence of caucuses, whether the Housemates choose to admit it or not. Classic examples; outside of the Toralex equation, Tobi and Alex have always created their little cocoon where they discussed events and dissected issues in a rather non-communal way.  Miracle has limited his loyalty to Nina and Tobi, while Khloe gave good face but seems to only be about Anto and most recently Cee-C; and Cee-C seems to lean towards sides that are at her defence.  This list goes on really. It seems as though the Housemates consider this a way forward and as such, we don't see it ending. Harmony who?
Cee-C the Livewire
In other news, Cee-C continues to stir the dynamic in a way only she knows how. Despite having been engaged in more than a couple of quarrels, she seems to always find minimal fault in her own actions and much in those of others. Her course of 'self-justification' began last night when Anto shifted the 'separation' blame from Khloe and pinned on her.
I just React
As per usual, she didn't let the blame game slide off that easily and opted to voice it out with Anto who neutrally obliged. Her piece was that people seem to always come at her while all she wants is to restore order by talking things out. Furthermore, she told Anto that she did want a friendship with her, pre-eviction. Anto on the hand reminded Cee-C that the other Housemates' perceptions of them was quite similar to those of the viewers, despite the viewers having a wider viewing spectrum. On a smaller scale though, Cee-C seems to always refer to being told 'I don't trust you', which is what Tobi kept telling her before they permanently parted ways. Though this is completely open for interpretation, it looks like she isn't completely over the issue.
The House is At Fault
Thanks to Nina, Cee-C was allowed yet another venting session. The two initiated a conversation that started off as a discussion about Cee-C's bad dreams and strange sleeping behaviour but ended up a 'ventathon'. Cee-C explained that she only became vocal because of the amount of pressure exerted upon her in the House, also making references to the first two weeks of the game and how she'd been able to keep her cool; reckoning that the disturbed sleep is caused by stress and therefore needed no intervention of any type. Moreover, she felt that she didn't need to adjust her personality because people choose to always see he faults.
Cee-C has been making somewhat positive moves and tried connecting with the other Housemates but it her efforts are thrown back at her due to the others perceiving them as fake and centred solely around her own gaming ambitions. Her approach hasn't helped her much though because she continues being a live wire and that alone detonated a lot of the explosives related to her. With just 14 remaining, we wonder if this narrative will change.
Tasked to Appreciate
Yet another stress scented breeze took over as the Housemates were summoned to the arena for yet another round of heavy breathing, deep sighs and waves of anxiety; and as always, Biggie re-invented himself and brought the Housemates a simple but slightly complex challenge, especially to a blind man.
Appreciation Ryhmes 
Before the HoH qualifier however, the Housemates had their week broken down and sub sectioned into stranger than usual challenges. In accordance with the week's theme, the Housemates are to collectively compose poems for each of the Evicted Housemates, with 3 being presented on the daily. Furthermore, Biggie gave them a head start advantage by letting them know that they'd have to prepare an appreciation lunch for themselves on Saturday.
Hugging It Out
The most classic of the challenges listed on their brief however was that of the Housemates having to appreciate one another on the horn's cue. Whenever it sounds, the Housemates are to embrace and serenade each other with compliments, aiming to unify the House. This has already been done and it seems to be having the desired effect as the Housemates are being blatantly honest with their approach.
Paired and Qualified
Back to the qualifiers, the pairs lined up and prepared to bring down their pinatas, with one part of the pair refereeing the hitting while their other played 'batman' and tried to break the dangling targets open. Tobi and Miracle were the first to make it rain, followed by the Miracle and Lolu pair, later joined Cee-C and Nina, who narrowly secured their spot in the final event. Things didn't turn out as sweetly for Khloe and Anto though because there were the unfortunate pair whose loss will see them sit this one out. With immunity at stake and 6 players gunning for it, it's anyone's game really.
Eat at Your Own Risk
Miracle and Tobi also known under the Toracle moniker for their bromance, seem to have grown chef's hats practically overnight. For the second consecutive day, they confidently ruled over the kitchen and put together meals for their Housemates.
Kitchen Helpers
They seemed to be on the same wavelength when they decided to prepare a fish dish for the House. Trouble was that the fish was still frozen and difficult to pull out from the icy bucket it had been stored into. Given that perseverance always pays off, it's only after Nina offered to dislodge and defreeze the dinner that the cooking operation really started. Meanwhile hungry Housemates had started to swarm around the kitchen counter to snack on noodles while awaiting for the main dish.
Bigger, Bolder, Better
Emboldened by their newly found creative endeavour, Miracle and Tobi kept returning to the kitchen where they seem to have found a new playground. From chopping, to sprinkling spices, stirring and allowing his peers taste his preparations, Tobi only missed an apron and a chef's hat to top his game. Likewise, Miracle did take to pounding without having cause for complaint as Anto, Lolu and Khloe sat nearby watching in disbelief and thankfulness for their feat.
No More Fights
Yet after all the food fights that have taken place in the House, it was as if Housemates had decided to simply eat for the sake of not starving. With just two weeks more to go, everybody dived in the dough, after all survival is the name of the Double Wahala game.
Alex heads the House
Who Runs The World
Biggie gave the House a run for its money, and plenty of money there was tonight. Housemates had to enter the glass booth in turn to try and grab the BBNaira notes that were flying around them. In the tight and confined glass booth, and only at the third round of a process of elimination, Alex bagged the Head of House crown to her utmost surprise. While Housemates clapped their hands of delight for her victory, she nonetheless looked anxious about what it entailed.
Checkmated in Three Rounds
Having checkmated all Housemates, Alex picked a card that granted her immunity and required that she chooses one Housemate to Save. Expectedly she chose her longstanding friend Tobi to share the luxury bedroom with as he couldn't cease to praise her as his hands were joined in prayer. Alex's card had her Save Nina who was exulting at the thought to be heading to the finale.
Six for One and One for None
Later during the Diary Session, Nina admitted to have always wanted Alex to be a leader, just like Anto, Khloe, Lolu, Tobi and Miracle who all wanted to see her in a leadership role. Yet Cee-C confessed that Alex was the one person she had 'zero like' for and seemed to fear that Housemates would frustrate her, especially Khloe as she predicted more fights. If only she knew that Khloe had warmly endorsed Alex.
***
Have you been watching? What did you think of the Day 71 activities?