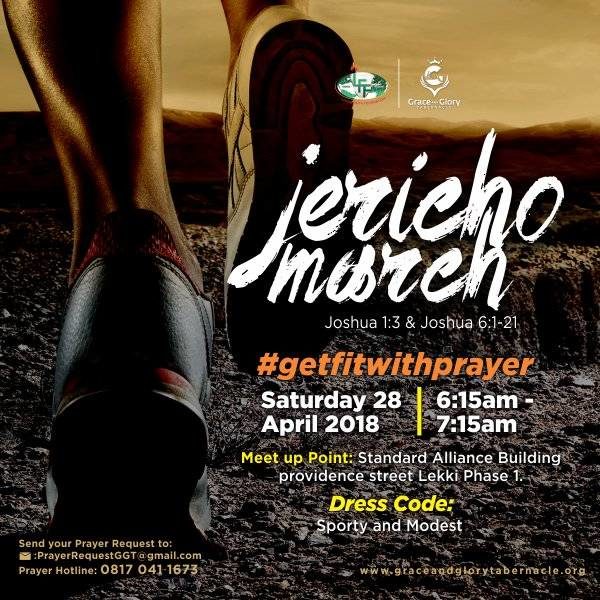 Youths all over Lagos plan to gather in Lekki Phase 1 this Saturday for The #getfitwithprayer walk driven by The Grace & Glory Tabernacle (GGT) of The Living Faith Foundation Ministry. This initiative seeks to foster youths and families to pray for the nation, our leaders and one another while keeping fit.
Date: Saturday, April 28th, 2018.
Time: 6:15 am- 7:15 am.
Venue: Standard Alliance Building Providence Street, Lekki Phase 1.
Come prepared in your sports gear and comfortable footwear with friends and family as we embark on a prayer fitness journey to keep physically and spiritually fit. The #getfitwithprayer walk will last for an hour and promises to be the best prayer and fitness experience ever.
Meeting point is this Saturday, 28th April at The Grace & Glory Tabernacle, Standard Alliance Building, Providence Street, Lekki Phase 1 at 6:15am. This is a walk to keep our lives and nation fit! This event is scheduled to take place every last Saturday of the month.
As youths, our strength lies in collective action to create impact and make a difference. Don't miss out on this movement!
—————————————————————————————————————————————-Sponsored Content