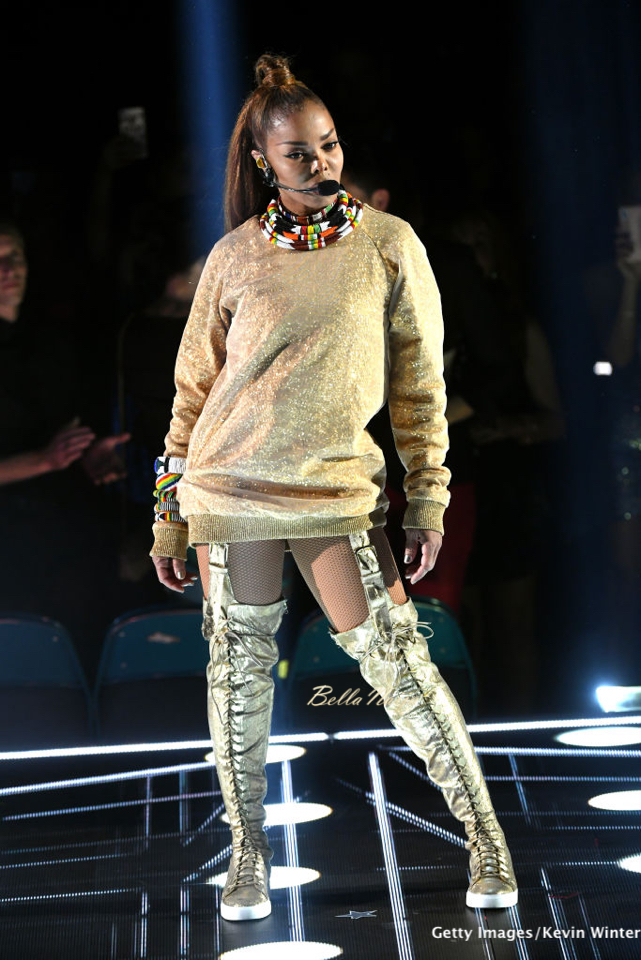 Janet Jackson is an undisputed pop icon. Coming from a family where music was the norm, she rose to prominence alongside her brother Michael Jackson and thrilled her fans for years on end.
However, she has not performed on TV in nearly a decade and last night at the 2018 Billboard Music Awards, fittingly as she was awarded the Icon Award on the same night, she chose to perform.
She was introduced on stage by Bruno Mars and she went ahead to delight fans with a wonderful medley of her hit songs before finally receiving her award from Bruno.
Watch some highlights below:
Queen! #janetjackson pic.twitter.com/YhYrgh0N44

— JanetMediaHQ (@JanetMediaHQ) May 21, 2018
Edges snatched courtesy of @JanetJackson! #BBMAs pic.twitter.com/zVnrW1VW7W

— ESSENCE Festival (@essencefest) May 21, 2018
BREAKING: Wigs across America are being reported missing after @JanetJackson's performance at the #BBMAs pic.twitter.com/dQAk8UMs7B

— PAPER Magazine (@papermagazine) May 21, 2018
My good sis gave us When We Oooo for a second time. What a time to be ALIVE! I love you @janetjackson 🗣🙏🏼🙏🏼💞💞💞 #ICON_JANET #bbmas pic.twitter.com/A50xLZBRKh

— moonchild ॐ (@mzshannon) May 21, 2018
Janet Jackson also surprisingly did the Akwaaba dance while performing, The dance was made popular by Ghanaian producer Guilty Beatz & Nigerian singer Mr Eazi.
OMG @JanetJackson doing the Akwaaba on the Billboard stage!!!!! Chai!!!!!!!!!! pic.twitter.com/sMbvW3bg9Y

— Uncle London Njobvu (@mreazi) May 21, 2018