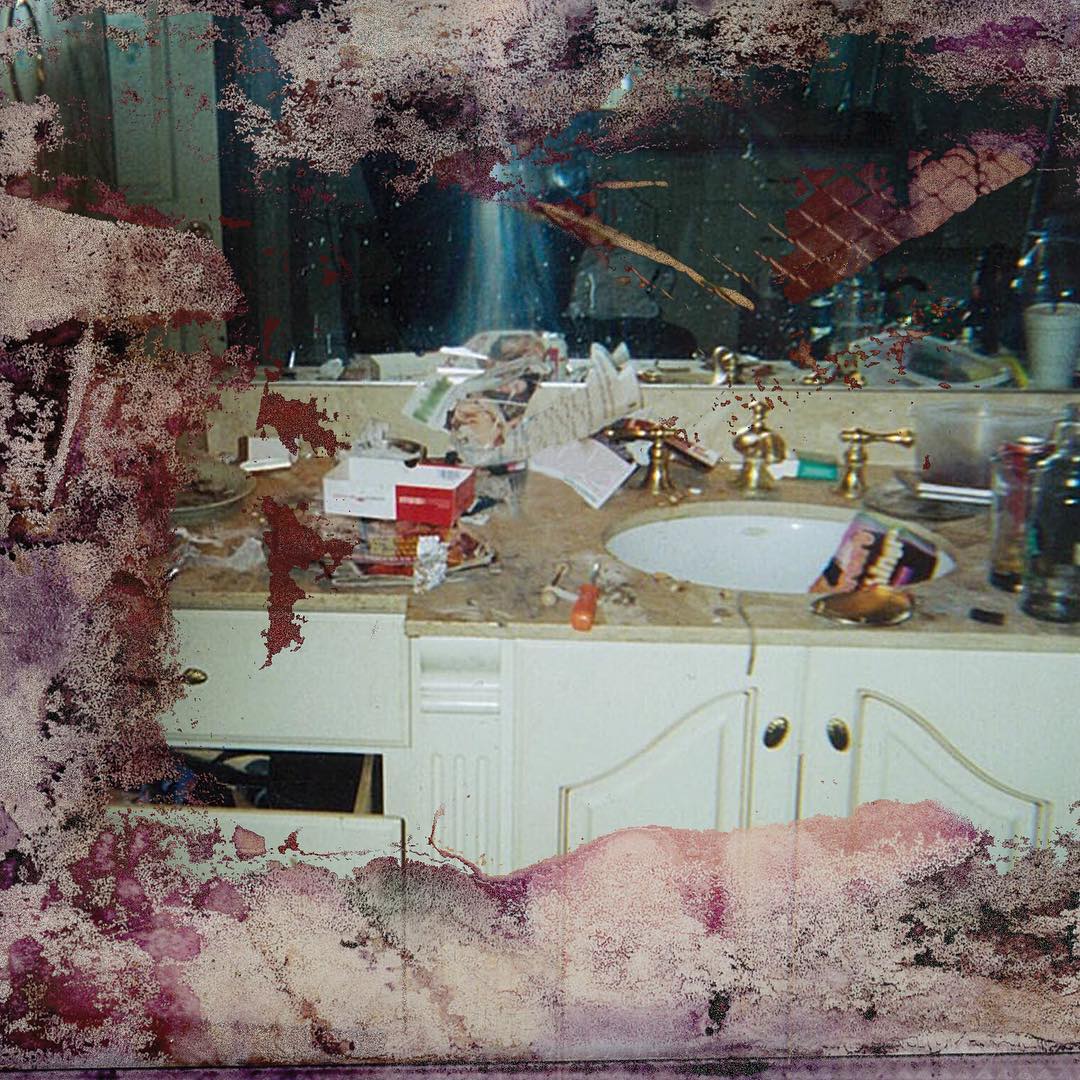 The internet is buzzing around Kanye West again after Pusha-T, one of the rappers under his G.O.O.D Music label revealed the artwork for his new album, Daytona.
The artwork is an edited photo of Whitney Houston's Atlanta bathroom from 2006 which shows drug paraphernalia spread across the counter.
According to Rap Up, Kanye West reportedly paid $85,000 for the photo making a last minute change to the Daytona artwork. As Pusha-T himself told Angie Martinez, "He changed my artwork at 1 a.m. 'cause he wasn't feeling it." He went on to say he loves it and did not want to pay for it at first but Kanye forked out the money from his own pocket.
album 1 PUSHA T DAYTONA dropping 2mrw pic.twitter.com/M1UPvax5fa

— KANYE WEST (@kanyewest) May 24, 2018
See some reactions below:
Kanye West claims 2 have been suffering from opiate addiction himself. Instead of exploiting Whitney Houston's struggles 4 his own personal gain, why doesn't he post a picture of his own drug stash? What he's doing isn't "edgy" or "artsy"; it's exploitative, wrong & disrespectful

— Jackie Talks Nerdy ☔️ (@JackieTalkNerdy) May 24, 2018
Let me take this opportunity to say that Whitney Elizabeth Houston deserves nothing but respect. That's something that wasn't afforded to her in life so it's the least we can do for her now. RIP Whitney 💜 pic.twitter.com/Sp1URXGx8w

— Jackie Talks Nerdy ☔️ (@JackieTalkNerdy) May 25, 2018
Kanye West paying to use the photo of Whitney Houston's bathroom is beyond disgusting and disrespectful. It's inhumane. No wonder he loves Trump.
I'm sickened.

— Laurie Crosswell (@lauriecrosswell) May 25, 2018
kanye west is beyond pathetic and disgusting for using that picture of whitney's bathroom lol

— َ (@miIlionreasons) May 25, 2018
I'm a huge Kanye fan but come on …. how am I supposed to feel right supporting an album with this as a cover

— Larissa (@larissasauce) May 25, 2018
To disrespect a titan like Whitney Houston, to reduce her legacy to a single image of a place and time in her life, is EXACTLY what Kanye seems to complain that the media does to him all the time. Indeed, the irony.

— Toyin Ojih Odutola (@obia_thethird) May 24, 2018
Some might say, this is his way of connecting his state of mind, his state of affairs and his life, projecting it onto that photo, as an embodiment, an emblem, a totem, even. And we find ourselves staring at pain, at struggle, at anguish, why is this necessary? How does it help?

— Toyin Ojih Odutola (@obia_thethird) May 24, 2018
To use a successful Black woman's private space as a tool for his own means, only serves to reiterate Booker T Washington's words in my mind. Question: if all you seem to promote, purport & benefit off of is black pain&struggle for profit, who are you really making your art for?

— Toyin Ojih Odutola (@obia_thethird) May 24, 2018
A final inquiry, for I am so bloody sick & tired of this shit: why do Black men feel licensed to use Black women (our lives & our images) in ways that only serve to degrade & demean not only Black women, but our community as a whole. Fuck being "really real" what are you saying?

— Toyin Ojih Odutola (@obia_thethird) May 24, 2018
Bc as far as I am concerned, I am tired of being tired, of holding brothas, and CERTAINLY exhausted with a man who thinks it is OK to exploit the legacy of a woman who has done more for the culture than he can even imagine. In his attempt to reduce her, he reduces himself.

— Toyin Ojih Odutola (@obia_thethird) May 24, 2018
The disrespect Whitney Houston has experienced today is vomit inducing. Sad day.

— amorphous (@loneamorphous) May 24, 2018
Since Kanye Got Whitney Houston's Bathroom As Pusha T Cover, Somebody Use The Bathroom Kim Kardashian Got Robbed In As An Album Cover

— Jean (@xankadaver) May 24, 2018
Y'ALL ARE FUCKING HILARIOUS. "It's exploitative to use Whitney Houston's drug infested bathroom as an album cover" but his entire album glorifies him being a drug dealer which is actually exploitative and destructive. Do y'all see your short sightedness and simple mindedness???

— Chanye (@traptomcruise20) May 25, 2018
Y'all sensitive about Pusha T using Whitney Houston coked out bathroom photo for the album cover, forgetting or not knowing that this nigga used to sell dope to his own family. This not the half ass'd dope dealers y'all used to listening to.

— DJ Green Villain (@DJGreenVillain) May 25, 2018
What are your thoughts on this?