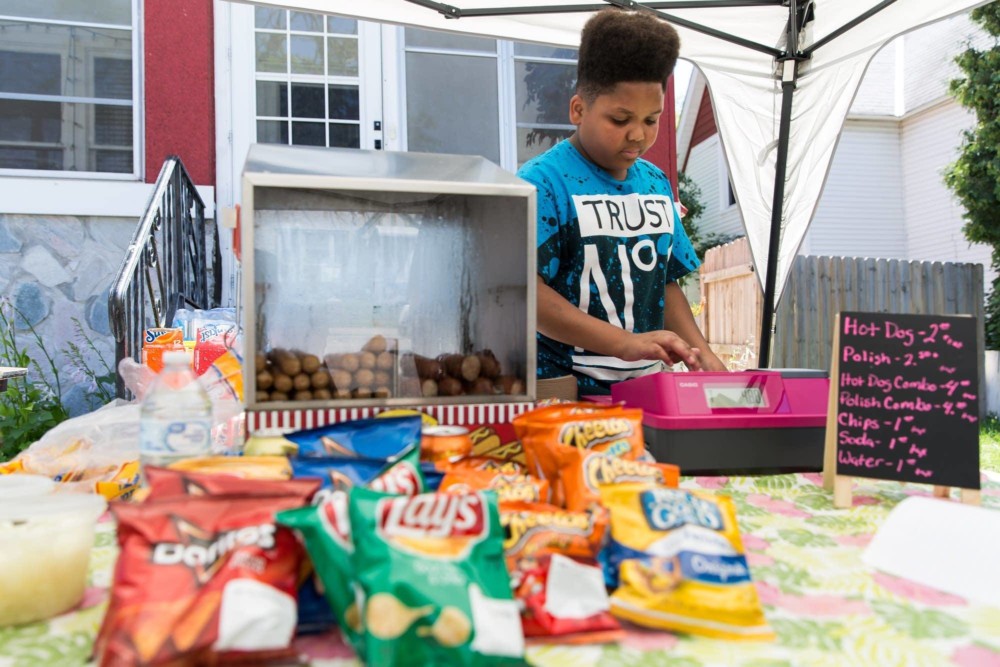 In 2016, 13 year old Jaequan Faulkner opened a hot dog stand called 'Mr Faulkner's Old Fashioned Hot Dogs' outside his North Minneapolis home to raise money for new clothes.
Thanks to people who reported his business to the health department last month for operating without a permit, Jaequan is getting help and attention now more than ever.
After the local news ran a story about his entrepreneurial efforts, the Minneapolis Health Department started receiving reports that Jaequan's hot dog stand did not have a health permit. Their response to these complaints was outstanding and awe-inspiring, instead of shutting down his hot dog stand the health Department helped him obtain his health permit!
"When I realized what it was, I said, 'No, we're not going to just go and shut him down like we would an unlicensed vendor,'" Minneapolis environmental health director Dan Huff told CNN. "We can help him get the permit. Let's make this a positive thing and help him become a business owner."
In an interview with ABC news Huff said that everyone in the community has also gone above and beyond to establish the teen.
In his interview, Huff said that the department reached out to the Northside Economic Opportunity Network, an organization that works with small businesses in north Minneapolis, so as to provide him with the needed support to be a businessman.
The health inspectors all pitched in to pay for the 10 day short term event permit, which costs $87, and Mr. Faulkner's Old Fashioned Hot Dogs passed its health inspection. Jaequan and his uncle also met with Ryan Krick, the city's supervisor of health inspections, who provided him with a thermometer, hand washing station and basic food training, ABC news reported.
Huff told ABC news that the local police department has volunteered to sponsor Jaequan's 10 day permit to operate his stand outside the precinct when his first permit has expired. The Minneapolis Urban League, a local civil rights organization, have also said that they will be sponsoring Jaequan's hot dog stand after his permit at the police precinct expires. A community church will also sponsor him after that, keeping him in business for the rest of the summer.
Jaequan who was excited to hear the news told  KARE 11 that "Surprisingly, I'm like, 'Dang, the city's not the bad guys in this situation.' They're actually the ones who are helping me. "It makes me feel kind of — not kind of — really proud that people know what I'm doing."
Although the business started because he wanted to buy clothes, from next year the teen has plans to donate 25 cents from every hot dog sold towards raising awareness about youth suicide and depression. According to Teen Vogue these are two things that he has struggled with personally.
Photo credit: Mr Faulkner's Old-Fashioned Hot Dogs – Facebook