BN Literacy Drive: Out of the Mouth of Teenagers! All We Need is Love by Kelechi Ehomunu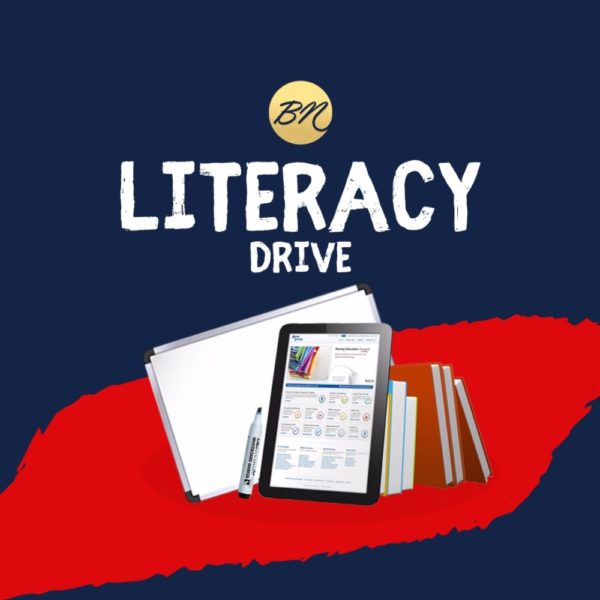 Not to paint a bleak picture, but the state of education in our country is a mess.
Literacy in Nigeria has taken a serious beating in the past decade. With decreased attention to public education from the government, there is a steep decline in the quality of education in Nigeria.
Private secondary schools exist, but they are expensive and beyond the reach of the masses. Even with the teeming number of private schools in Nigeria, the standards are quite low. 
The status quo is to churn out students, not educate them.
The 2018 Joint Admission Matriculation Board (JAMB)'s Unified Tertiary Matriculation Exam (UTME) had only 25.09% of students score above 200. Think about the implication of these numbers.
To promote literacy in secondary schools (because how can you learn if you can't even read and write?) BellaNaija intends to partner with National Youth Service Corps members who have secondary schools as their place of primary assignment to nurture young people in a quest for increased literacy.
The aim is to publish articles and short stories written by their most promising students.
Corps member Dimgba Chinomso recently concluded a project targeted at young writers in Josam International School, Olasepe, in Ojodu Abiodun area of Ogun State.
BellaNaija will be publishing one every week for five weeks.
The first in this series is titled "All We Need is Love" by SSS1 Student  Kelechi L. Ehomunu.
***
Do we want money and accessories, or just love and affection from our family?
The teenage years are a period when children mature as do their sex organs and hormones. This age in boys is said to be between 12-17 years, and in girls: 10-18 years.
It's typical to see parents complain about their teenage children being wild or unruly. The average teenager considers him/herself mature enough to handle things on his/her own. For some reason, parents see this more as being wild rather than being independent.
Most parents today think money and material things are what make a teenager happy. However, statistics have shown that children who are shown little or no affection, despite an abundance of money, are often sad and depressed. Unlike those who receive love and attention, even with little or no money in their hands. This fact has been proved by a lot of people, and one of such is Joseph Stalin.
Joseph Stalin, born on the 21st of December, 1879, in Gori, a town near Tiflis (now Tbilisi), with real name Iosif Vissarionovich Djugashvili. In 1913, he adopted the name Stalin from the Russian word, Man of Steel.
Very little is known about this young man, but his father was a drunkard who often insulted, mistreated and was cruel to him. The first 3 children of the family died and his mother tried to be affectionate toward him, but he still needed his father's love.
His mother sent him to a church and in 1898, he joined a secret Marxist revolutionary group in order to rise in power. When he eventually did, his reign was the most terrible. He executed even people who helped him attain the position in fear of an opposition rising up against him. He was feared, not loved, the same way his father did not love him. The rest of his life history was affected negatively because of his childhood.
In the United States, statistics show that the average 16-17-year-old turns to sex and drugs due to a lack of love in the family.
In Africa, statistics show that the average African teenager indulges in pornography in secret due to the absence of parental supervision.
Some examples of people who were given more love and attention than material things were Stevenson Robert (1850-1894). He was a Scottish novelist and poet and was among the world's most popular writers.
When he was a boy, he suffered from a lung disease that later developed into tuberculosis. This young man loved the open air and most especially reading. Soon enough he started writing and published some short stories, novels, and is now a recognised writer worldwide.
History has proven that teenagers need love and affection more than anything else in the world. So, please, parents, take note that even though children need discipline, no matter what you give your child, nothing can replace love and affection, and that is all they require of you.
***
If you're currently enrolled in the National Youth Service Corp program and you teach in a secondary school, we'd like you to join the BN Literacy Drive. Send us short stories and articles written by your brightest and best students. Send the stories with the subject line "BN Literacy Drive" to features(at)bellanaija(dot)com. We'd love to read from teachers across Nigeria.