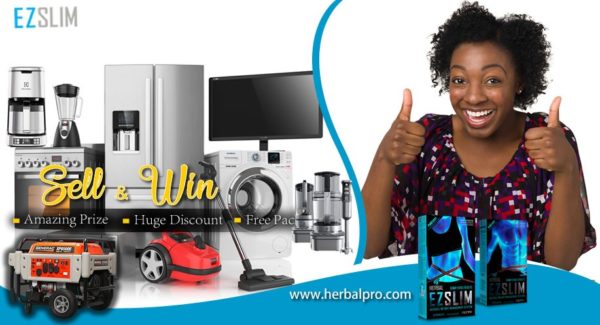 August is here and we are still taking on EZ Distributors. Become your own boss and start earning money weekly in the EZ Slim 'Smile to the bank' Promo.
EZ Slim is Nigeria's number 1 weight management capsules. EZ Slim is very effective and has no side effects.
EZ Slim is the only weight loss product that guarantees distributors mouth-watering income and benefits. Visit our website to see a list of July winners. Register today and you stand a chance of earning money weekly as well as the following.
Huge discounts on every 

5 packs

 of EZ Slim purchased

1 Free pack of EZ Slim on every

 5 packs

 of EZ Slim purchased

Amazing prizes will be won for every

 50 packs

 sold by our registered distributor only.
To join the EZ Distributor scheme is EAZY!
Step 1: Visit our website and click on the 'become a distributor' icon.
Step 2: Fill in the required details.
Step 3: Within 24 hours, Herbal Pro will contact you.
Terms and conditions.
To be part of our Smile to the Bank Promotions you need to ensure you always order your packs of EZ Slim online on our website and keep a record of your order as you may be required to submit it.
Yes!!! Herbal Pro will also provide you with all the marketing materials and the support you need so that you get a fast return on your investment. Did I also mention we will also give you customer referrals from time to time?  This is Herbal Pro and EZ Slim's way of supporting you on your way to becoming your own boss. If you are outside Nigeria, no worries at all. You can also be a part of the EZ Distributor Scheme. Just send an email to [email protected]
For more information, please visit www.herbapro.com or contact Herbal Pro on 08186108888 or +234 8183078888. You can also send an email to [email protected]. You can also visit our office at 25b Ladoke Akintola Street GRA Ikeja Lagos. Please visit our website to read more testimonies from our customers.
————————————————————————————————————————————–Sponsored Content